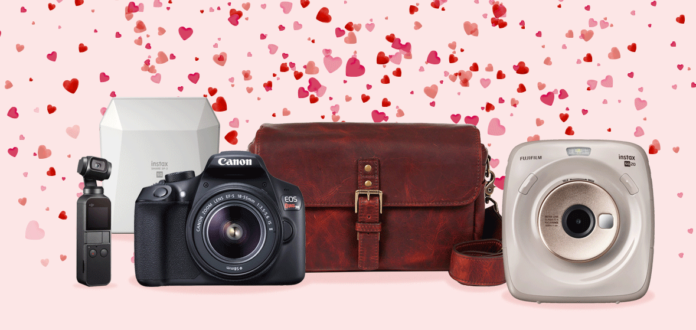 We all love flowers and chocolate (they're a classic for a reason). However, there comes a time when you want to show your significant other you know more about them than their milk and dark chocolate preferences. This year, we put together a list of the 5 best Valentine's Day gifts for the new or experienced photographer in your life. Choose wisely, the future of your relationship depends on it.
1. DJI Osmo Pocket Gimbal
The DJI Osmo Pocket Gimbel is the perfect camera to take on your next romantic getaway. The Pocket is a 3-axis stabilized camera that features gimbal, electronic, and optical image stabilization. Whether you're exploring the island of Bora Bora or hiking through the Rocky Mountains, this portable little camera shoots breathtaking footage while you're on the move. It also features first-person view, active object tracking, panorama, motion lapse, and "Nightshot" for recording candle-lit dinners after dark.
2. Fujifilm Instax Square SQ20 Hybrid Instant Camera
If you don't have cute instant photos together, are you even dating? The Instax SQ20 is a hybrid digital and instant camera; it's equipped with a digital image sensor, digital image processing technology, and a color LCD monitor to review content before printing a hard copy. That means you no longer have to waste pricey film on less-than-flattering shots of you and your significant other. The SQ20 even has a few new features to enhance your shots including collage mode, frame grab, and time shift.
3. Fujifilm Instax Share SP-3 Printer
You can still have adorable instant photo collections if you don't want to invest in a new camera. Print photos directly from your smartphone onto instant film with the help of the Fujifilm Instax Share SP-3 Printer. It takes a mere 13 seconds to send and print a photo from your phone's camera roll, Instagram, Facebook, Google Photos, Flickr, or Dropbox. Coincidentally, that is also the exact amount of time it takes to eat a piece of Valentine's Day candy.
4. Canon EOS Rebel T6 DSLR Camera
What's more romantic than showing someone that you believe in their talent? This gift is for people ready to make the leap from smartphone photography to their first DSLR camera. The Canon EOS Rebel T6 has an interchangeable lens mount, shoots HD video, and an 18 MP CMOS sensor. Its image quality makes it one of the best beginner cameras on the market and its price makes it a grand yet affordable gesture.
5. ONA Leather Bowery Camera Bag
ONA camera bags are highly functional and always on trend (which isn't a common combination). Their clean aesthetic is perfect for day-to-day use as well as travel. After all, it's a lot easier to hide the fact that you're a tourist when you don't have a bulky camera bag over your shoulder. The ONA Leather Bowery Camera Bag is handcrafted with full-grain leather and solid brass hardware. In terms of size, the Bowery bag has five external pockets and a padded interior that holds a camera, 1-2 extra lenses and small personal items like a wallet or notebook.
Regular price: $349.00

Regular price: $159.00