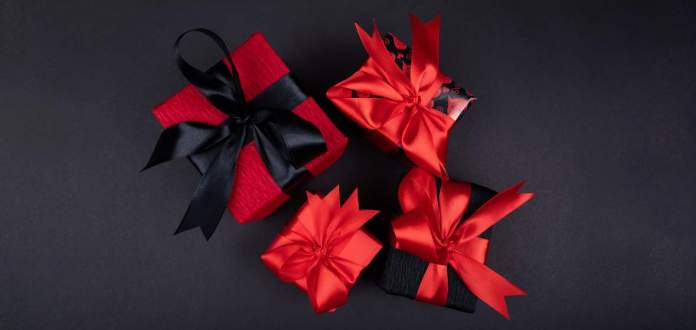 For many people, the holiday season is a time for gift giving. It's an act that transcends religion, ethnicity, and culture, and allows you to show love or appreciation for a person in your life. Of course, finding the right gift can be challenging. Corporate gifting can be particularly difficult, which is why we've put together this corporate gift guide. We've touched on the basics below, and included 5 corporate gift ideas that will help you show your employee, client, or business partner how much you value them.
The Basics
Corporate gifting is about acknowledging a professional relationship. While a great gift for a friend or family member is often highly personal, the ideal corporate gift is the opposite. That isn't to say the gift should be something they won't like. The art of corporate gifting is finding something that your recipient/s will treasure without overstepping any boundaries. 
Of course, the distinction between professional and personal is not always black and white. It's not unusual to have a personal relationship with an employer, employee, client, or colleague. In such cases, you simply need to respect the established parameters of your relationship. A gift that feels too intimate can be misconstrued, regardless of your intent, and may negatively impact your professional and personal relationship.
A gift item that is practical or universally used is unlikely to offend or upset. Electronics make for great corporate gifts as they're functional, valuable, and not too personal.  Adding your business name or logo to the gifted item is also a great idea. It clearly establishes the gift as a professional courtesy, and can help promote your business.
The New York Times says that gift giving should start with a price range. A price range will narrow your search and can help you ensure your gift is appropriate. An overtly expensive gift could make an employee or colleague who didn't reciprocate feel uncomfortable. Likewise, a gift that seems cheap or low-cost may offend a valuable client. For this reason, we've deliberately selected corporate gift ideas of varying price points below. 
Tablets
Tablets are popular inside and outside of the office, and make for a great employee or client gift. A tablet offers many of the same features as a computer in a more portable build. The added advantage of a touch screen means it has a wide spectrum of applications. You can put a tablet to good use anywhere from the office to the classroom, artist's studio to the kitchen. 
Popular tablets include the 10.2-inch Apple iPad and Microsoft Surface Go. Both models offer a fast performance, fantastic graphics, and 128GB of storage. They are a high-end corporate gift that will be cherished by any recipient.
Wireless Headphones
10 years ago, headphones would not have been included in this list. However, recent innovations in noise cancelling and wireless technology means that headphones have become a premium product. Modern headphones are elegant, fashionable, and an extremely popular gifting item. 
Over-ear, wireless headphones like the Sony WH-1000XM4's (or the older, more affordable XM3's) block out ambient noise and deliver crisp, clear sound. You don't even need to play music to appreciate them. On a flight or in a loud office, sometimes you just need quiet. The noise canceling capabilities of these headphones can deliver it. 
AirPods, Apple's popular wireless headphones, also deliver an incredible listening experience. Plus they're sleek, portable, and sit comfortably in your ear, making them easy to use wherever you go. They also come with a wireless charging case that can easily be customized with your business name or logo. 
Wireless headphones are a popular, stylish product, and gifting them to anyone is sure to evoke sincere gratitude. 
Cameras
Not everyone is a great photographer, however almost everyone likes taking photos. Smartphones with built-in cameras have made sure of that. Plus, the latest cameras on the market will make anyone feel like a pro. 
The Sony a6000 is an incredible camera. A high resolution sensor and powerful image processor allows it to capture vividly colored, detailed imagery. Meanwhile, superfast autofocus and built-in image stabilization makes it easy for anyone to capture sharp, steady photos and videos. The top-selling camera has a compact, mirrorless design that's lightweight and portable.
Instant cameras also make for great gifts, and start at a lower price point. Even in the digital age, there's something captivating about snapping and printing a physical photo that develops in front of your eyes. The Fujifilm Instax Mini 11 is a popular model that comes in multiple colors and prints wallet-sized pictures in seconds. Automatic exposure makes it easy for anyone to use, while selfie mode simplifies the self-portrait. The Instax Square SQ1 is a more recent model that prints larger, square images.
Whichever brand and model you choose, cameras are a fun, highly functional gift that will wow your recipients. 
Speakers
Like headphones, speakers have undergone a renaissance in recent years. Modern speakers are wireless, portable, and can do a lot more than play music. They're a popular accessory that anyone can use and enjoy. 
Speakers like the Ultimate Ears WONDERBOOM 2 and the JBL Charge 4 are known for their portability and durability. You can take them with you anywhere. Pricier options like the Bose SoundLink Revolve and Sony SRS-XB402G are more sleek and stylish, and offer clear, loud sound. The SRS-XB402G also has built-in Google Assistant capabilities, allowing you to change the song, turn up the volume, or even check the weather using voice command. 
Speaking of smart speakers, the Amazon Echo Dot is another great gift. The speaker can pair with other smart devices and allows you to control them with your voice.  In addition to listening to music, you can use the Echo Dot to turn off or dim lights, start a coffee machine, or have a phone conversation hands-free. 
Modern speakers are marvels of convenience, not to mention the incredible sound they can output. Whatever your price range, there is a speaker available that will make your recipients very happy. 
External Drives
As technology continues to pervade our lives, the demand for data storage space is only increasing. For that reason, an external hard disk drive (HDD) or solid-state drive (SDD) is extremely practical for both professional and personal use.
New models like SanDisk's Extreme PRO Portable SSD V2 are pocket-sized, yet can hold up to 2TB data. Meanwhile HDDs like the LaCie Rugged Mini have lower read and write speeds and a lower price tag. 
Summary
While the above corporate gift ideas are some of our favorites, they're not the only options. We hope this guide helps you in your search for a gift that will please your recipients and bolster your professional relationship.  
If you're interested in one of the corporate gift ideas above, or another Focus Camera product, don't hesitate to reach out to our corporate sales team. They can offer special pricing on large orders, and your business name or logo (or your clients) can be added to most products.  Happy Holidays!
Regular price: $499.00

Regular price: $278.00

Regular price: $998.00

Regular price: $89.99

Regular price: $449.99