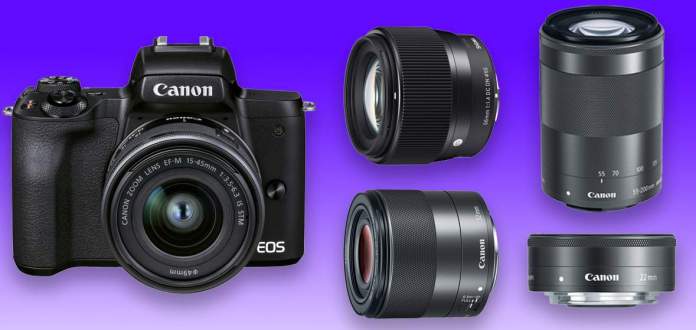 The Canon EOS M50 Mark II is a popular APS-C mirrorless camera that was released late last year. Offering a powerful photo and video performance, fast and reliable autofocus, strong wireless and webcam capabilities, and a light, compact build, it's a great choice for vloggers and content creators. Of course, like any camera, the quality of its photo and video output also depends on the lens you pair it with. So, we set out to determine the 5 best lenses for the Canon EOS M50 Mark II. 
For the purposes of this post, we focused on Canon EOS M50 Mark II compatible lenses. That is, EF-M lenses that fit the camera's native M-mount. However, it's worth noting that you can also utilize full-frame EF lenses with the camera by investing in a Canon EF-EOS M adapter. 
In addition to fitting the camera without an adapter, EF-M lenses also tend to be smaller and affordably priced. All the lens listed below weigh less than 10 oz (284g) and have a price tag below $500. That's ideal, considering the M50 Mark II itself only costs $599 and weighs 12.35 oz (350g).
If you're interested in learning more about the camera, and how it compares to the previous model, check out our Canon EOS M50 vs EOS M50 Mark II post. Otherwise, here are our picks for the 5 best EF-M lenses for the Canon EOS M50 Mark II.
Canon EF-M 15-45mm F3.5-6.3 IS STM
The first lens on our list is the Canon EF-M 15-45mm F/3.5-6.3 IS STM, a kit lens that comes with the M50 Mark II. While you can purchase the camera body alone, the 15-45mm lens is well worth the slightly higher price tag. The camera and lens together cost $699, just $100 more than the body only. That's good value considering the lens alone has a price tag of $299.
Kit lenses have a bad reputation, but the 15-45mm lens is surprisingly versatile. The wide focal range makes it a great option for landscape and street photography, but it could also be used effectively for portraits. You'll be pleasantly surprised by the image quality. Additionally, the lens is pretty small, measuring 2.40 x 1.76 inches (60.9 x 44.5mm) and weighing 4.6 oz (130g).
The letters 'IS' in the name indicate the lens has built-in image stabilization. This helps ensure stability when shooting, as the M50 Mark II does not have built-in mechanical image stabilization. The camera does offer digital stabilization for reducing shake when recording video, however. 'STM' indicates the lens uses a stepping motor for fast, quiet autofocus.
One downside of the lens is its variable aperture range. At its widest focal length of 15mm, the lens can reach a maximum aperture of F3.5. However, at the 45mm end of the focal range, the maximum aperture is just F6.3. That's not ideal if you're shooting in low light. 
However, given the lens' versatility, stability, and compact build, it's well worth the extra Benjamin when purchasing your M50 Mark II.
Canon EF-M 22mm F2 STM
The Canon EF-M 22mm F2 STM is what's commonly called a pancake lens; a colloquialism for extremely flat, thin lenses. Measuring 2.4 x 0.9 inches (60.9 x 23.7mm) and weighing just 3.7 oz (105g), lenses don't get much smaller than the 22mm F2 STM.
22mm is a great focal length for cropped sensor (APS-C) cameras like the M50 Mark II, offering a field of view equivalent to a 35mm lens on a full-frame camera. The wide angle is ideal for landscape and street photography. Plus, with a minimum focusing distance of just 5.9 inches (15cm), you can also comfortably use it for close-up shots. Combined with a low maximum aperture and ultra-compact build, it's a great all-rounder lens.
While the 22mm F2 STM doesn't have built in image stabilization like the 15-45mm lens above, it does utilize the same stepping motor for fast, quiet autofocus. Additionally, as a prime lens, the 22mm yields a sharper, higher image quality than the zoom lens, even if it's not quite as wide. Alas, given its small size, there are no switches on the lens body. You'll have to use the M50 Mark II to toggle between manual and autofocus. 
Currently available for $249.99, the 22mm F2 STM offers great value. It's the perfect default lens to keep on your M50 Mark II.
Canon EF-M 32mm F1.4 STM
The Canon EF-M 32mm F1.4 STM is another great prime lens to pair with your M50 Mark II. Like the 22mm lens above, the 32mm F1.4 offers a versatile focal length, with a field of view equivalent to a 51mm lens on a full-frame camera.  Both lenses also have the same filter size, 43mm, so you'll be able to utilize the same filters.
The 32mm F1.4 has a little more size and weight to it than the 22mm pancake lens. It measures 2.4 x 2.22 inches (60.9 x 56.5mm) and weighs 8.3 oz (235g). However, this is still relatively light and compact. The lens pairs very comfortably with the M50 Mark II and has a sleek look and feel. There's no focus switch on the side of the lens, though the lens does support full-time manual focus. That is, you can manually focus the lens by adjusting the focus ring even when the camera is set to autofocus. 
The wide F1.4 maximum aperture enables the lens to excel in low-light conditions and generate pleasant, bokeh-filled backgrounds. Additionally, a sophisticated optical construction featuring an aspherical element and Super Spectra Coating helps the lens deliver crisp, clear imagery free of distortion, flare, and ghosting.  With excellent color reproduction and sharpness, the image quality output of this lens is outstanding.
$479.99 is a decent price for the lens given its high-quality specs and capabilities. The Sigma 30mm F1.4 Contemporary is a more affordable alternative at $339. However, it's arguably less reliable in terms of focusing and reducing chromatic aberration. The Sigma lens is also heavier and uses a different filter size (52mm) to the 22mm f2 STM. Overall, we highly recommend the Canon EF-M 32mm F1.4 STM.
Sigma 56mm F1.4 DC DN Contemporary
While 4 out of 5 models in this list are Canon EF-M lenses, Sigma has also released several great lenses with an EF-mount option. Like Canon, the Sigma EF-M lenses are compactly built and affordably priced. Given that Canon doesn't make an EF-M prime lens with a longer focal length than 32mm, the Sigma 56mm F1.4 DC DN Contemporary is the perfect third-party lens to supplement the Canon EF-M lenses in this list. 
The telephoto prime lens measures 2.6 x 2.3 inches (66.5 x 59.5mm) and weighs 9.9 oz (281g). This makes it the heaviest lens in our list, though it's still a great fit for the M50 Mark II, balancing well with the weight of the camera. Internally, the lens features a powerful optical construction including a Special Low Dispersion (SLD) element, and has a reliable stepping motor for fast, quiet autofocus.
If you're into portrait photography, this lens is a must. The 56mm focal length has a field of view equivalency to an 85mm lens on a full-frame camera. Additionally, the lens' 9-blade rounded diaphragm and maximum aperture of F1.4 permits plenty of light and generates luscious, creamy bokeh. The overall image quality is fantastic. You'll love how easy it is to snap incredibly sharp, beautiful photos using this lens, and your subjects will love it even more. 
Similarly, if you're planning to use the EOS Webcam Utility feature of the M50 Mark II, this is the perfect lens to pair with the camera for a crisp portrait-esque frame with a shallow depth of field.
With a price tag of $479, the Sigma 56mm F1.4 DC DN Contemporary lens offers great value for M50 Mark II shooters.
Canon EF-M 55-200mm F4.5-6.3 IS STM
Prime lenses have several advantages over zoom lenses. Namely, they offer better image quality and contain fewer glass elements, resulting in a smaller, lighter build. However, zoom lenses like the Canon EF-M F4.5-6.3 IS STM are still a worthwhile investment.
One of the downsides of a prime lens is that if you want a tighter or wider shot, you need to physically move yourself and your camera. This isn't always possible depending on what or where you're shooting. A telephoto zoom lens like the 55-200mm gives you a broad focal range to adjust your frame without moving. Additionally, despite its wide focal range, the lens still yields surprisingly great image quality. 
The lens utilizes a 5-group optical zoom system, including one aspheric element and one Ultra Low Dispersion (UD) element for reducing aberrations. Despite its complex optics, the lens still only weighs 9.2 oz (260g), and measures 2.4 x 3.4 inches (60.9 x 86.5mm).
With a field of view equivalent to an 82-300mm lens on a full-frame camera, the telephoto lens is ideal for portraits, sports, and wildlife photography. Built-in image stabilization makes it easy to use the camera and lens together handheld, reducing shake and helping the lens achieve sharpness equivalent to a faster shutter speed. Meanwhile the stepping motor ensure fast, accurate autofocus. 
The price of the lens is currently $349.99, which is excellent value considering the lens' strong performance throughout its dynamic focal range.
__ 
That concludes our list of the 5 best lenses for the Canon EOS M50 Mark II. Let us know in the comments below which lenses you like to use with your M50 Mark II. 
Regular price: $799.00

Regular price: $249.00

Regular price: $479.00