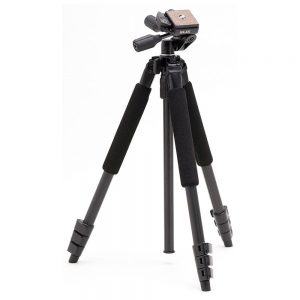 The first question to ask yourself is why you need to consider camera tripods in the first place. The most common uses are for low-light photography where you need a slower shutter speed, night time photography of stars or the moon, to take self-portraits with a timer, and to hold heavy gear. There are other uses but these are the most common. If you can't think of a good reason why your photography would benefit from the stability of DSLR tripods, save your money and come back in three months.
Be clear, the benefit of a tripod is a sharper, clearer photo, perhaps with better composition. Of course, that's only true if you face some of the challenges mentioned above, which make a sharp photo more difficult. So you have to consider your needs and constraints.
How portable do you want it to be? What kind of photography do you want to use it for. How much can you afford? These answers help you sort between all the available specifications to find the right tripod for you.
Material
The most common options are carbon fiber and aluminum. The former costs about twice as much, is much lighter and stronger, and offers faster vibration stabilization. If you can afford carbon fiber, you should opt for that option, unless weight and portability are incredibly unimportant to you and saving money is a priority.
Height
Typically, you want a tripod that can telescope to within six inches of your height. The attachment and camera make up the last six inches so you can shoot comfortably. However, if you plan on doing a lot of macro or ground-level photography, you want a tripod that allows you the remove the centerpost easily so you can stabilize the camera much lower to the ground.
Legs and Feet
Telescoping legs are the order of the day, and your primary choice is between three and four segments. Typically, fewer segments (and fewer joints) make for a stabler, lighter, more durable tripod that is easier to use and will last longer. Just be sure you find a tripod that has easy-to-use locks that still provide a strong, secure hold.
The feet that come with most tripods include rubber feet for indoors that can screw back to expose metal spikes for outdoors. These are fine for most people, although more expensive options allow you to change the feet.
Centerpost and Head
The centerpost is the telescoping element that lets you customize the height of most tripods. However, this advantage comes at the cost of decreased portability, increased weight, and potentially more problematic vibrations.
The head is the most important piece of the tripod for a lot of people. You have to decide if you want a level bubble, a good quick release mount, and how much control over panning and the angle you want. Better tripods also actually come without a head, expecting you to buy several interchangeable options.
With all of these aspects of camera tripods, you should think about what you want to do with your tripod and the go experiment with some options in the store to get a feel for what you like. Rely on review to determine how portable they are, and then compare your preferences with your budget to find the right option for you. Be sure to plan ahead so that you don't need to replace your tripod in six months when your kit grows heavier or your needs change.