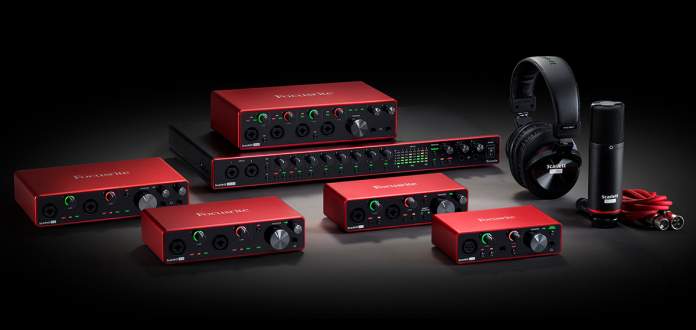 It's been three years since Focusrite released the Scarlett 2nd generation range of audio interfaces. Today, they officially announced the Focusrite Scarlett 3rd Gen and needless to say we're very excited. The new models include almost everything we wanted to see in this update.
Before we jump into features, let's take a look at an overview of the specification updates.
Focusrite Scarlett 3rd Gen vs 2nd Gen
What is an audio interface?
We first went over this in our review of the Focusrite 6i6 2nd Gen. However, a recap is called for.
Think of an audio interface as a technologically advanced adapter. For example, you can't plug your guitar directly into your computer. Instead, you plug it into an audio interface that can connect and communicate with recording software on your Mac or PC. The interface is the middle man. The same applies to studio monitors which also plug into an audio interface.
As a point of clarification, people often confuse interfaces with mixers but they're two completely different things. While you plug instruments and microphones into both, mixers are used more for live performances and don't have extra connections like USB, XLR, or MIDI ports. On the other hand, a digital interface usually does have those ports and is used in a studio setting to connect your computer with your instruments.
Ok, now on to the good stuff. 
3rd Gen Features & Updates
Every single model in the Scarlett line received an update (see them all here). In case you're unfamiliar, the full family includes the Scarlett Solo, Scarlett 2i2, Scarlett Solo Studio, Scarlett 2i2 Studio, Scarlett 4i4, Scarlett 8i6, Scarlett 18i8, and Scarlett 18i20.
Upgraded Audio
After 30 years of perfecting their products, Focusrite's 3rd Gen mic preamp is the best Scarlett has ever created. The 24-bit/192kHz converters give your recordings clarity. Plus, its Air mode adds an extra edge to vocals and provides unique, high-end detail.
Look & Feel
Companies often have a terrible impulse when updating a product or product line. They get overeager and overhaul things that simply don't need to be changed. In short, they tweak things for the sake of the press release. It's frustrating and unnecessary.
Focusrite did not fall into this trap.
They made minor aesthetic changes and stuck with the classic look and feel that makes Focusrite Scarlett one of the industry's most recognizable audio interface brands. There's some streamlining, but the signature brushed red aluminum finish and simple interface remain intact. Every device in the Focusrite Scarlett 3rd Gen line looks great on your desk.
Improved Inputs & Outputs
Focusrite tweaked their headroom with the 3rd generation models. Instrument inputs now have an impressive amount of headroom and additional line-level inputs for your unique recording setup. Plus, its balanced TRS outputs eliminate speaker hum. 
USB-C
The USB-C takeover continues. All of the Scarlett 3rd generation models have a USB-C port. Just connect your device of choice with your laptop using the supplied USB-C to USB-A cable whenever and wherever you want to record. This connection upgrade is not only more convenient it also boosts device speeds and makes latency virtually unperceivable. 
Easier Setup
Focusrite products have always been blissfully easy to set up. However, their team made the process even easier with Scarlett 3rd generation models—this is about as close to plug-and-play you can get with tech this advanced. They call their new onboarding sequence the "Focusrite Quick Start" tool. 
Connect the unit to your computer, go through the pop-up installation prompts, then you're automatically redirected to a webpage for customized installation (the model's serial number is automatically entered).
Included Software
Focusrite does an incredible job pairing its equipment with intuitive, cutting edge software. Plus, they offer a two-year warranty and membership to the Focusrite Plug-In Collective, offering regular free software downloads and generous discounts.
All in all, buying a Scarlett Gen 3 device gets you Ableton® Live Lite™, Pro Tools® | First Focusrite Creative Pack, a free three-month Splice Sounds subscription,  XLN Audio Addictive Keys, Focusrite Red Plug-in Suite, and Softube Time & Tone Bundle.
Ableton Live Lite
This program is a DAW (digital audio workstation) primarily utilized for track creation and live performances on MIDI pads. Ableton Live Lite, which—while lacking some of the functionality provided by paid versions of Ableton Live—does an amazing job. This is especially true if you're just starting out in electronic music.
Splice Sounds
Scarlett models come with a three-month subscription to Splice Sounds which offers users millions of audio samples, loops, FX, and presets. It has a super easy interface that allows you to drag and drop content directly into your DAW for editing.
Avid Pro Tools | First Focusrite Creative Pack
The First Focusrite Creative Pack is an entry-level music-making bundle for novice producers, instrumentalists, and singer-songwriters. It includes Pro Tools First, Eleven Lite, Black Op Distortion, Gray Compressor, Five-band Graphic EQ, Flanger, Vibe Phaser, Roto Speaker, Sci-Fi, Studio Reverb, Tape Echo, and InTune.
Focusrite Red Plug-in Suite
The Red Plug-in Suite replicates the functionality of Focusrite's Red range equalizer and compressor. This suite gives you detailed, dynamic and tonal control of your mix without buying the additional hardware.
Softube Time and Tone bundle
The Softube Time and Tone bundle is made up of four plug-ins: a reverb, a delay, a mastering tool, and distortion. Use these plug-ins with the other software that accompanies the Scarlett 6i6 to bring a new layer of professionalism to your mixes.
XLN Audio Addictive Keys
The average piano keyboard usually has a few different profiles like electric, grand piano, and synth. On the other hand, Addictive Keys connects with your digital keyboard and offers dozens of piano profiles and a seemingly endless list of granular adjustments to your sound.
Which generation wins in the Scarlett 3rd Gen vs 2nd Gen comparison? Let us know in the comments below.
Regular price: $159.99

Regular price: $109.99

Regular price: $299.99

Regular price: $499.99

Regular price: $219.99