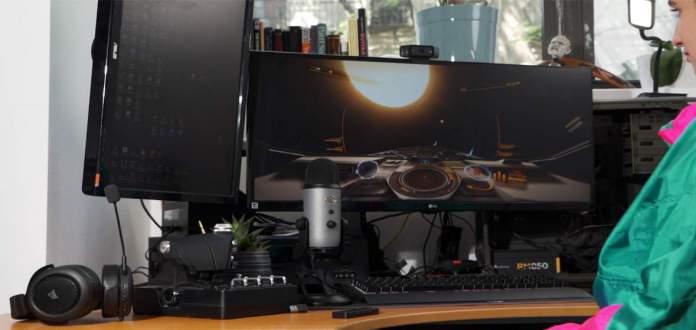 It's never been more important to have a decent home office setup. Working from home has become increasingly common in recent years, especially since the start of the COVID-19 pandemic. Remote work aside, a comfortable workspace is also critical for anyone that regularly uses a computer. That is, gamers, content creators, or anyone that regularly uses the internet. If you're reading this, you probably fall into at least one of those categories.   
Offices have changed significantly over the past fifty years. Just about the only thing that hasn't changed is using a desk; today, some people don't even use a chair. If your workspace needs an upgrade and you're not sure where to start, fear not. We've put together a list of gear that every home office setup should include.  
Laptop or Tablet 
The days of clunky, immobile personal computers are coming to an end. With the exclusion of some occupations, most people simply don't require a large desktop computer. The latest laptops and tablets are remarkably small, capable, and affordable.  
For example, a 14-inch touchscreen HP Chromebook with a Dual Core A4 chip and 4GB memory costs just $279.99. Alternatively, an 8th generation 10.2-inch Apple iPad with an A12 bionic chip and 128GB memory costs $499. With a high-speed Internet connection, there's little you can't do with either of these devices.  
The latest tablets and laptops also tend to be lightweight and portable, allowing you to set up your workspace wherever you like. While it's healthier to use a desk and chair when working for longer periods of time, the ability to do so from your couch, bed, or favorite coffee shop is incredibly liberating. Portability is also important if you plan to alternate between working from home and an office, or if your workplace has a hot desk policy.  
If you find it difficult to use a small screen, we recommend investing in an external display monitor rather than a larger computer. That way, you can use the large display while working from home, but still have the option of working in other locations from your laptop or tablet if the need arises. An external monitor also typically offers a better quality image display than a built-in computer monitor.  
Ergonomic Mouse & Keyboard 
One of the downsides of using a smaller laptop or tablet is that it can be difficult to use the built-in keyboard or mousepad for long stretches of time. For your home office setup, we recommend investing in a more comfortable external mouse and keyboard.  
Logitech's MX Master 3 wireless mouse has an ergonomic build that more comfortably fits in the palm of your hand than a standard computer mouse. Additionally, it offers multiple, intuitively placed buttons and scroll wheels, and has a 4000 dots-per-inch (DPI) sensor resolution. The high DPI resolution means the mouse is more sensitive to movement. That makes it ideal for gamers, or anyone that require a highly responsive mouse. Logitech's Darkfield Laser Tracking technology means you can also use the MX Master 3 on most surfaces, including glass. 
The MX Keys wireless keyboard is similarly well-designed. Featuring responsive, spherically dished keys that match the shape of your fingertips, the board is optimized for fluid, silent keystrokes. The board also uses proximity sensors to detect your hands and illuminate the keys as you prepare to type.  
The MX Master 3 and MX Keys are priced at $99 each, or can be purchased together in a bundle with a comfortable non-slip palm rest for $229.99.  
Webcam & Microphone 
Video calls have become a new standard means of communicating with faraway coworkers, clients, family, and friends.  As a result, having the ability to record sound and video is critical for your home office setup.
While most laptops and tablets have a built-in camera and microphone, they are not designed for high-quality recording. Therefore, we strongly advise investing in an external camera and microphone. 
The Logitech C920S is a great value webcam. Priced at $79.99, the camera easily connects to your computer via USB, and records Full HD video (1080p at 30fps). The webcam has automatic light correction, a high quality five-element glass lens, and a lens cover that also helps to protect your privacy. Additionally, the webcam has dual microphones that likely surpass the capabilities of your computer's onboard microphone. However, we still recommend using an external microphone for optimal sound recording.  
We discussed the benefits of using an external microphone in a previous post. At the time, we recommended Blue's Yeti and Yeti X USB microphones. Capable of studio-grade recording via four different sound pattern modes (cardioid, stereo, omnidirectional, and bidirectional), both microphones remain excellent choices. They are priced at $149 and $189.99 respectively. However, the original Yeti is currently available in a bundle with the C920S webcam and a 4-port USB hub for $219.99.  
Poor quality sound and video can have a severe impact on your online calls. For the sake of your coworkers, clients, friends or family, invest in external recording devices that will make your video calls crisp and clear. They will thank you for it. 
Headset 
Like an external microphone, a headset allows you to record and listen to audio at a higher quality than your computer's microphone and speakers can provide. 
The Logitech H390 USB headset is a great option. Featuring a noise-cancelling microphone, in-line controls, and comfortably padded headbands and earcups, it's ideal for anyone that takes voice calls frequently. The H390 headset is currently priced at $39.99, but is also available in a bundle with the C920S webcam and USB hub for $119.99.  
Alternatively, if you're into gaming, the Logitech G Pro X gaming headset features high-quality Blue VO!CE microphone technology, memory foam padding, 7.1 channel surround sound with enhanced bass rendering, and a sleek yet sturdy aluminum and steel frame.  
___
Investing in the electronics and accessories listed above will help update your home office setup. Additionally, their highly portable nature means you'll have the freedom to setup your workspace wherever you feel is best.  Let us know in the comments below what else you think belongs in a modern home office setup. 
Regular price: $229.99

Regular price: $229.99

Regular price: $119.99

Regular price: $79.99

Regular price: $149.00