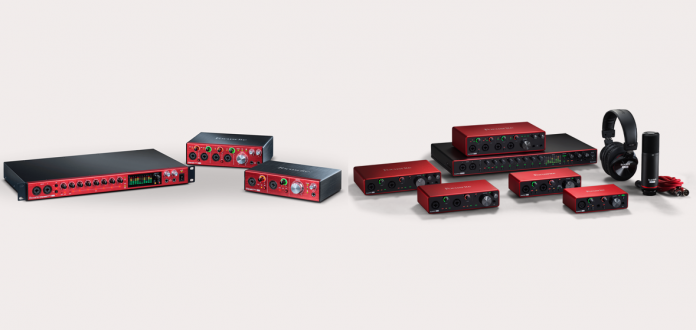 According to Focusrite, their Scarlett range of audio interfaces has helped produce more records than any other range of interfaces in history. However, Focusrite also manufactures another line of USB interfaces. The Clarett range includes 3 interface models and is also relatively popular with musicians, producers, and audio engineers. But what's the difference between the two? We compared the Focusrite Clarett vs Scarlett (3rd generation) interfaces to find out.
The Focusrite Clarett interfaces include the 2Pre, 4Pre, and the 8Pre. The Scarlett interfaces include the Solo, 2i2, 4i4, 8i6, and the 18i20.
Inputs/Outputs
Before you decide on a range, it's important to consider how many inputs and outputs you'll require. There are six Scarlett audio interfaces to the Clarett's three, with more options for consumers that don't require as many inputs and outputs. 
For example, let's take a look at the Scarlett Solo, the most affordable Scarlett audio interface. The Solo has 1 XLR preamp, 1 line level input, and 2 balanced line outputs. It's a great option for a musician or vocalist who only ever needs to record a single input. It's currently available for just $109.99. 
Conversely, the smallest Clarett audio interface is the Clarett 2Pre. This 10-in 4-out interface has 2 combo mic/instrument/line level XLR inputs, 1 stereo loopback input, 1 optical ADAT input (allowing you to add 8 additional inputs), 1 5-pin MIDI input/output, and 4 balanced line outputs.  It's currently priced $439.99. 
Comparing the Scarlett Solo and Clarett 2Pre indicates a key difference between the two ranges. With a wider range of input/output options, the Scarlett range has more mass market appeal. In fact, as we pointed out in our Scarlett interface comparison post, the key differentiator between Scarlett models is the number of inputs and outputs per interface.
Clarett is different. With fewer models starting at a higher price point, Clarett is a high-end range targeted at musicians and artists that require more inputs and outputs and a higher quality recording. This is more evident when comparing the audio recording specs of both ranges. 
Sound Quality
The specs suggest that Clarett interfaces can record sound at a higher quality. If you were to record sound using an interface from each range and listen back, you may even hear the difference. But it's worth noting that interfaces from both ranges convert sound at a professional grade quality of 24-bit/192 khz.
The frequency response on Scarlett interfaces is 20hz-20khz, while the maximum mic input level (at minimum gain) is +9dBu. Clarett interfaces can record a response from 20hz-35khz, and a maximum mic input level of +18dBu. Similarly, the Solo preamps have a gain range of 56 dB and a dynamic range of 111dB A-weighted, while the Clarett preamps reach 57 dB of gain and a maximum input level up to 119 dB A-weighted.
These differences translate to a higher headroom on the Clarett interfaces, allowing them to handle higher input levels without distortion or clipping. The headphone output on Clarett interfaces also has a higher maximum output level of 16 dBu to the Scarlett's 7dBu. This ensures you can hear the additional detail you're recording via a Clarett interface. 
Similarities
As mentioned, All interfaces from both ranges convert at the same rate up to 24-bit/192 khz, and also offer Air mode on at least 1 input. Air mode is an optional feature that boosts high frequencies to enhance sound quality, particularly for vocal or acoustic recordings. 
Interfaces from both ranges also have a similar look and feel and a portable, lightweight build. The Scarlett 18i20 and Clarett 8Pre differ slightly from their siblings. The 18-in, 20-out interfaces have a long, thin build and attachable ears for easy racking in a studio.
Verdict
Focusrite offers 9 great audio interfaces across two ranges. However, the best audio interface for you depends on your personal requirements. The Scarlett range provides you with a wider variety of options starting at a lower price point. Clarett interfaces offer more inputs and outputs and stronger recording capabilities.
Whatever you personally decide is best between the Focusrite Clarett vs Scarlett ranges, there's a Focusrite audio interface that's right for you.