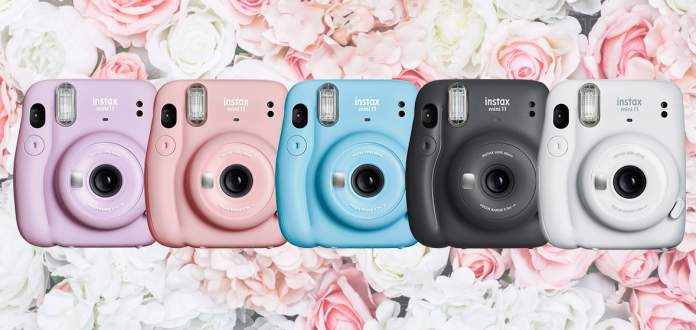 Fujifilm has dominated camera announcement news over the past few months, first with the X-T200 and then the X100V. Today, the press continues in the instant camera category with the Instax Mini 11. In this post, we compare the new Instax Mini 11 vs Instax Mini 9 in terms of specs, features, and appearance.
Yes, the Mini LiPlay came out more recently than the Mini 9. However, we're sticking with the Mini 9 vs 11 comparison because they're both analog cameras. The LiPlay is great if you're interested in a digital/film hybrid, but if you're an instant camera purist, you're in the right place.
Updated Features | Instax Mini
Automatic Exposure
The Mini 11 lives up to its reputation as an instant point-and-shoot with the help of automatic exposure. For photography newbies, this means the Mini 11 automatically chooses the perfect shutter speed depending on your lighting. The addition of this feature makes it easier than ever to avoid under and overexposed photos.
One-touch Selfie Mode
A big selling point of instant cameras is that, in their most basic form, you don't need to add lenses and filters to get a decent shot. However, sometimes you do need the right accessory to get the specific angle or aesthetic you're aiming for.
To keep your process streamlined, the Mini 11 has a built-in selfie mirror and macro mode. Instead of attaching an entire close-up lens attachment, just pull the lens barrel out until the "selfie mode" mark appears.

Look & Feel
Colors
Next on our Instax Mini 11 vs Mini 9 comparison is color. Fujifilm is decidedly unafraid of highlighter-bright cameras. However, in this new wave of Minis, the company is embracing the muted pastel trend with sky blue, lilac purple, ice white, charcoal gray, and blush pink. The result is a generation of cameras that look just as good on your shelf as they do around your neck.
Size
We're still waiting to get the exact dimensions of the new Mini 11. However, we do know it's thinner than its predecessor. You can also see from the sample photos that the grip is narrower and has an additional ridge on the back to make up for the lost surface area. 
Face
The Mini 9 has two "special edition" cameras with transparent ring lenses. That detail is now standard on the Mini 11, except for the gray model, which is a consistent matte color and texture. The above comparison of the special edition purple Mini 9 and new Mini 11 is a solid representation of how Fujifilm took the transparent ring lens concept and honed it into something both aesthetically pleasing and functional.
That concludes our Instax Mini 11 vs Mini 9 comparison (for now). Keep an eye out for future details, photos, and video reviews.