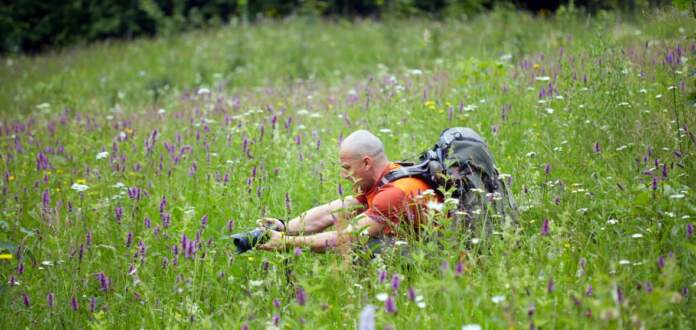 What Is Macro Photography?
Macro photography is the practice of taking extreme close-up images, usually of a subject that fills the entire frame. It's often very nature-centric (bugs, flowers, water droplets, etc.) but can also be an asset in product photography. In this post, we go through some key macro photography tips and tell you which lenses and accessories you need to get started.
Macro Photography vs. Close-Up Photography
The key visual difference between close-up and macro photography is the amount of detail. For example, a close-up photo of a salmon will give you some specific color and texture characteristics. However, a macro photograph shows intricate details of individual scales.
Macro vs. Close-Up Photography
Macro Photography Equipment
Microlenses and Macro Lenses
This naming scheme is often a point of confusion for new photographers. Simply put, "microlenses" and "macro lenses" are the same thing; companies sell the same lens under both names. If you buy a macro lens it's the same thing as buying a micro lens. It is truly that simple.
Magnification
You want a macro lens that provides 1:1 magnification or higher. This ratio indicates that a one-inch object registers as one-inch on your camera's sensor. An extreme example is this Venus Optics Laowa lens which has 5:1 magnification. By extension, that means this lens magnifies subjects to be five times larger than life-size.
Working Distance / Focal Length
The "working distance" is the space between your lens and the object you're shooting. The longer your lens's focal length, the more potential for working distance you have. As with any other type of photography, the focal length you decide upon is entirely dependent on what you plan to shoot.
If your goal is to take breathtaking photos of live insects, you want a longer focal length; getting too close might scare off the bugs. To be safe, find a lens with a focal length in the 180mm-200mm range like the Irix Dragonfly 150mm f/2.8 Macro 1:1 Lens or Sigma 180mm F2.8. Alternatively, if you shoot jewelry which (hopefully) will not run away from you, explore lenses in the 50mm-105mm range. For that, we would suggest something like the Sigma 70mm F2.8 Art DG Macro for Sony E or Nikon AF-S Micro NIKKOR 60mm f/2.8G ED Standard Lens.
Tripods
With macro lenses, small vibrations cause big blurs. That's why it's important to use a quick shutter speed—like 1/250 or faster—to minimize distortion. However, if you're in a situation where you have sub-optimal light, you might need a longer exposure and a tripod to steady your camera. We recommend a reliable standard like the Koah PRO Aphelion Professional 6 ft Tripod.
A tripod is also incredibly helpful as you go through trial and error to determine the perfect settings for your shoot. Macro photography means leaving the comfortable realm of "auto" mode and changing to "manual." Usually, autofocus is faster than manual focus. However, when shooting macro photography autofocus will cause your lens to keep swimming and refocusing.
Flash
If you're using macro photography to shoot bugs, flowers, or other small objects, you need to set a wide aperture—f/1 through f/4—for adequate depth of field. Hopefully, a wide aperture and long exposure will provide enough light for your shot. However, that isn't always the case. That's when it's time to break out the flash. While something like a flash ring or the Sony Alpha Macro Twin Flash Kit is preferred, beginners can use built-in pop-up flashes to start.