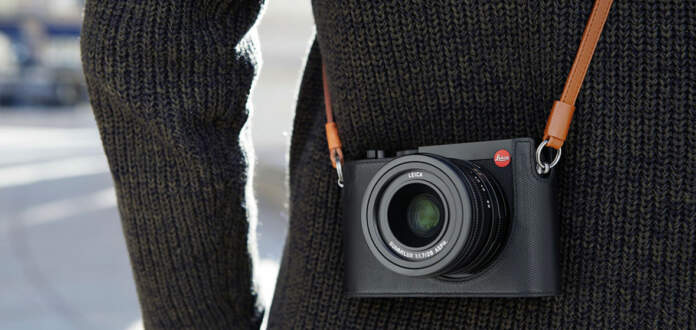 German camera company Leica today announced the new Leica Q2. This is the latest version of the Leica Q which was first released to critical and public acclaim three years ago. In this post, we compare the original model the new and improved addition to the Q line.
See Leica Q2 specs, features, and product photos. Plus, see how the Q2 compares to the original Leica Q.
Leica Q2 Specs vs Leica Q
Leica Q2
Leica Q
Sensor
47.3 MP Full Frame Sensor
24 MP Full Frame CMOS Sensor
Format/ Aspect Ratio
24 x 36mm / 3:2
24 x 36mm / 2:3
Image Processor
Leica Maestro II
Leica Maestro II
Lens
Fixed Prime Summilux 28mm f/1.7 ASPH.
Leica Summilux 28 mmf/1.7 ASPH.
Video
4K with UHD and Cine4K
1080/60p
ISO Range
Automatic
ISO 50 to ISO 50,000
Automatic
ISO 100 to ISO 50000
Digital Zoom
28mm, 35mm, 50mm, 75mm
35mm, 50mm
Aperture Range
1.7 – 16 in 1/3 EV increments
1.7 to 16 in 1⁄3 EV increments
Viewfinder Specs
3.68 MP OLED
3.68 MP LCoS
FPS
10
10
Dynamic Range
13 Stops
13 Stops
Exposures Per Charge
370
300
Dimensions (W x H x D)
130 x 80 x 91.9mm
130 x 80 x 93 mm
Weight
718 g (w/ battery)
637 g (w/o battery)
640 g (w/ battery)
Weather Sealing
IP52-certified
N/A
Built-in Crop Modes
30 MP at 35mm
15 MP at 50mm
7 MP at 75mm
15.4 MP at 35mm
7.5 MP at 50mm
Color Depth
14-bit
14-bit
Image Stabilization
✓
✓
Option For Thumb Support
✓
✓
Touchscreen Interface
✓
✓
Vari-Angle Screen
X
X
WiFi / Bluetooth®
✓
(Bluetooth LE)
✓
Upgraded Sensor
The Q2's sensor is nearly two times better than the first Leica Q (47.3 MP vs 24 MP). The upgraded component has built-in crop elements for equivalent focal lengths of 35mm, 50mm, and the newly available 75mm. In addition to complimenting the Q2's Summilux lens, the new sensor also maintains a 30 mp image when cropped to a 35mm equivalent frame; that's significantly more than the original Q's max of 24 MP at 28mm.
Video Quality
High-quality video recording is a big improvement to the Leica Q2 that the original Q is notably lacking. The Q2 offers 4K with UHD and Cine4K with frame rate options across 4K and 1080p. These specs, in conjunction with the Q2's FOTOS App and Bluetooth LE, allow users to effortlessly share content with clients, friends, family, and their Instagram followers.
User Interface Updates
The Q2 perpetuates the Leica (and German) tradition of combining streamlined form with function. In this latest iteration, the camera's body only has a single-stage On/Off switch, a simplified three-button-interface, and programmable button within the thumbwheel dial. That said, a new addition to the layout is a push-button diopter compensation dial on the back of the camera that locks to prevent accidental changes to the user's settings.
Leica Q2 Accessories
A number of new accessories were released with the Q2 including camera protector cases, straps, and pouches. The 'Ettas' line of soft canvas pouches can be used for a number of Leica cameras and will be available in midnight blue, stone gray and red.
Leica Ettas Coated Canvas Pouch Collection
The new leather protector cases are specifically for the Q2 and feature a leather carry strap and lens cutout. The cases fit snuggly around your camera and are available in black, brown, pink, and red. Finally, the camera straps. This add-on is as clean and classic as the cameras they're made to hold. This accessory is made specifically for the Q2 and is available in black, brown, pink, and red. Please note that while these items are pictured together, the cases and straps are sold separately.
Leica Leather Q2 Camera Protectors
That concludes our first look at the Leica Q2 specs, features, and photos. Leave your thoughts on this new camera in the comments below.