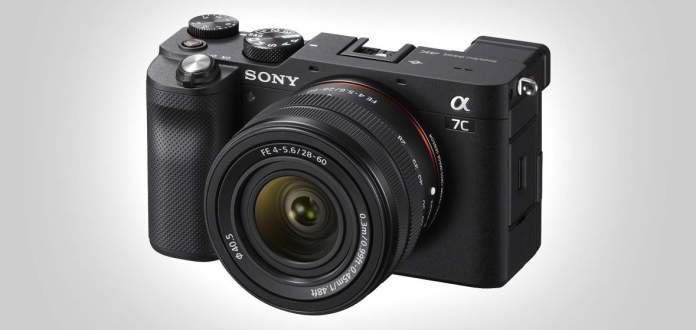 Size does matter, at least according to Sony. Overnight they announced their new full-frame mirrorless camera, proclaiming it the lightest and smallest full-frame camera system in the world. It's a bold claim, but it's believable when you see the new camera. Here's our Sony a7C review. 
The Sony a7C just about fits in the palm of your hand, even when fitted with the new FE 28-60mm f/4-5.6 zoom lens, announced last night too. A new, equally small external flash was also announced, the HVL-F28RM.
To give you a sense of the camera's size, the body is similarly shaped to the Sony models that use an APS-C sensor, such as the a6100 and the a6400. However, instead of an APS-C sensor, the a7C has a full-frame, back-illuminated Exmor R sensor, the same as Sony's powerful a7 III. 
If you're intrigued by Sony's latest release but not sure if it's the camera for you, we've taken a dive into the specs to determine the a7C's best features and its flaws. 
First, watch the announcement video below for a quick summary of the a7C's top features:
Sony α7C Review
Design
While it can sometimes be hard to discern a single key feature of a new release, that is not the case with the Sony a7C. Sony has been very clear about why you should invest in their new camera: it's small.
Small may not sound like much, but considering the a7C's performance capabilities, its appeal is clear. The a7C body weighs approximately 18 oz (509g) when loaded with a battery and memory card. Compare that to the Sony a7 III, which weighs 23.04 oz (650g). That's nearly 30% bigger for a camera with the same sensor.  The Panasonic LUMIX S5, another similar camera, weighs even more at 25.28 oz (714g). 
If you're about to point out that a small body can be redundant depending on the lens you're using, Sony has also released a new, small lens to go with the a7C. While kit lenses can be notoriously unreliable, the FE 28-60mm F/4-5.6 zoom lens offers corner-to-corner high resolution and great close-up capabilities. In other words, like the a7C, it's been built with vloggers in mind.  
While the a7c is remarkably small, it may not actually be the smallest full-frame camera system in the world. The Sigma fp full-frame camera still holds that crown. When paired with a 45mmm f2.8 DG DN lens, it weighs in at 22.47 oz (637g). Slightly less than the 23.85 oz (676g) the a7c weighs when fitted with its zoom lens. Granted, the a7C kit is arguably better for vloggers, offering zoom flexibility and a better depth of field.
Another great feature for vloggers is the a7C's flip-out, rotatable LCD screen. It's also a touch-screen, allowing you to autofocus for stills or video with a touch of your finger. 
The shell of the a7C is made from magnesium alloy with dust and moisture resistant sealing. Small, strong, and powerful, this camera was built for use in the field.
Performance
The a7C is capable of delivering beautiful imagery. The camera has a powerful 24.2MP full-frame sensor, 15-stop dynamic range, and an ISO range of 100-51200 (up to 102400 expanded). Impressive bokeh can also be captured when shooting with a wide aperture lens.
The a7C additionally has 5-axis image stabilization and Sony's AI-driven eye autofocus system. These features can elevate your video quality dramatically, especially if you're shooting a moving subject without a tripod. For vloggers that like to walk and talk directly to the camera, these features will make the difference between a video that's watchable and one that's not.
Speaking of video, the a7C can record 4K video without pixel binning, full HD video at 120fps, and supports HDR and S-log/S-Gamut profiles.   
Memory
One downside of the a7C's compact frame is the single memory card slot. While this may be a dealbreaker for some, it's a sacrifice that won't deter most content creators given the portability of the camera.
Price 
The Sony a7C is available for pre-order now in both black and silver for $1,798.00 (body only). You can also purchase the camera with the FE 28-60mm f/4-5.6 zoom lens for $2,098.00. The lens is available separately for $498.
Considering its size and gamut of features, the Sony a7C is a well-priced addition to Sony's Alpha range. 
Sony a7C Review – Summary
The Sony a7C is a strong release. Blending some of the best features of Sony's other cameras into a more compact body has resulted in a camera that is as portable as it is powerful. The a7C is sure to be popular with vloggers and content creators alike who need a camera they can carry with them anywhere. After all, it's the world's smallest full-frame camera.
Regular price: $1,798.00

Regular price: $2,098.00

Regular price: $498.00

Regular price: $248.00