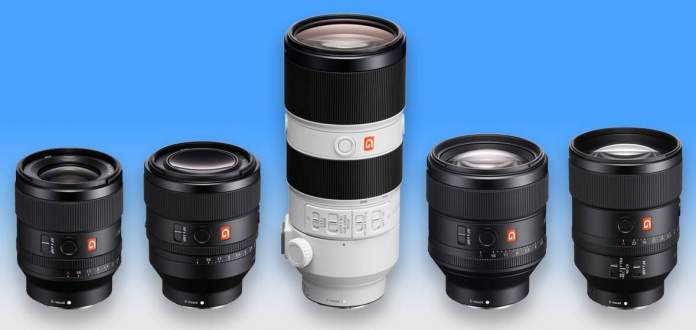 The style of photography you prefer to shoot should influence which lenses you buy. For example, portrait photographers tend to use telephoto prime lenses with a focal length over 50mm. However, there are some exceptions, evident in our list below of the 5 best Sony E-mount portrait lenses. 
Sony E-mount shooters have a wide variety of lenses to choose from. Sony currently has over sixty E-mount lenses available, not to mention the third-party alternatives or other-mount lenses that can be used with an adapter. For the purposes of this post, we specifically focused on finding the best portrait lenses within the Sony range of E-mount lenses.  
Additionally, the models we've selected are full-frame (FE), G Master (GM) lenses. Our reasoning being that full-frame lenses can be paired with both full-frame and cropped sensor cameras, while the reverse is not true. Meanwhile, the G Master line is Sony's premium line of lenses, offering the highest quality build and performance capabilities.  All five models are also part of the select few lenses fast enough to keep up with the Sony a1 while shooting continuously at 30fps.  
While price was not a criterion in our search for the best Sony E-mount portrait lenses, we have also included some honorable, affordable mentions at the tail-end of our post for photographers on a budget. 
Sony FE 35mm f/1.4 GM 
It's unwise to go too wide when snapping portraits. In addition to the risk of distortion, the broad field of view can make your subject also appear… well, wider. 35mm is an appropriate cut-off, which is why the Sony FE 35mm F1.4 GM is our widest portrait lens recommendation. The lens, which was released earlier this year, offers a natural, distortion-free field of view similar to the human eye.  
The 35mm F1.4 lens is particularly great for street portraits. The extra width gives you plenty of space to capture your subject and their vibrant, urban surroundings. Additionally, the 11-blade circular aperture reaching F1.4 allows the lens to perform well in low-light, not to mention generating pleasing bokeh. An Extra-low Dispersion (ED) glass element and Nano AR Coating II also help the lens suppress aberrations, flare, and ghosting for a great optical performance. 
The 35mm F1.4 is also a great option for photographers with a cropped sensor camera like the Sony a6600 or 6400. On APS-C cameras like these, the lens has a field of view equivalent to a 52.2mm lens, which is still ideal for street portraiture.  
In addition to strong performance capabilities, the lens offers a sophisticated, lightweight build. Weighing 1.16 lb. (524g), the lens is lighter than both the Sigma 35mm F1.2 and 35mm F1.4 DG DN Art lenses, as well as the Sony Distagon T* FE 35mm F1.4 ZA. The lens body also offers premium features such as an aperture ring and a customizable focus hold button, and dust and moisture resistant weather sealing.   
The Sony 35mm F1.4 costs $1,398, which is more affordable than the Sigma 35mm F1.2 and Sony Distagon T* FE 35mm F1.4 ZA. Overall, a great value lens that's perfect for street portraiture. 
Sony FE 50mm f/1.2 GM 
Like the 35mm lens above, the Sony FE 50mm F1.2 GM is one of Sony's newest lenses. Featuring a state-of-the-art optical construction housed within a compact, light build, Sony's 60th E-mount lens has been in high demand since it was announced in March this year. 
Weighing 1.72 lb. (778g) and measuring 3.43'' by 4.25'' (87 x 108mm), the lens has a similar build to the Sony Planar T* 50mm F1.4 ZA.  The compact size means it's a great option for small full-frame and APS-C bodies, with a cropped sensor field of view equivalent to a 75mm lens. In addition to a small stature, the body offers an aperture ring, aperture click switch, and two customizable focus hold buttons, and is weather sealed against dust and moisture.   
With a maximum aperture of F1.2, the 50mm GM is Sony's fastest E-mount prime lens currently available. This helps the lens deliver smooth, luscious bokeh and a fantastic low-light performance. The lens optics include three Extreme Aspheric (XA) elements that help it achieve high, edge-to-edge resolution, and a small minimum focusing distance of 1.32ft (40cm). 
Another great feature of the lens is its focus mechanism. With four Extreme Dynamic (XD) linear motors, the state-of-the-art system enables the lens to autofocus with incredible speed and accuracy. In a portrait shoot where you or your subject are moving around frequently, this feature is sure to come in handy. Additionally, the linear response manual focus ensures precision and complete control when adjusting the focus ring yourself.  
The Sony FE 50mm F1.2 GM is well worth its $1,998 price tag. Offering a compact build and truly stunning visual performance, you'll be amazed at the things you can do with this lens.  
Sony FE 70-200mm f/2.8 GM 
While four out of the five best Sony E-mount portrait lenses we've selected are primes, most photographers typically have at least one or two zoom lenses in their bag. The Sony 70-200mm F2.8 GM is a fantastic choice, offering an outstanding optical performance throughout its focal range that rivals premium prime lenses. We also included it in our list of the 5 best lenses for the Sony a7 III. 
With a complex optical construction including four ED elements, two Super ED elements, two XA elements, and Nano AR Coating, the Sony 70-200mm F2.8 generates gorgeous, high resolution visuals with excellent clarity and contrast. With so much glass, the lens uses two separate motors (an RDSSM & double linear motor) and multiple position sensors to power its fast, reliable autofocus.  
The 70-200mm F2.8 has built-in Optical Steadyshot image stabilization, which becomes 5-axis image stabilization when paired with select Sony Alpha cameras, including the a7R IV, a7S III, a7 III, and the a6600. The lens also supports Sony's Mode 2 stabilization functionality, enabling smoother, steadier imagery when panning.  
Weighing 3.26 lb. (1.48kg) and measuring 3.46'' x 7.87'' (88 x 200mm), the 70-200mm F2.4 is the largest lens in our list. It may feel a little uncomfortable on smaller E-mount cameras, though the build quality is impeccable. The lens has durable, weather-sealed housing, plus a removable, rotating tripod mount, smooth-turning focus and zoom rings, three customizable focus hold buttons, and switches for the focus, focus limiter, image stabilization, and lens modes.  
The Sony 70-200mm F2.8 GM is a true powerhouse. Offering a sophisticated optical performance and professional-grade build, the versatile, telephoto zoom lens costs $2,598, yet offers plenty of bang for your buck.
Sony FE 85mm f/1.4 GM 
The Sony 85mm F1.4 GM has been one of Sony's most popular lenses since its release in 2016. Remarkably well built, the lens is still a strong competitor to more recently released third party lenses like the Sigma 85mm F1.4 DG DN Art. We compared the two lenses recently and found they both offered superb performance capabilities.  
Telephoto lenses with a focal length of 85mm or higher are ideal for portraiture as they make it easier to isolate your subject from the background. A wide aperture like F1.4 helps as well, shortening the depth of field and blurring the background into visually pleasing bokeh. Additionally, just as a smaller focal length can make your subject look wider, a longer focal length can have a slimming effect. On an APS-C camera, the Sony 85mm F1.4 lens' field of view is even narrower, equivalent to a 127.5mm lens.  
At 1.81 lb. (820g), it's slightly heavier than the two previous lenses, but still a comfortable pairing with any Sony E-mount camera. The lens comes fitted with an aperture ring, aperture click switch, customizable focus hold button, hood luck mechanism, and is reliably weather sealed against dust and moisture.  
Nano AR Coating and three ED elements in the optical construction of the lens help it deliver crisp, high quality visuals free of aberrations, flare, and ghosting. The overall image quality output is fantastic. Meanwhile, the dual sensor RDSSM autofocus motor can be a little noisy, though it's very fast and accurate. It has no trouble keeping up with the advanced Eye AF capabilities of Sony's Alpha cameras.   
The Sony 85mm F1.4 GM costs $1,798, and is easily one of the all-time great Sony G Master lenses. W 
Sony FE 135mm F1.8 GM 
The fifth and final Sony E-mount portrait lens we recommend is the Sony FE 135mm F1.8 GM. In a previous post, we compared it to the Sony 85mm F1.8 GM (also above) and found both models to be fantastic options for portrait photographers.  
One disadvantage of longer lenses is that they tend to have a higher minimum focusing distance. That isn't the case with the 135mm F1.8. Thanks to its floating focus mechanism, the lens has a minimum focusing distance of just 2.3ft (70cm). It's a great option for close-up portraits. In fact, you could also use this lens quite effectively for macro photography.  
Another nice feature is the focus range limiter switch on the side of the lens. Allowing you to restrict the autofocus to a narrower focus range, it helps the lens avoid accidentally focusing on other objects in frame. The lens also has an aperture ring, aperture click switch, AF/MF switch, and two customizable focus hold buttons (for horizontal and vertical shooting). At 2.1 lb. (950g) and measuring 3.52'' x 5'' (89.5 x 127mm), it has some size to it, but it's well worth it given the lens' visual output. 
Optically, the lens performs excellently. XA, ED, and Super ED elements reduce aberrations for edge to edge resolution, while Nano AR Coating suppresses flare and ghosting. Additionally, the 11-blade circular aperture helps the lens deliver luscious, bokeh-filled backgrounds, isolated from your tack-sharp subject, for breathtaking portraits.  
The Sony 135mm F1.8 GM costs $2,098 and will make any portrait photographer – and their subjects – very happy.  
Honorable, Affordable Mentions 
The 5 best Sony E-mount portrait lenses we identified above are premium-grade lenses, ideal for intermediate and professional photographers. However, if you find yourself a little restrained by budget, there are some more affordable alternatives.  
We're particularly fond of the three, full-frame prime lenses Sony added to their G line earlier this year. Priced at just $598 each, the 24mm F2.8, 40mm F2.5, and the 50mm F2.5 are all incredibly light and compact, and capable of delivering fantastic image quality. The latter two lenses are particularly well-suited to portrait photography. Check out our review of these lenses to learn more. 
The Sony Sonnar T* FE 35mm F2.8 ZA is another great option. The remarkably compact lens costs just $598 and uses high-quality ZEISS glass to deliver a strong optical performance.  There's also Sony's nifty-fifty lens, the $248 50mm F1.8. 
___ 
As we mentioned, there are a wide variety of lenses available to Sony E-mount shooters. If you're interested in portrait photography, we hope our list of the 5 best Sony E-mount portrait lenses helps you determine which lens or lenses you should invest in next. 
Regular price: $1,398.00

Regular price: $1,998.00

Regular price: $2,598.00

Regular price: $1,798.00

Regular price: $2,098.00