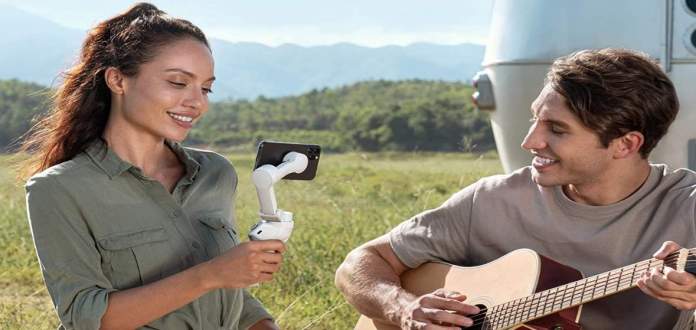 As smartphone cameras have become more powerful, new accessories and equipment have been developed to match. A smartphone gimbal enables you to capture smooth, stable video, even when walking or moving your phone. While the best gimbal for your phone may come down to personal preference, we've identified some of the best systems currently available. 
DJI OM 4
DJI manufactures some fantastic camera stabilization systems. They're a market leader for aerial systems, aka drones. However, they also make some great gimbals for cameras and phones. In 2020 they released the DJI OM 4, and it's their best gimbal for smartphones yet.
The OM 4 is foldable and weighs just 405g (0.89 lb), making it incredibly portable. The gimbal uses a magnetic quick-release design that allows you to attach and remove your phone very easily. It can handle phones up to 290g (0.64 lb).  With a 15-hour battery life and ergonomic grip, you'll have no trouble using it for hours. 
The previous model, the DJI Osmo Mobile 3, is lighter, but uses a larger, non-magnetic clamp to connect to the phone. An attachable grip tripod is also included with the OM 4, whereas you'll need to purchase the combo kit to get it with the Osmo Mobile 3.
The gimbal connects to your phone using Bluetooth and the DJI Mimo app. The app will enable you to track any object while recording, and also has some really cool features including time lapse capabilities and DynamicZoom, which automates the trippy dolly zoom effect. Like with the Osmo Mobile 3, you can also use the impressive gesture control feature to start recording when you're in front of the camera. 
The DJI OM 4 guarantees smooth, stable recording and is loaded with features that will enhance your videos. At $149, it's a great value gimbal. 
Zhiyun Smooth 4
Zhiyun has a great range of gimbal products, including two smartphone gimbals, the Smooth 4 and the Smooth Q2 (see below). The Smooth 4 is older and larger than the Q2, so we'll touch on it first.
Weighing 547g (1.21 lb), the Smooth 4 is big, but makes up for it with a convenient, user-friendly control panel. There's a dial on the side you can use to control focus or zoom manually, while two triggers on the back allow for controlled camera movements, such as tilts and pans. A small tripod extension is included with the gimbal.  
Like DJI, Zhyun's ZY Play app extends the functionality of their gimbals. The app enables time lapse, object tracking, slow-motion, and also has a dolly zoom effect they call Vertigo. The creative PhoneGo mode helps you to create a scene transition using rapid movement. 
The Smooth 4 has a 12-hour battery life, with an indicator on the handle for easy monitoring. The gimbal also supports two-way charging. That is, you can charge your phone through the gimbal even while the gimbal is charging.
Despite its size, the Smooth 4 has a little trouble with bigger phones. The maximum supported weight is 210g (0.46 lb). However, when fitted with the right phone, the gimbal delivers reliably smooth, stable video, and its user-friendly controls make it a pleasure to use.  The Zhiyun Smooth 4 has a 12 hour battery life and costs $139.99. 
Zhiyun Smooth Q2
The Zhiyun Smooth Q2 was released in 2019 and feels like the Smooth Q4's baby sibling. Weighing 390g (0.86 lb), The Smooth Q2 is considerably smaller, yet can support heavier phones, up to 260g (0.57 lb). Of course, that's not the only improvement. 
Like the Smooth 4, the Q2 offers object tracking, time lapse capabilities, and the Vertigo shot via the ZY Play app.  Unlike the Smooth 4, the Q2 can spin your phone 360 degrees while recording, has a 17 hour battery life, and allows you to control your phone's native camera app. 
The Smooth Q2 also has a more minimalist interface. There's fewer buttons, and no dial for adjusting the focus and zoom. However, the gimbal's small joystick does still provide some nice control. You can use it for smooth camera movement while recording. 
The Smooth Q2's sleek, aluminum build is remarkably portable. In fact, it's not much bigger than the average smartphone, so you can fit it in any bag or a large pocket. Currently available for $149, it's another great value gimbal. 
Which Gimbal Should I Choose?
The best gimbal for your smartphone depends mostly on you. All three gimbals featured above are affordably priced, high-functioning, and deliver steady, stable video.
If portability is a priority, go for the Zhiyun Smooth Q2. It's arguably more, if not equally powerful to the other two gimbals, yet smaller and lighter. If you want a gimbal that gives you complete control, particularly over the focus and zoom, the Smooth 4 is a great choice. Meanwhile the DJI OM 4 is a great blend of portability and usability. Whichever model you choose, all three gimbals are well worth their price tags. You won't regret your choice. 
Regular price: $149.00

Regular price: $139.00

Regular price: $149.00

Regular price: $119.00

Regular price: $139.00