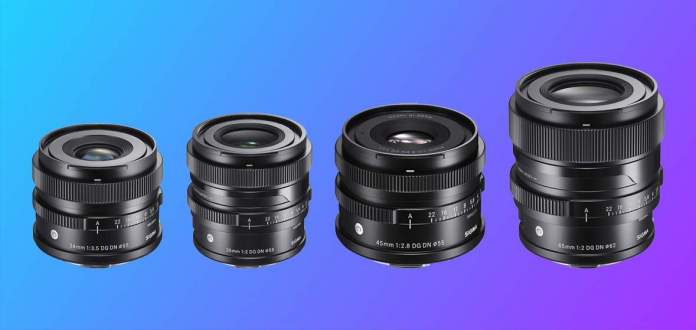 Three new lenses were announced today as part of the Sigma I Series, a new collection of full-frame, mirrorless exclusive lenses. In addition to the three new lenses, the I Series includes the Sigma 45mm F2.8 DG DN lens, which was released last year. The three new lenses are a 24mm F3.5 DG DN, a 35mm F2 DG DN, and a 65mm F2 DG DN. Courtesy of Sigma, we were given a sneak peek at the I Series, and we've compiled everything we know so far below.
About the Sigma I Series
The I Series offers a range of high quality, competitively-priced prime lenses for L-Mount and Sony E-mount cameras. Built to the same standards as Sigma's Cine lenses, the I Series lenses have a stylish, high-end look and feel. All lenses in the series have a durable, metallic build with ridged, easy-to-grip focus and aperture rings, and dust and splash-proof sealing. 
It's important to note that the I Series is not a new product line alongside Sigma's Art, Sports, and Contemporary lines. The four lenses that currently make up the series are all Contemporary lenses. However, Sigma may also add Art and Sport lenses to the series in the future. 
The series was developed to offer mirrorless, full frame camera owners more compact, high quality lens options. We've delved deeper into the individual lenses that make up the series below. 
Sigma 24mm F3.5 DG DN Lens
The Sigma 24mm F3.5 DG DN lens is a lightweight, high-performing wide-angle lens. The lens is remarkably small considering its sophisticated optical construction that uses SLD glass and glass-molded aspherical elements. It's the perfect partner to a powerful yet petite camera like the Sony a7C. Paired together they are one of the smallest full frame camera systems in the world. 
The 24mm F3.5 DG DN outputs impressive visuals with edge-to-edge sharpness and eye-pleasing bokeh. A minimum focus distance of 10cm and a maximum reproduction ratio 1:2 means you can also use the lens effectively for both landscape and close up photography.  The lens' smooth focus drive technology enables it to work well with fast autofocus systems, while its fast, quiet motor means the lens works great for video too. The 24mm F3.5 DG DN is an impressively powerful lens, which is all the more incredible given its size.  You can pre-order the lens now for $549. 
Sigma 35mm F2 DG DN Lens
The Sigma 35mm F2 DG DN Contemporary lens is just as impressive. Like the other lenses in the series, it has a compact, durable, metallic body, while SLD glass, high-refractive index elements, and glass-molded aspherical lenses in the internal construction of the lens help suppress aberrations, field curvature, flare, and ghosting. 
The versatile 35mm focal length and wide maximum aperture means this lens works great for a variety of styles. It's now available for pre-order for $639. Check out our Sigma 35mm F2 DG DN review video below for more information about this lens.
Sigma 45mm F2.8 DG DN
The 45mm F2.8 DG DN Contemporary lens was released last year, however it still embodies the core design features of the Sigma I Series. That is to say, it's a high quality, high performance lens with a compact build. 
45mm is a relatively rare prime focal length, but don't think that means you'll only use this lens occasionally. Slightly wider than everyone's favorite lens, the nifty-fifty, the 45mm F2.8 lens is arguably more robust, without the risk of distortion that can come with a 35mm or wider focal length. You'll be comfortable using this lens for everything from street to still life photography. 
The lens is also incredibly light, weighing just 215g (7.5 oz), making it easy to carry with you everywhere. This is great considering it's impressive performance capabilities. This everyday lens also has a fairly low-cost price tag of just $449.
Sigma 65mm F2 DG DN
As the longest lens in the I Series, the Sigma 65mm F2 DG DN does not disappoint. Like its siblings, the telephoto lens has a compact, durable build and impressive performance potential. The lens captures beautiful, ultra sharp imagery, even at its maximum F2 aperture. 
The 65mm focal length produces a narrow field of view and shallow depth of field that makes for excellent portraits and cinematic video. Internally, glass-molded aspherical lenses correct comatic and spherical aberration, helping the lens to produce large, circular bokeh.  Similarly, SLD glass is used to correct axial chromatic aberration, which can be more noticeable in telephoto lenses. 
Prime lenses can often feel restricting. However, that's not the case with the 65mm, nor any of the lenses in the Sigma I Series. Satisfying bokeh and a compressed perspective allow for aesthetically pleasing visuals, whether you're photographing a subject that's close by or faraway. Considering the versatility, compact build, and performance power of the lens, its pre-order price of $699 is a great deal. 
Which Lens Should I Buy?
If you only have room in your budget for two of the I Series lenses, make them the 24mm and the 45mm. Together, they provide a nice focal length spectrum that will cover you for most situations. Both lenses also have the same filter size, 55mm, and don't weigh very much, so carrying them around in your bag won't be burdensome. 
If you only have the budget for one lens, go with the 35mm. It's a great all-rounder lens, capable of producing rich, detailed visuals whether you're snapping scenery or photographing portraits. Of course, if you know you'll be photographing landscapes more often, you may prefer the 24mm, the widest lens in the series. It's still versatile enough that it can handle other styles as well. Likewise, if you'll mostly be photographing people, the 65mm captures flattering imagery. 
Whether you're a pro looking to expand your collection of prime lenses, or a beginner looking to purchase your first, there is a Sigma I Series lens that's perfect for you. All four lenses in the series have high quality performance capabilities, a lightweight yet durable build, and are remarkably well priced. You'll be happy with any lens from the Sigma I Series.
Regular price: $639

Regular price: $699