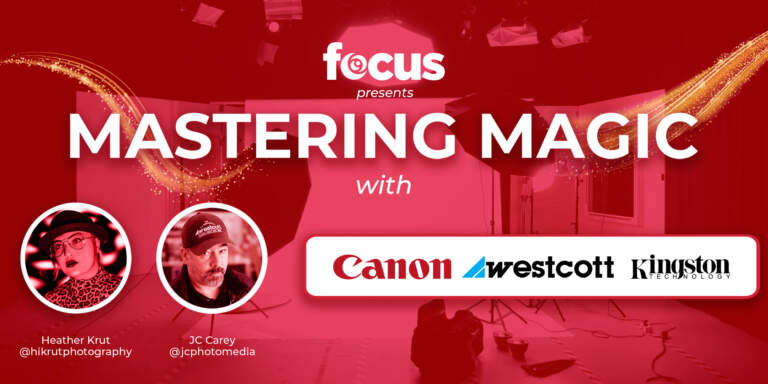 Venue
Focus Camera
1797 Avenue of the States
Lakewood, NJ, NJ, US, 08701
** A $10 registration fee will be reimbursed to attendees in the form of a Focus Camera gift card upon check-in.**
Join us at Focus Camera Lakewood for an evening of photographic mastery as we bring together Canon and Westcott to explore the art of lighting. On Thursday, June 22nd, our dynamic trio will be tackling the ways to master and manufacture the perfect studio setup with single, two-light, and multi-light techniques.
*Mastering Magic* is designed for you to have the chance to discover and explore what different lighting styles can do.
This event will be interactive, hands-on, and filled with opportunities for you to actively engage in the world of lighting. From mastering the art of single-light setups to exploring the creative possibilities of two-light and multi-light arrangements, you will gain valuable insights and practical knowledge that you can apply to your own photography. Witness the magic unfold as we demonstrate the process of building images step by step by learning the secrets of adding and removing lights and modifiers to shape and transform your shots into captivating visuals that will leave a lasting impression.
As a Bonus:
Canon will be providing R and RF System cameras for attendees to demo during the event.
Expert models will be present to ensure you capture truly mesmerizing photos.
Attendees will also be gifted with a memory card to keep the unique shots they capture
Grand Prize Giveaway – Registered attendees will be entered to win a Giveaway Raffle where the winner takes home an R50 at the end of the event!

Attendees will be gifted with a 32 GB Kingston Technology memory cards to keep the unique shots they capture."
Don't miss out on this incredible event where you'll have the chance to learn from the best in the industry, try out new techniques, and expand your photography skills. Join us at Canon x Westcott x Focus: Mastering Magic, and let the power of light unlock a world of creative possibilities for you.
Register Now!
About the Educator:
Heather has been an avid photographer for almost 20 years and a Canon product educator for the Philadelphia area since 2013. She shoots the EOS R system with a main focus on creative portraiture, travel, and most importantly, live concert photography. Her work has appeared in various publications including V13, Alternative Press, and New Noise Magazine. Instagram: @hikrutphotograph