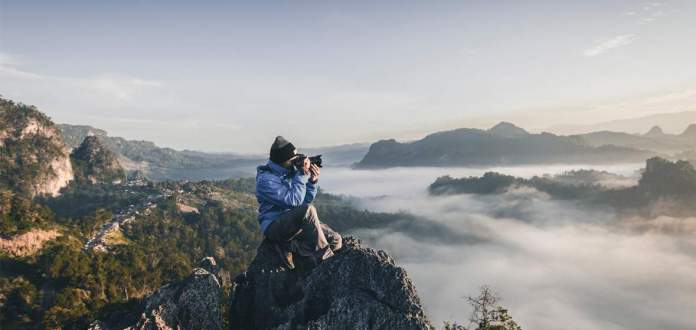 As the first month of the year, January is a great time to refresh and recalibrate your goals for the future. Perhaps unsurprisingly, it's also National Hobby month! After all, is there a better time to try out something new? To celebrate the occasion, we've put together a list of outdoor and indoor hobbies you might be interested in trying in 2021.
Indoor Hobbies
While the COVID-19 pandemic continues, many of us will be spending a lot of time at home in 2021.  If the prospect of more time inside sounds daunting, you're not the only one.
The Centers for Disease Control and Prevention (CDC) advise that public health actions like social distancing can "make people feel isolated and lonely and can increase stress and anxiety." Because the precautions are necessary, they recommend taking healthy measures to cope with any stress. This includes taking "time to unwind" and doing "activities that you enjoy."
So there you have it. Hobbies are officially recommended by the CDC for your mental health. With that endorsement, let's take a look at some fun indoor hobbies that are great for alleviating stress.
Podcasting
If you've thought about getting into podcasting recently, you're not the only one. Podcasting consumption on Spotify has reportedly doubled since the start of the pandemic. More podcasts are also being produced. As of January 2021, it's estimated there are nearly 2 million podcast shows, and over 40 million episodes. That's up from approximately half a million shows and 19 million episodes in 2018. 
One of the best things about podcasts is that it's remarkably easy to make your own. Many of the most popular podcasts in the world are just people talking about their interests. All you need to get started is a microphone, computer, and something to talk about.
USB microphones are recommended for beginners. A USB microphone will allow you to record audio directly into your computer. We recommend the Yeti Blue USB microphone.  
Alternatively, an XLR microphone will record higher quality sound. However, you will need to record via an audio interface, or use an audio recorder. The Shure SM7B is a dynamic cardioid microphone that's great for recording vocals. Popular podcasts that use this model include The Joe Rogan Experience, WTF Podcast with Marc Maron, and Armchair Expert with Dax Shepard.
If you plan to record with a co-host, or regularly interview guests, you may require more equipment. The PodTrak P4 from Zoom is an audio recorder designed specifically for podcasts. As we discuss in our review, the P4 is loaded with features that make it easy for anyone to record a professional grade podcast. Focusrite also offers a great podcasting bundle. 
Check out our post about starting your own podcast for more tips. 
Gaming
Gaming isn't just for kids. In fact, a 2020 report by the Entertainment Software Association (ESA) found that 64% of US adults play video games, while the average age of a gamer is between 35-44 years old. More older Americans are getting into gaming as well. 46% of men and 63% of women players aged 65 or older have been gaming for 10 years or less.
Gaming has only become more popular since the pandemic started. That's not surprising, given it's an increasingly social activity. Gaming provides an excellent opportunity to have fun with friends, family, or strangers, even if they're not physically nearby. The ESA reports that 65% of gamers play with others, online or in person. 
If you'd prefer to play alone, there are other benefits to gaming. The ESA reports that 79% of players "say games provide relaxation and stress relief" and 80% say they "provide mental stimulation." 
November 2020 saw the release of two new major consoles, The PlayStation 5 and the Xbox Series X/S. However, the Nintendo Switch, which came out in 2017, was the best-selling console of the month and the year. According to the ESA, though, only 52% of gamers use a console. 61% of gamers use a smartphone, like the Sony Xperia 5 II which also came out in 2020. 49% of gamers use a personal computer.
However you choose to play, there's no reason why gaming shouldn't be your next hobby. 
Music
Everyone loves music. We're physiologically predispositioned to do so. So maybe you've considered making your own kind of music. 
The benefits of playing music are extraordinary. Numerous studies have shown a correlation between participating in music lessons as a child and enhanced academic performance. Musicians also tend to be more mentally alert, and have faster reaction times. While learning at a young age reaps the most benefits, it's never too late to start. Playing music is a healthy brain exercise regardless of your age.
Most people think of a guitar or keyboard when they think about taking up music. However, there is an assortment of musical instruments available at various price points. You also don't need to use a traditional instrument to make music. For example, Novation's Launchkey Mini MK3 is a great option for beginners who don't have any experience with a specific instrument.
The Launchkey Mini MK3 is a MIDI keyboard controller.  It's used to make electronic music, and is similar to a synthesizer. Unlike a synthesizer, though, it needs to be used in conjunction with an audio editing software. The Launchkey Mini MK3 connects to your computer via USB, and comes with the Ableton Live Lite software. It's great for beginners because it's easy to learn and use, and allows you to create music using a variety of different sounds. It's also more portable and affordable than most instruments. Check out our comparison of the Launchkey Mini MK3 and the Mini MK2 to learn more.
Outdoor Hobbies
During a pandemic, the safest place you can be is inside your home. The second safest place is outside in the sun, alone or away from others. An outdoor hobby is a great excuse to leave the house and take in some fresh air. The outdoor hobbies we recommend below are all pandemic-friendly. That is, you can do them by yourself or while social-distancing.
Photography
The great outdoors is full of natural wonders. Photography is an art form that will help you appreciate the natural beauty that surrounds you. You might be surprised what looks beautiful when viewed through a lens.
It can feel a little overwhelming when starting out. There's a plethora of camera gear available. So if you're a beginner, you should start simple. Invest in a camera that's lightweight, easy to use, and won't break your budget.
The Sony a6000 is a great option. It's an older model, but you wouldn't know it based on its specs. It's compact, easy to use, and captures great quality photos and video. Check out our 2020 post on the best cameras for beginners for more recommendations.
We also recommend doing some research into the basics of photography before you start shooting. Three of the most important settings on any camera are the aperture, ISO, and shutter speed. Together, they control how much light is exposed to your camera's sensor. The exposure of light to the sensor is how a photo is created, so these settings are critical to how your images will turn out. Check out our post explaining the exposure triangle to learn more.
You may also want to look into the different styles of photography. If you're interested in photographing scenery, click here for some landscape photography tips.
Bird Watching
If you have an appreciation for nature and wildlife, consider birding. Also called bird watching, it's an activity that involves finding and observing birds in the wild. The hobby provides a great opportunity to leave your house, get some exercise, and learn more about the fascinating world of birds.
According to the National Audubon Society, a non-profit dedicated to the conservation of birds and their habitats, you don't have to travel far to go birding. Try a nearby park or open water source, such as a lake or river. Before you go, though, they advise doing some research. "Birding can be an adventure, but it should never be reckless."
If you're in the US, be sure to read the American Birding Association's Code of Birding Ethics. Ultimately, the ethos of the hobby is about respecting birds and their environment. The code states that birding "should be fun and help build a better future for birds, for birders, and for all people."
Try to observe birds from a distance to minimize disruption. Many birders utilize binoculars for this reason. Celestron's Nature DX series of binoculars are great for birding. We recommend the 8×42 model for beginners. The binoculars are affordable, durable, and rival the optics of more expensive models. 
Birding is a pandemic friendly hobby that allows you to escape the confines of your home and reconnect with nature. While the birding community is large, it's an activity you can do completely alone. The benefits of spending time in nature are also well-documented. Many birders find it to be immensely calming and peaceful, almost meditative.
Astronomy
may not be exactly the same as the one gazed upon by Galileo, it still holds immense mystery and beauty.
Professional astronomers study space and use mathematics, physics, and chemistry to try and solve the mysteries of the universe.  Amateur astronomy is primarily about observing objects in the night sky using a telescope. This includes stars, moons, planets, and other celestial phenomena. 
The Celestron PowerSeeker 114EQ is a great entry level telescope.  It's affordable, portable, and its 114mm aperture is very appropriate for viewing the night sky. Some people also try to make their own telescope, but that's a separate craft. 
Alternatively, astrophotography involves using a camera to capture images of the night sky. Traditionally, it involved attaching a camera to a telescope. However, most mirrorless or DSLR cameras are powerful enough to capture the night sky without additional equipment. A Canon T8i or Nikon D3500 are great options for beginners. 
Whatever gear you use to star-gaze, amateur astronomy is another great outdoor hobby you should try in 2021.
It's a Hobby, Not a Side Hustle
While the outdoor and indoor hobbies above have the potential to become career pursuits, it doesn't mean they should. By definition, a hobby is an activity you do for fun in your spare time. Once you monetize a hobby, it becomes work, and is less likely to relax you or alleviate stress.
You shouldn't feel pressured to be constantly productive during a pandemic. It's important to prioritize your health. Heed the advice of the CDC and take some time for yourself. Try one of the outdoor or indoor hobbies above and you might be surprised how rewarding it can be.
Regular price: $319.99

Regular price: $109.99

Regular price: $179.99

Regular price: $249.99