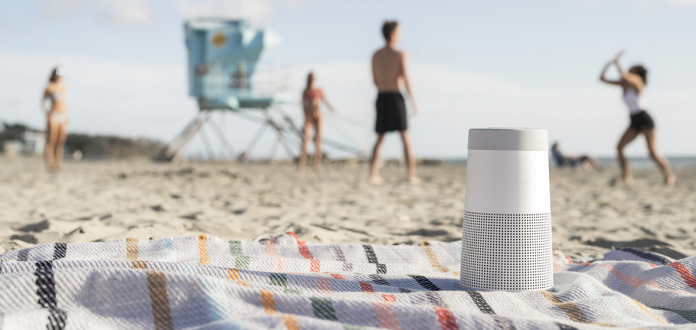 As a result of the COVID-19 pandemic, it's never been more important to have a reliable outdoor speaker. We're all spending more time outside, whether exercising, outdoor dining, or socially-distant socializing. Thankfully, innovations in wireless connectivity and weather sealing mean that the best outdoor speakers currently available are remarkably portable, durable, and sound great.  We've rounded up some of our favorite models below. 
Before we take a look at the best outdoor speakers of 2021, let's review what you should look out for. All the models listed below share similar traits, yet no two speakers are exactly alike. It's important to consider which qualities are most important to you so you can choose an outdoor speaker that will best suit your needs. 
What to Look For in an Outdoor Speaker
Before buying an outdoor speaker you should check its IP rating. It's a 4-character code that indicates the speaker's level of protection against dust, dirt, and water. If you want a speaker you can use at the beach or a pool party, you'll need one with a high rating. Check out our recent post about the IP Code to learn more about how the standard works. 
It's also worth confirming the type of wireless technology the speaker uses. While Wi-Fi offers the strongest wireless connection, it's not applicable for speakers that will be primarily used outside. Most outdoor speakers only offer Bluetooth or a wired connection. 
Bluetooth technology has been updated multiple times over the past 20 years. The most recent major upgrade, Bluetooth 5.0, has several advantages over the previous version (4.2). Bluetooth 5.0 was released in December 2016, and most wireless electronics released since then should use this version. Click here to search for a specific speaker model's Bluetooth version. 
Some speakers also use Near Field Communication (NFC) technology to establish a Bluetooth connection faster. NFC is the same technology used in credit cards to enable contactless payment. NFC can connect two devices in close proximity almost instantly, whereas pairing via Bluetooth alone can sometimes take a few minutes. However, both the speaker and the device it's connecting to must have NFC technology. 
Also check the speaker's battery life, dimensions, and weight, especially if you're ordering online. These specifications are easy to forget about, but can make all the difference once you start using it.
The outdoor speakers featured below are popular, high quality models. However, there are enough differences between them that one may be better suited to you over the others. 
Ultimate Ears WONDERBOOM 2
There's no such thing as the perfect outdoor speaker, yet the UE WONDERBOOM 2 gets pretty close. The small, cylindrical speaker is remarkably lightweight and durable. It weighs just 420g (14.8 oz), and can withstand a drop from 5 feet. Meanwhile its IP67 rating means its 100% protected against dust and dirt, and can withstand immersion in up to 3 feet of water for 30 minutes. It also floats, so it's great for pool parties.
Equipped with two 1.57-inch active drivers and two passive radiators, the WONDERBOOM 2 outputs loud, crisp sound in 360 degrees. The speaker has a frequency range of 75 Hz – 20 kHz, and can reach 86 dBC, or 87 dBC when the Outdoor Boost feature is enabled. Additionally, you can pair the speaker with another WONDERBOOM 2 for twice the sound. Bluetooth 5.0 connectivity ensures a smooth wireless listening experience. 
Bonus features include 13-hour battery life, a built-in hang loop, and 2-year limited warranty. Not bad for a speaker under $100. Check out our comparison of the UE Wonderboom 2 with the original Wonderboom above to learn more about the outdoor speaker. 
JBL Charge 4
JBL is known for making good quality, affordable sound gear. They have multiple outdoor speaker models that are high-functioning and low-cost. However, the Charge 4 offers the best blend of performance capabilities and affordability.
The Charge 4's powerful driver and dual passive radiators deliver impressive sound and bass.  The speaker has a 30W output, frequency response of 60Hz – 20kHz, and uses Bluetooth 4.2 for wireless connectivity. You can also use the Connect+ feature to wirelessly pair it with other JBL speakers that have this feature. Unfortunately, it can't pair with some of JBL's more recent models that use the PartyBoost pairing feature instead.
The Charge 4 also has a whopping 20 hour battery life. Most people can't stay awake that long, let alone continuously listen to music. Additionally, you can charge your phone via the speaker's USB port. 
With an IPX7 rating, the Charge 4 has great water resistance. You can use it in 3 feet of water for up to 30 minutes. The dust/dirt resistance isn't specified, nor is its drop protection. However, the speaker's fabric and rubber housing inspires confidence. At 960g (2.12 lb), it has a little weight to it, but it's still very portable. The Charge 4 costs $124.95 and is available in a variety of colors.  
Sony GTK-PG10
A list of the best outdoor speakers wouldn't be complete without Sony. The GTK-PG10 is the first of two Sony speakers in this list, both available at the same price point of $248. However, they are very different speakers.
Compared to the other speakers on this list, the GTK-PG10 is a juggernaut.  Weighing 6.7kg (14.8 lb), this isn't the type of speaker you take on a hike. This powerhouse of a speaker is better suited for blasting music at a picnic or beach party. It even has a splashproof top panel with built-in cup holders. The speaker also has a microphone input, FM tuner, and can be mounted to a tripod.
What it sacrifices in portability, the GTK-PG10 makes up for with an incredible sound performance. The speaker uses a Digital Signal Processor (DSP) to automatically enhance the sound based on your surroundings. You can close the top panel to project the sound forward, or open it to allow the built-in tweeters to spread the sound in multiple directions.
The GTK-PG10 has a 13 hour battery life, uses Bluetooth 4.2, and has built-in handles that make it easy to carry. If you need an outdoor speaker with added oomph, you won't be disappointed by the Sony GTK-PG10. 
Sony SRS-XB43
The second Sony speaker in our list is the Sony SRS-XB43. As mentioned, it shares the $248 price tag with the Sony GTK-PG10 while offering different advantages.
Weighing 2.95kg (6.5 lb), the SRS-XB43 is considerably lighter than the GTK-PG10. However, the bottle-sized speaker is still one of the larger models in this list. Like the GTK-PG10, it makes up for it with impressive sound quality. 
The SRS-XB43 uses a woofer for low and mid-range frequencies and a tweeter for high-range frequencies to ensure clear sound. A Mica Reinforced Cellular (MRC) speaker cone and dust cap further improve sound quality. Additionally, a rectangular diaphragm and a passive radiator on each end of the speaker ensure optimal bass output.  The bass can be further enhanced using Extra Bass mode. Bluetooth 5.0 and NFC means the speaker's wireless connectivity is as good as it gets. 
The Sony SRS-XB43 also has great weather sealing. Its IP67 rating means it can handle dust, dirt, and immersion in 3 feet of water for up to 30 minutes. 
Marketed as a party speaker, the SRS-XB43 has built-in lights that can change color and flash in-sync to the beat. If you use Sony's Party Connect feature to pair multiple SRSX-B43s, the lights on each model will also sync. Meanwhile the 24 hour battery life – or 14 hours with the lights and Extra Bass mode on – ensures the speaker will outlast any event. 
Cleer Stage
The Cleer Stage is an underrated outdoor speaker. Cleer doesn't get the same recognition as other brands in this list, but their products hold up in comparison. At $79.99, The Cleer Stage is the most affordable speaker included in this list, and far from inferior to the other models featured. 
The 740g (26.1 oz) speaker uses Bluetooth 4.2 and NFC, has a built-in microphone, and is compatible with Amazon Alexa. It also has shockproof housing, while its IPX7 rating means it can handle immersion in 3 feet of water for 30 minutes. The 'X' in the rating indicates the speaker's protection against dust and dirt hasn't been tested. 
The Cleer Stage uses a digital amplifier to boost its dual 1.89-inch drivers and passive radiators. This results in remarkably powerful, distortion-free sound. Using the Cleer Connect app, you can further amplify the sound by pairing it with a second Stage speaker. The 15 hour battery life means it can outlast 2 of the more expensive speakers listed above. 
Portable, affordable, and offering a great overall performance, the Cleer Stage's inclusion in our list of the best outdoor speakers is well deserved, even if you've never heard of it.
Bose Soundlink Revolve+
Currently priced $289.95, the Bose SoundLink Revolve+ is the second most expensive speaker in this list. However, the price is justified by its exceptional abilities. 
Like most Bose speakers, the SoundLink Revolve+ has impeccable sound quality. Equipped with an efficient transducer, dual passive radiators, and an omnidirectional acoustic deflector, the speaker projects incredible sound and bass in 360 degrees.  The speaker uses Bluetooth 4.2, and can be paired wirelessly to other Bose speakers via the Bose SimpleSync feature. 
The SoundLink Revolve+ is also compatible with Siri or Google Assistant, and can be used to make and receive phone calls. The built-in microphone ensures the recipient hears you as clearly as you hear them.
The 907.2g (2 lb), pint-sized speaker has a decent 16 hour battery life, and IPX4 weather sealing. That is, it can handle splashing or rain, but shouldn't be submerged in water. The soft, fabric-based build means it can also handle bumps without issue. 
The Bose SoundLink+ offers the advantages of a home speaker in a portable, durable build. It's a great value option for anyone looking for a speaker they can use inside and outside the house.
Sonos Move
The Sonos Move is another great speaker for indoor and outdoor use. The speaker uses both WiFi and Bluetooth 4.2, and is compatible with Amazon Alexa, Google Assistant, and Apple Airplay 2. A built-in array of far-field microphones with advanced beamforming and echo cancellation means the speaker can detect voice commands from a distance, even in a loud room.
The Sonos Move offers 11 hours of battery life and is housed within a shock-resistant case. It's IP56 rating means it's protected against dust, although not dust-tight, and can handle some exposure to water (splashing and rain).  The speaker comes in two color options, black or white. 
The sound quality of the Sonos Move is fantastic. The speaker uses two Class-D digital amplifiers to boost its drivers and deliver rich, detailed sound. An integrated mid-woofer adeptly handles mid-range frequencies and bass, while a downward-firing tweeter ensures a clear high-frequency response. Meanwhile, the Trueplay feature automatically optimizes the sound output based on your surroundings.
At $399.95, the Sonos Move is the most expensive speaker in this list. However, considering it offers all the features of a high quality home speaker in a portable, durable build, the price seems justified. The Sonos Move will keep you happy at home and away.
Which Speaker Should I Buy?
The models listed above are just some of the best outdoor speakers currently on the market. The best outdoor speaker for you ultimately comes down to personal preference. Whether your priority is sound quality, portability, or durability, there's a speaker above that will meet your needs.
Regular price: $99.99

Regular price: $79.99

Regular price: $289.95