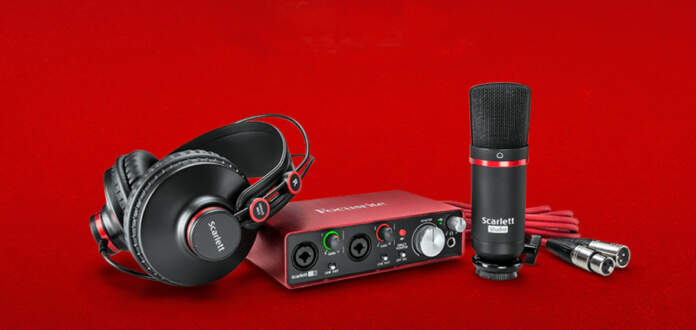 It's no secret that podcasting is on the rise. As more and more shows gain traction, so does the market for podcast equipment. In theory, this shouldn't be an issue; all of the interested would-be podcast hosts now have a massive number of specialized products from which to choose. However, one crucial question remains: what equipment do people actually need to get started? To make this as easy as possible for customers, the recording experts at Focusrite created a complete beginner podcast bundle.
In this post, we review what the core Focusrite podcast bundle contains, the key features and specs for those items, plus some additional hardware you can use to make recording a little bit easier.
Podcast Bundle |
Focusrite Scarlett 2i2 Studio

Scarlett CM25 MkII Microphone
Audio is only as good as the mic you record it with. Since the mid-1980s, Focusrite has set itself apart as one of the best names in audio and recording; this bundle is the natural next step in making professional mics accessible to aspiring professionals. The CM25 Scarlett HP60 MkII headphones also come with a high-quality, low-noise microphone cable for high-fidelity audio transfer.
HP60 Studio Monitor Headphones
The included HP60 studio monitor headphones take the guesswork out of audio recording and editing. Many commercial headphones "flatten" audio to make it sound smoother than it truly is. On the other end of the spectrum, the HP60s are designed to provide true-to-life playback so you can catch every audio pop during the editing process.
Scarlett 2i2 Studio USB Audio Interface
The Scarlett 2i2 is a great standard audio interface for in-studio or on-the-go recording. While compact, it still gives you the same exceptional sound quality and digital conversion that you might find in one of Focusrite's larger audio interfaces. In terms of features, it has two mic preamps, two instrument inputs, and one headphone output with gain control. It also has an impressive 192kHz conversion rate.
Every Focusrite Scarlett interface comes with a suite of audio editing software including Pro Tools | First and Ableton Live Lite for recording and mixing along with Novation Bass Station which adds bass or melody sounds to any music recordings; go ahead and try creating your own royalty-free music for your podcast. Focusrite also continues to add value by giving away audio production software every couple of months through their Plug-In Collective.
What is a USB audio interface?
A USB audio interface is a device that connects your XLR microphone with your computer. When you speak into your microphone, the audio travels through the audio interface, then delivered as a digital signal to your computer. This process contributes to a few key recording aspects including quality and conversion speed.
Do I need an audio interface for podcasting?
The short answer is maybe. If your entire podcast production consists of you and your microphone, an audio interface isn't a necessity. However, if you have more than one host, multiple guests, or any musical elements, you should definitely invest in an audio interface.
A potential challenge of using this device is that it can limit the number of mic and instrument inputs used during a recording. Luckily, this is easily remedied by upgrading your gear to a more powerful USB audio interface or increasing the number of inputs with an audio interface adapter. The three most popular Focusrite USB audio interfaces for podcasters are the Scarlett Solo USB Audio Interface (2nd Gen), Scarlett 2i2 USB Audio Interface (2nd Gen), and Scarlett 2nd Generation 18i8 USB Audio Interface.
Bonus: Customize Your Setup
Below are a few alternate beginner podcast bundles for people who have specific needs due to space restrictions, recording needs, or simply personal preferences. Check out the additional accessory options and their bundles below to see what works best for you.
Beginner Bundle + Suspension Boom & Pop Filter
Sometimes, a studio looks more like a closet than a formal recording space; in some situations, it is a literal closet. Suspension booms are great if you have limited elbow room and are trying to clear up desk space or get a specific recording angle. The boom in this specific bundle supports 3.2 pounds and is made of sturdy steel that reduces vibration.
A pop filter is a screen placed in front of your microphone to prevent unwanted sounds created by air movement when you speak. It's a natural, expected part of the recording process that happens with most microphones, regardless of brand or quality. This unique audio signature is actually valued in the ASMR community. For the rest of us, pop filters are required equipment.
If you're worried about shaky, vibrating tables or equipment messing up your recording, look no further. This bundle's internal shockmount Isolates the microphone on the X, Y and Z axes providing protection against vibration. This works in conjunction with the dual lyre system which puts more tension on the shock mount, further securing wobbly equipment.
Regular price: $379.99

Regular price: $269.99