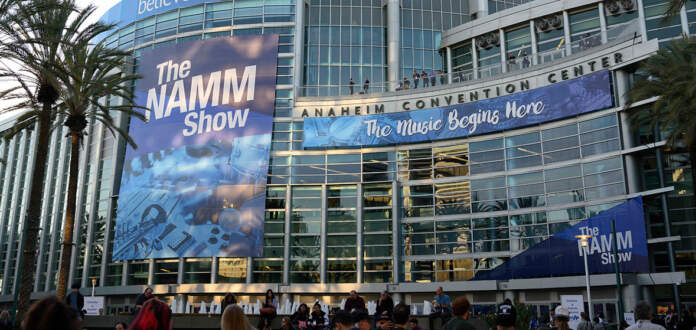 Last week, the Focus Camera team traveled to Anaheim, California to cover the NAMM 2019 Show. NAMM (the National Association of Music Merchants) hosts an annual convention that brings together music and audio professionals for a week of exhibits and innovations.
We've been to several industry conventions over the last few months (CES and Imaging USA) and NAMM's attendees are arguably the most entertaining. There were—among the buyers and reporters in attendance—a sea of incredibly talented musicians eager to try the latest releases from their favorite brands. We were lucky enough to see those artists showcasing new gear from some of our favorite companies including Yamaha, Vox, Korg, and JBL.
Yamaha
Sonogenic SHS-500
To the surprise and delight of many, the most talked about Yamaha release is a portable, electric keytar. The Sonogenic SHS-500 is aimed at a younger audience. However, we can definitely see some of Yamaha's more mature customers taking an interest in this entertaining little keyboard as well.
The SHS-500 features 30 different instrument sounds from drums and piano to a synthesizer. As you can tell from the photos, it's meant to be portable; the keytar has 37 keys, weighs a paltry 3.5 pounds, and is easily carried by kids and adults alike.
All of that said, the keytar's core selling feature is "Jam Mode." No matter which keys you press and when the keytar will always play notes that match the song. For example, if your dog happens to put its paw on the keytar while it's in Jam Mode, the pup plays along to the song in perfect harmony. This feature is great for kids who are still learning to play an instrument and adults who always wanted to be in an 80s hair band.

Vox
VX15 GT
First, we have a new 15W amp which is an update to Vox's VXI model. In addition to an updated look, this entry-level model features high-quality sound by ABS bass-reflex design, 11 amps, and 8 effect models. It ships to consumers in April 2019.
VX50 GTV
Next, there's the 50W which boasts a big sound in a small, lightweight package. Key features of the 50W include an ABS bass-reflex design with Nutube and USB audio interface. It is also slated to ship in April 2019.
AC15C1 Limited
Last but not least, Vox is putting out the AC15C1 Limited. The powerhouse of this trio, the AC15C1 features a Warehouse G12C 75W speaker and "Crinkle Tolex" exterior; it's available in tan, cream bronco, white bronco, racing green, and maroon bronco. This limited edition amp symbolizes an important milestone, created to celebrate the model's 60 years of success as a standard in the music industry. You can get your hands on it in April 2019.
JBL
Professional One Series 104
The new JBL Professional One Series 104 are a pair of compact, powerful studio monitors; this is the latest installment to the legacy created by JBL's 3 Series and 7 Series studio monitors. The One Series first premiered at CES 2019. However, it truly shined among NAMM's audio-obsessed attendees.
The One Series 104's high-end audio details and mid-range frequency response set these monitors apart from competitors. They also boast the highest range in class with 30 watts per speaker, and the lowest frequency response in class at 50Hertz. In terms of form, these speakers combine broad consumer appeal with professional, studio-worthy specs. Singers, songwriters, podcasters, and professional mixers alike will want these speakers in their studio.
Foldable Studio Headphones
JBL is also expanding its line of foldable studio headphones with three notable additions: the K175, K245, and K275. All three have metal elements for sturdiness and longevity of use as well as a new sonic pallet with flat frequency response. The pallet is designed to give the entire series the most even-keeled sound possible.
That said, there are also a few notable differences between the models. The K275 has a closed back while the K245 and K175 are open back. Additionally, the K175 has an on-ear design while the k245 and k275 are over-the-ear.
PartyBox 300 & PartyBox 1000
Finally, there are the JBL PartyBox 300 and PartyBox 1000. The intention with these two models is to introduce prosumers to JBL products with a blend of professional features and user-friendly form. The PartyBox 1000 is especially useful for DJs interested in stepping up their visuals; this model has a DJ midi pad on top of the speaker and rolling bottom for easy setup and takedown.

Korg
minilogue xd
The minilogue xd analog synth is intended to be a step between Korg's original minilogue and the prologue. The main takeaway here is that this device is highly customizable and gives you a lot of control over your sound design in one, compact package. This item's long list of technical features includes a digital multi-engine, a third programmable digital oscillator, wavetables, virtual phase modulation mode, and two analog VCOs.

Kross Neon Series
Korg is introducing limited edition, neon versions of its popular Kross keyboard series in yellow, blue, green, and red (temporarily unavailable). There are a few updates, but Kross Neon is almost exactly the same as its less flashy predecessor. Those changes include new sounds for modern music and EDM, additional electric piano sounds, and an increase in PCM.
Krome EX
The Krome EX is the latest and greatest upgrade from Korg's original Krome. In terms of appearance, the update has a much sleeker finish. However, it boasts some important new features including more PCM and additional sounds and combinations for dance and EDM music. The layout is largely the same as the original (if it's not broken, don't fix it). However, it also has a new touchscreen interface making this the most affordable touchscreen sound workspace on the market. The Krome EX comes in 61 key, 73 key and 88 weighted key iterations.
---
Is your favorite brand or new tech missing from this roundup? If so, be sure to share your highlights in the comments below.