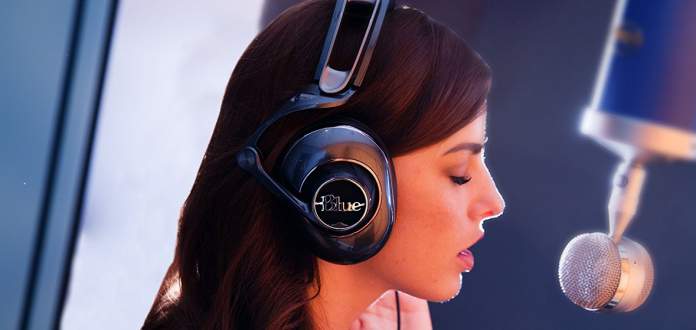 Blue Microphones are popular not only because of their quality but also because of their versatility. As a result, you can use almost any item in their line for your creative pursuits—may it be YouTubing or music recording—and get a great result. However, there are certain models that are conducive to specific types of recording. In this post, we talk about the best Blue Microphone for podcasts, gaming, YouTube videos, music vocals, and portable recording.
Best Blue Microphone for
Podcasts
The Blue Yeti USB Microphone is widely acknowledged as the standard professional USB microphone (and with good reason). It has four different recording pattern modes to fit any setup or situation including stereo, cardioid, omnidirectional, and bidirectional. In terms of recording quality, it captures audio in 16-bit at 48 kHz resolution.
A few extras that sweeten the deal are built-in microphone gain control, instant mute, and the fact that this mic has absolutely no latency delays; you can listen to your recordings in real time.
Best Blue Microphone for
Gaming
The Snowball iCE is Skype certified and a favorite device of Twitch users. Don't be confused by its cute, BB-8-esk appearance—this little device packs a punch. It has a frequency response rate of 40-18 kHz powered by a custom cardioid condenser capsule. Plus, it's designed to work with any recording and editing software on a Mac or PC; record without issue moments after unboxing.
Best Blue Microphone for
YouTube
If you don't have the budget for the original Blue Yeti, we recommend the Blue Yeti Nano. This mic has almost all of the professional-grade features of the original industry standard and looks great on camera. The Nano supports rates up to 24-bit/48kHz and (like the original) has a no-latency headphone output. However, it only has two recording pickup patterns: cardioid and omni.
Best Blue Microphone for
Music Vocals
The Blue Mix-Fi (formally the Mo-Fi) are studio headphones that have a built-in audiophile amp with 240mW. They also feature a 50mm, fiber-reinforced dynamic driver that enhances overall performance and makes the Mix-Fi a favorite of sound editors, designers, and musicians alike.
For what it's worth, Mix-Fi is also the first headphone ever to win the Emmy Award for Outstanding Achievement in Engineering Development. According to Blue's website, it's used for HBO's Westworld, ABC's Grey's Anatomy and CBS's NCIS.
Best
Portable
Blue Microphone
The Blue Snowflake is an affordable, portable condenser microphone for wherever your content creation takes you. It boasts 16-bit sound recording, a cardioid pickup pattern, and a proprietary digital converter. It's also arguably the easiest way to record professional-grade audio on a PC or Mac; a true plug-and-play device, it doesn't require any extra equipment or drivers to work flawlessly.
If you're just starting to explore the world of audio, we also recommend checking out brands like AKG, Audio-Technica, and RODE.
Regular price: $109.00

Regular price: $49.99

Regular price: $299.99

Regular price: $39.00