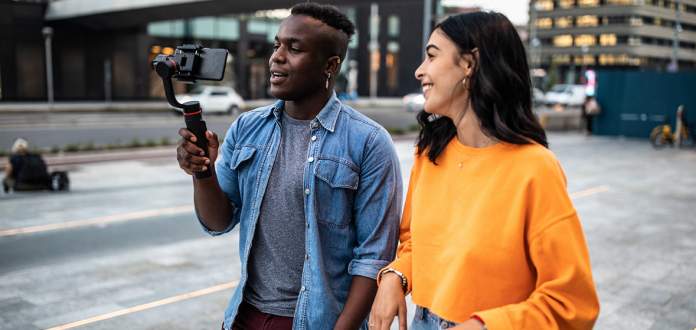 Vloggers are taking over our social media feeds. From Instagram and Facebook to YouTube, an incredible number of people are seeking (and securing) fame and acclaim from their video personas. In fact, over the past year, the number of YouTube channels annually earning more than six figures grew by more than 40%. Similarly, the number of channels with more than one million subscribers grew by more than 65%.
It would appear that there's room for a whole lot of people at the top. The lesson? It's time to record your first video.
In this post, we weigh the pros and cons of camcorders, cameras, and smartphones for vlogging (or just regularly recording videos for yourself). Then, if you're more of a numbers person, we break down the correct options for everyone's varied budgets.
The Basics | Pros and Cons
Camcorders
$199.00 | Canon VIXIA HF R800 Camcorder
So many of us associate camcorders with the uber-lame, cumbersome devices people hauled around in the 80s and 90s. Since then, we're happy to say that camcorders have gotten a major visual upgrade and remain one of the top choices for people who need to record long, high-quality videos.
Pros
An All-In-One Solution

– if you invest in a high-quality camcorder, it should have both notable video quality

and

a decent microphone for you to get started. Both of our other options require an additional microphone add on.

Recording Time

– most mirrorless cameras and DSLRs limit your continuous video recording time. If you plan on recording nonstop for hours then this is the correct choice for your needs.

Easy To Use

– there's basically no learning curve required to use a camcorder. You hit record, stop, and zoom in and out—that's honestly about it. Think of it as a high-quality, video-centric point-and-shoot.
Cons
Limited Options

– you can't change the lens on a camcorder to get a specific field of view and manual shooting options are limited or nonexistent.

Price To Value Ratio

– camcorders are not intended to take stills. You can certainly use them for this purpose, but the results are often less than ideal. Thus, you're paying roughly as much for a camcorder as you would be for an interchangeable lens camera and getting half the functionality.

Size

– camcorders' size and weight limit your shooting options. You can't strap a camcorder to a selfie stick (well you

can

but we don't recommend it). Similarly, some models come with built-in gimbals but external camcorder gimbals are tough to find.
DSLR and Mirrorless Digital Cameras
Digital Cameras | Mirrorless & DSLR
Digital cameras are the most popular long-term choice for vloggers. Luckily for us, our favorite brands are in a constant race to create the best, lightest, and most accessible introductory camera. They're great for in-studio setups and travel vlogging.
Pros
Highly Customizable

– creating a specific visual tone in your videos starts during the recording process. This is one of the many reasons why having access to manual shooting mode is so important—it offers the level of granular customization you need to start establishing the aesthetic your viewers will come to know and love! Similarly, the ability to change your video's field of view with interchangeable lenses is a huge plus and something camcorders and smartphones don't offer.

Grows With Your Skill Level

– you get what you get when shooting with a smartphone or camcorder—they're very straightforward devices. However, you can vastly improve the quality of your shots and footage over time as you invest in different lenses and learn the ins and outs of your digital camera.

Transferable Equipment

– you can continue using the lenses and camera accessories you carefully curated if you choose a new camera with the same mount as the original.
Cons
Limited Recording Time

– if you're planning on recording uninterrupted hours of footage this might not be the right option for you. Even our favorite introductory digital cameras like the

Fujifilm X-T100

can only shoot for 30 minutes at a time.

Can't Livestream

– digital cameras are a no-go if your social media plan involves a lot of livestreaming. New digital cameras are all equipped with NFC and/or have apps for easy content transfer. However, you can't livestream directly from your digital camera (yet).

Price

– you can only use a camera and its kit lens for so long. Eventually, you'll have to branch out and invest in additional lenses. They're definitely pricey but they're also an investment in the future of your vlogging career.
Smartphones
$848.00 | Sony Xperia 1 6.5″ Screen Unlocked Smartphone (128GB, Black)

$453.75 | Sony Xperia XZ2 Compact Unlocked Smartphone (Coral Pink)y

$278.00 | Sony Xperia 10 Plus 6.5″ Screen Dual Camera Unlocked Smartphone (64GB, Silver)
Smartphones are definitely the most convenient option on our list. But are they the most practical solution for you? These handy little pocket-sized powerhouses are perfect for people just starting out with travel or in-studio video recording.
Pros
Minimal Learning Curve

– your phone is something you already use all the time. You won't have to take the time to learn a whole new set of features and settings to get the shot you want.

Cost

– in all likelihood, a smartphone is something you own now and there is no daunting investment needed to start recording.

Quick Content Turnaround

– you can livestream or quickly edit and post videos on social media immediately after recording, no transfer lag required.
Cons
Sensor Size/Quality

– yes, smartphones can shoot in 4K like the big guys. BUT there is one little factor that makes a big difference: sensor size. Smartphones' sensors are a fraction of that in a full-size digital camera or camcorder. This greatly affects a device's low-light performance, background blur, color range, and overall quality.

Memory Limitations

– recording and editing video content from your smartphone can significantly bog down your overall memory and processing speed.

Limited Capabilities

– yes, you can get lenses that snap onto your smartphone to change your field of view. However, even the nicest miniaturized versions don't compare in quality to the

real deal

. Similarly, while smartphone cameras are gaining traction every day, digital cameras' manual mode still offers more granular shooting settings.
Recommendations Based On Price Range
Now, let's get into the topic that no one wants to talk about but arguably matters most: price. There's a camera out there for everyone whether you have no budget to speak of or you're positively flush with cash. It's just a matter of figuring out the right fit. 
I'm on a very tight budget.
Make use of what you have and use your
smartphone
.
To all of you trying to make it in the vlogging community on a budget, we salute you. It's a tough space to break into regardless of your bank statement. That said, it's very doable with persistence, the right accessories, and the smartphone in your pocket.
While this might be the "cheaper" option, smartphones can certainly hold their own on the list of the best vlogging cameras.
For example, the Sony Xperia 1 is the first smartphone in the world to feature real-time eye-autofocus. That monster of a phone also features four cameras and can shoot b-roll-quality 4K footage. Similarly, every iPhone—from the iPhone 7 onward—shoots 4K video. To take it a step further, the iPhone 8 onward shoots 4K at 24 fps, 30 fps, or 60 fps.

All that said, you can use almost any of the newer smartphones on the market to shoot respectable video content. However, as mentioned above, you will need a little help from accessories to keep things looking professional.
The basics include a smartphone gimbal for travel, a tripod for stationary recording, and a mic.
I've been saving up for a camera and have some money to spend.
As mentioned above, we definitely don't recommend these for people who are also interested in both video and photography content—while they can take stills camcorders lack the flexibility and adaptability required for effective photography. That said, set one of these up in an in-home recording studio and, with the right lighting, you have the perfect setup.
Money is not an obstacle. I am the walking, talking embodiment of that GIF of Scrooge McDuck diving into gold coins.
Get the best of both worlds. Upgrade your
smartphone
and get a
digital camera
for your high-quality video and photoshoots.
The ideal gear duo is a smartphone for on-the-go vlogging and a mirrorless or DSLR digital camera for high-quality video shoots and stills. This combination of devices allows you to quickly and dynamically produce videos, a major asset in this world of nonstop content and sharing.
Will there be a larger commitment of your time and funds? Yes. But using these cameras in tandem gives you an edge in maintaining quality, tonal consistency, and post regularity.
We hope this guide helps in your quest to becoming YouTube's next star. Do you have any questions or want additional gear recommendations? Let us know in the comments below.
Regular price: $798.00

Regular price: $1,196.95

Regular price: $597.99