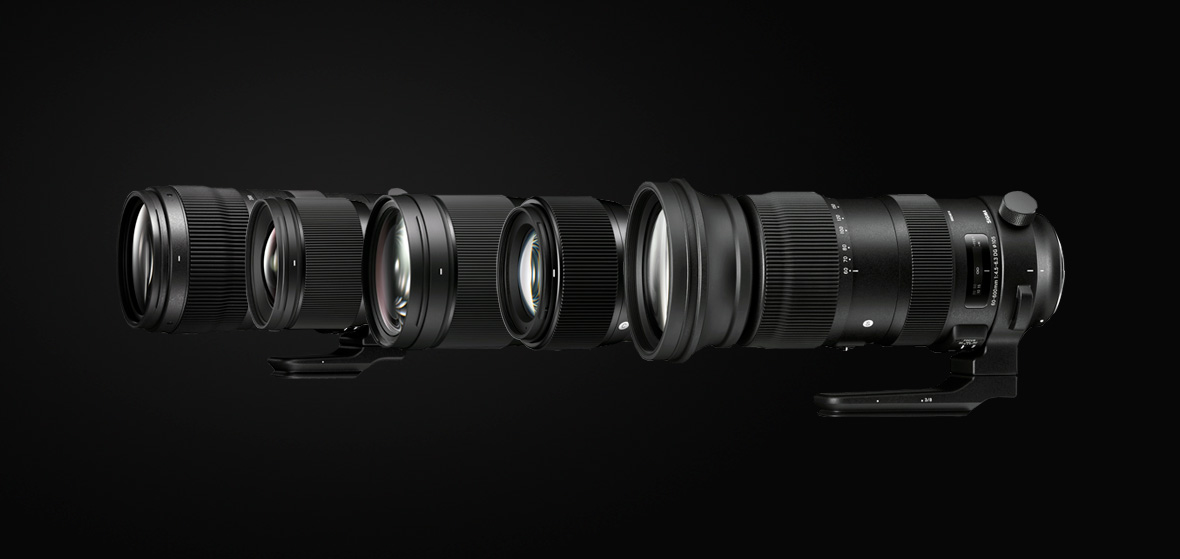 It's safe to say Sigma had a great 2018. Over the past several months alone they've released five new lenses including their newest Sigma sports lens: the 70-200mm F2.8 Sports DG OS HSM. In this piece, we compare each new Sigma lens and detail their specs, features, and pricing. The list includes the SIGMA 70-200mm F2.8 Sports DG OS HSM, 60-600mm F4.5-6.3 DG OS HSM, 40mm F1.4 DG HSM, 56mm F1.4 DC DN, and 28mm F1.4 DG HSM.
Let's start with the reason we're all here, the 70-200mm F2.8 Sports DG OS HSM. This Sigma lens marks the completion of what the company refers to as "The Big Three F2.8 Zooms"; a trio of F2.8 large-aperture zoom lenses that can cover focal lengths from 14mm to 200mm. The other two are Sigma art lenses: the Sigma 24-70mm f2.8 DG OS HSM ART Lens and Sigma 12-24mm f/4 DG HSM Art Lens.
This sturdy sports lens's body is crafted from magnesium (it's also dust and splash proof). As for the inner workings, it has a maximum magnification ratio if 1:4.8. It also incorporates 10 exclusive low-dispersion glass elements to correct color aberration; they work in tandem to enhance contrast, make colors more vibrant, and sharpen your images.
The 70-200mm F2.8 Sports DG OS HSM Sigma sports lens is now available for pre-order for $1,499.00.
The 60-600mm F4.5-6.3 DG OS HSM is in the Sigma sports lens family, boasting the world's first 10× optical zoom telephoto lens. This is a heavy lens and can't be used as a hand-held for too long. It weighs almost six pounds so unless you spend all of your spare time weight training, be prepared to pair this device with a monopod or tripod. That said, its heft is accompanied by impressive specs.
As mentioned above, this Sigma sports lens has the first 10x optical zoom with a tele end of 600mm. It can also be used for telephoto macro photography when you shoot at a focal length of 200mm (maximum magnification ratio: 1:3.3). Arguably its most impressive (and practical) feature is that it incorporates 25 elements in 19 groups; it provides incredible, consistent image quality throughout the entire zoom range.
To learn more, click here for Focus's in-depth video review. The SIGMA 60-600mm F4.5-6.3 DG OS HSM lens is available for $1,999.00.
The SIGMA 40mm F1.4 DH HSM is the company's first art lens to have the AOV and performance standards of a professional cine lens. If you're reading this wondering "but what does that really mean?" you're in good company. We thought the same thing. In short, this Sigma art lens maintains a consistent characteristic over its entire sensor at a high level; this allows users to have total visual uniformity while recording a moving subject or panning and tilting their camera. The fact that this Sigma art lens is 8K-compatible doesn't hurt either.
The SIGMA 40mm F1.4's optical performance leans heavily on its three FLD ("F" Low Dispersion) glass elements and three SLD (Special Low Dispersion) glass elements. Together, those elements come together to reduce axial chromatic and magnification chromatic aberration; this results in a distortion rate of 1% or under.
The Sigma 40mm f/1.4 DG HSM Art Lens is available for pre-order at $1.399.00.
Releases from big-name companies like the Canon EOS R and Fujifilm X-T3 helped make 2018 a huge year for mirrorless cameras. The trend continues with this, the third addition to the Sigma Contemporary lens family designed specifically for the Sony E-Mount.
The Sigma 56mm F1.4 DC DN is small, portable, lightweight and has a large focal grip for the user's ease and comfort. This Sigma contemporary lens also features an aperture range of 4/1.4 to f/16, APS-C image sensor format and the smallest mid-tele lens in class. If you're interested in getting a great secondary lens for the Sony Alpha a6000 Mirrorless or a compact lens for portraits, this is a great option.
The SIGMA 56mm F1.4 DC DN is available for $479. Keep an eye out for our review video coming soon.
For our last new Sigma lens, we have the Sigma 28mm F1.4 DG HSM. This wide-angle art lens is the latest and greatest in Sigma's lineup of large-diameter, wide-angle lenses for 35mm full-frame cameras; Sigma now has five, ranging from 14mm to 35mm. It's also designed to minimize flare and ghosting, is compatible with Canon Lens Aberration Correction and has a Manual Override (MO) setting and can switch between two full-time manual modes. All-in-all, this is a great catch-all art lens for everything from street and travel to wedding and event photography. 
The Sigma 28mm F1.4 DG HSM Art Lens is available for pre-order at $1.399.00.
Regular price: $1,999.00

Regular price: $1,399.00

Regular price: $429.00

Regular price: $1,399.00