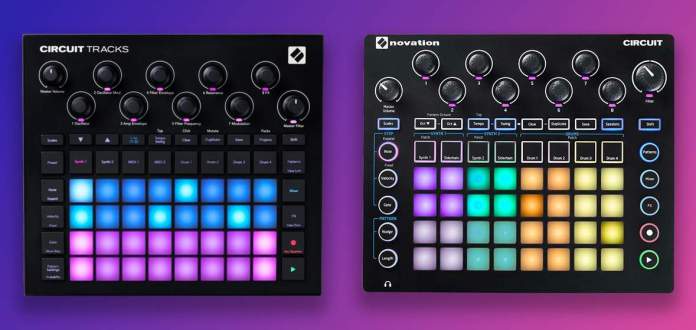 When the Novation Circuit Tracks groovebox was announced earlier this year, it was music to the ears of musicians, DJs, and producers everywhere. It's an updated version of the popular Novation Circuit groovebox, which came out in 2015. After five years, a new model was not only expected, but highly anticipated. We've taken a deep dive into the features and technical specs of the Circuit Tracks to see what has and hasn't changed since the previous model. Here's our Novation Circuit Tracks vs Circuit groovebox comparison guide. 
The Novation Circuit Legacy
Novation is a big name in the audio world. They produce a fantastic range of synthesizers, MIDI keyboard and grid controllers, and related software and accessories.
The original Novation Circuit stands out as one of their best releases. The groovebox is a synthesizer, sequencer, and drum machine all-in-one, allowing you to create electronic music without using a DAW.  The Circuit's dynamic, straight-forward workflow makes it incredibly easy to start making music. Meanwhile, its user-friendly interface and relatively affordable price tag made it instantly appealing to musicians and producers of all skill levels. The Circuit even has its own dedicated subreddit; an honor bestowed on only the most popular of products.
Suffice to say, the Circuit Tracks has big shoes to fill. Let's see how it compares.
What Hasn't Changed
Like its predecessor, the Circuit Tracks is portable, powerful, and easy to use. The original Circuit is a 6-track instrument, offering 2 six-note polyphonic synth tracks and 4 monophonic drum tracks. The Circuit Tracks has 8 tracks, but utilizes the same synth engines and drum tracks as the original. 
Some users may be disappointed that more drum and synth tracks weren't added to the new model. However, this would likely drive up the price, making the groovebox less accessible for beginner and intermediate musicians. Besides, like the original, the Circuit Tracks is remarkably versatile. It's a great standalone instrument, but can also be used effectively as a sequencer for a bigger setup by connecting it to other instruments and a DAW. In fact, these capabilities have been expanded for the Circuit Tracks (more on this below). 
In terms of build, not much has changed. Both the Circuit and Circuit Tracks are 9.45'' (240mm) wide, although the new model is slightly thinner, taller, and sleeker. Likewise, the screen-less user interface is just as simple and easy to use as on the previous model. It consists of a grid of 32 RGB velocity sensitive pads surrounded by 28 function buttons, with 10 encoder knobs sitting on top, including a dedicated knob for the master filter and master volume. 
What's New
2 MIDI Tracks + Full-Size MIDI I/O
The new Circuit model is an 8-track instrument, thanks to two new MIDI tracks and a new, full size MIDI I/O. 
The MIDI tracks behave similarly to the synthesizer tracks. However, instead of controlling the two built-in synth engines, they are used for controlling external instruments or software connected via MIDI to the groovebox. This means you can connect additional synthesizers to the Circuit Tracks without sacrificing the internal synth engines like you'd need to on the original Circuit.
2 Mono Audio Inputs
Additionally, the Circuit Tracks offers two mono audio inputs (which can also be used as a single stereo input). This allows you to feed external line level audio into the groovebox so you can mix it and apply sound effects. 
The new MIDI tracks and audio input capabilities make the Circuit Tracks a formidable device.  Enabling you to both sequence and mix external synths means you can use the Circuit Tracks as the centerpiece of an advanced setup. Don't let its compact build and clean interface fool you; This groovebox may be great for beginners, but it's not only for beginners. 
Expandable Storage via MicroSD
One of the coolest features of the Circuit Tracks is the new MicroSD slot on the back of the unit. This allows you to save thousands of projects, synth patches, and samples to a removable MicroSD card.  This is a big advantage over the previous model, which only allows you to store a single pack of 32 projects at a time using the internal memory. 
Not only does the Circuit Tracks allow you to save and access up to 31 additional packs via MicroSD, each pack also offers up to 64 project slots. The groovebox doesn't come with a MicroSD card, however you can see the cards the Circuit Tracks is compatible with by clicking here. 
32-Step Sequencing & Scenes
The original Circuit allows you to sequence 8 patterns of 16 steps each, or up to 128 steps when the patterns are chained. The Circuit Tracks enables 32-step patterns, or up to 256 steps when chained. 
Another new feature on the Circuit Tracks allows you to assign multiple patterns and pattern chains within a project to a single pad, called a scene. Scenes can also be chained to one another, allowing you to create longer, more complex sequences for full-length arrangements.
Powered by USB-C & Built-In Rechargeable Battery
Like the original Circuit, the Circuit Tracks can run on a wired power supply or on battery. Unlike the original, the Circuit Tracks charges via USB-C (instead of a power cable), and uses a built-in rechargeable lithium-ion battery instead of (6) AA batteries.  
The new battery offers up to 4 hours of use. While the previous model could squeeze up to 5 hours out of its six AA batteries, replacing the batteries was inconvenient. It's far easier to simply recharge the built-in battery by connecting the Circuit Tracks to your computer via USB (a USB-A to USB-C cable is included). 
Built-In Speaker Removed
Perhaps the only feature that the original Circuit has that is not included in the Circuit Tracks is the built-in speaker. The speaker isn't great quality, but it was convenient knowing you could take the Circuit anywhere and play music out loud without having to bring your own speakers with you.
For the Circuit Tracks, you'll have to hook up external speakers or use headphones. Given that most groovebox users likely already utilize one or both these options when playing, this shouldn't be a dealbreaker. At worst, it's a minor inconvenience. The headphones socket has also been moved from the front of the unit to the back. 
Price
The Circuit Tracks is currently priced $399.99. That's only slightly more expensive than what the original Circuit was selling for several months ago. Given that it offers all the same advantages with several, key upgrades, that's great value.
Spec Comparison
Here's a side-by-side spec comparison of the Novation Circuit Tracks vs Circuit grooveboxes. 
| | Circuit | Circuit Tracks |
| --- | --- | --- |
| Synth Tracks | 2 | 2 |
| Drum Tracks | 4 | 4 |
| MIDI Tracks | 0 | 2 |
| 32 RGB Backlit Velocity Sensitive Pads | Yes | Yes |
| 28 RGB Backlit Function Buttons | Yes | Yes |
| 8 Encoder Knobs with RGB Indicators | Yes | Yes |
| Dedicated Master Filter and Master Volume Buttons | Yes | Yes |
| Audio Input | No | 2 x Mono (with FX Send & Side Chain) |
| Click Track | No | Yes |
| Pattern Length | Up to 16 Steps (128 when chained) | Up to 32 Steps (256 when chained) |
| Projects (per pack) | 32 | 64 |
| Scenes | 0 | 16 Per Project |
| MIDI I/O & Sync | 3.5mm MIDI In and Out | Full-size MIDI In, Out and Through, Sync Out |
| Expandable Storage | No | Yes using MicroSD Slot (MicroSD card not included) |
| 3.5mm Headphone Jack | Yes | Yes |
| USB Type | USB-B 2.0 | USB-C 2.0 |
| Powered via USB | No | Yes |
| Power Supply Included | Yes (Maximum power consumption 12V DC 600mA) | Yes (USB-C cable included) |
| Battery Power Option | 6 x AA Batteries (Included) | Built-in Rechargable Lithium-ion Battery (charge via USB-C port) |
| Battery Power Life | 5 Hours | 4 Hours |
| Dimensions (W x D x H) | (240mm x 200mm x 35mm) | 240mm x 210mm x 30mm |
| Weight | 2.09 lbs (948g) | 1.72 lbs (780g) |
Worth the Upgrade?
The Circuit Tracks is a fantastic groovebox. Maintaining the usability, versatility, and affordability of its predecessor, while significantly expanding its capabilities, the Circuit Tracks is well worth its price tag. Whether you're purchasing your first groovebox, or upgrading from the original Circuit, you won't be disappointed.