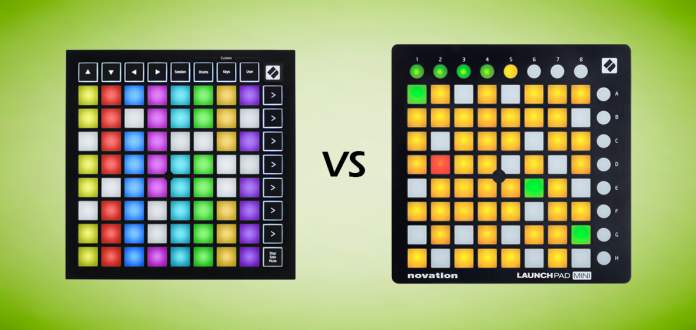 One of Focus's favorite MIDI brands just released an updated mini model: the Novation Launchpad Mini MK3 (currently on pre-order). We are so excited to see all of the updates to this board including some major UI changes, streamlined usability, and improved portability. In this post, we do a deep-dive comparison between the Launchpad Mini MK2 vs MK3.
Click here if you're also interested in comparing the Mini MK3 with the Pro and MK2.
Key Differences | Launchpad Mini MK2 vs MK3
What is a MIDI controller?
MIDI boards are a relatively niche item. So, when we talk about them, we like to review the basics and make sure newbies are on the same page as the pros. With that in mind, a MIDI controller is a standard piece of hardware often found in the electronic music scene. When "played" it triggers sounds assigned to the device's individual touchpads by the user.  
In essence, a MIDI a large remote control; it is useless without the device it interacts with. It's akin to having a TV remote and no television. To make music, a MIDI controller must be connected to your computer and synced with your choice of music editing software.
You can also record your own music and assign it to MIDI pads but that's a completely different conversation.
Look & Feel
A Colorful Upgrade
At first glance, the most obvious update to this model is the button shape—they're now square instead of round. However, the more important visual change is that this is the first Launchpad Mini to feature color-matching feedback! 
Color-matching refers to the coordination of colors between your board and Ableton Live. In previous models, there were limited tones available on Launchpad Minis. Thus, it was harder to intuitively choose sounds on your board. 
For example, a beat might be blue on your desktop but appear yellow on the MK2. Now, you have one-to-one color matching so there's greater consistency between the device and Ableton Live. That means less hesitation, a better workflow, and less time spent messing around on your computer.
Size & Weight
Next on the list of superlatives are size and weight. On the surface, the MK3 looks objectively sleeker than the MK2. In fact, the Launchpad Mini MK3 is Novation's smallest and most portable 64 RGB MIDI grid controller. It's 180mm x 180mm x 14.2mm and weighs 381 grams (0.84 lbs). Alternatively, the MK2 is 185mm x 185mm x 16mm and tips the scales at 420 grams (1.3 lbs). 
While this might not seem like a lot on paper, those spare millimeters go a long way when you're hauling around recording gear.
Functionality
Custom Modes
Novation included three new custom mode buttons: "Drums", "Keys", and "User". Tapping these buttons allows you to record sounds either alone or over an in-progress session. 
As previously mentioned, all three of them are modular and customizable. However, both the "Drums" and "Keys" buttons are pre-formatted to accommodate drum and piano sound libraries. On the other hand, "User" comes completely blank. You can fill it in with your own mappings using the handy Novation component software or website.
Stop, Solo, and Mute
There is a new button on the bottom right of the MK3 labeled "Stop Solo Mute." You might already be familiar with this feature if you've used the Launchkey Mini MK3. 
Novation honestly couldn't have made the button's purpose clearer, but we'll give it a try.
"Stop Solo Mute" lets you simultaneously make changes to your Ableton Live performance while keeping an eye on your session. Simply tap the button to switch through the three distinct modes that stop, isolate, and mute channels at your discretion. This on-board streamlining is incredibly advantageous for quick changes during a live set or recording.
To avoid confusion, the bottom row changes colors as you move through the different modes. Here's the basic breakdown but we suggest you watch the video below as well:
Stop (red): stop clips

Solo (blue): isolate a single channel

Mute (yellow): mute and unmute clips
This concludes our comparison of the Launchpad Mini MK2 vs MK3. We would love to know what you think in the comments below. Are you upgrading to the MK3 or sticking with the MK2?