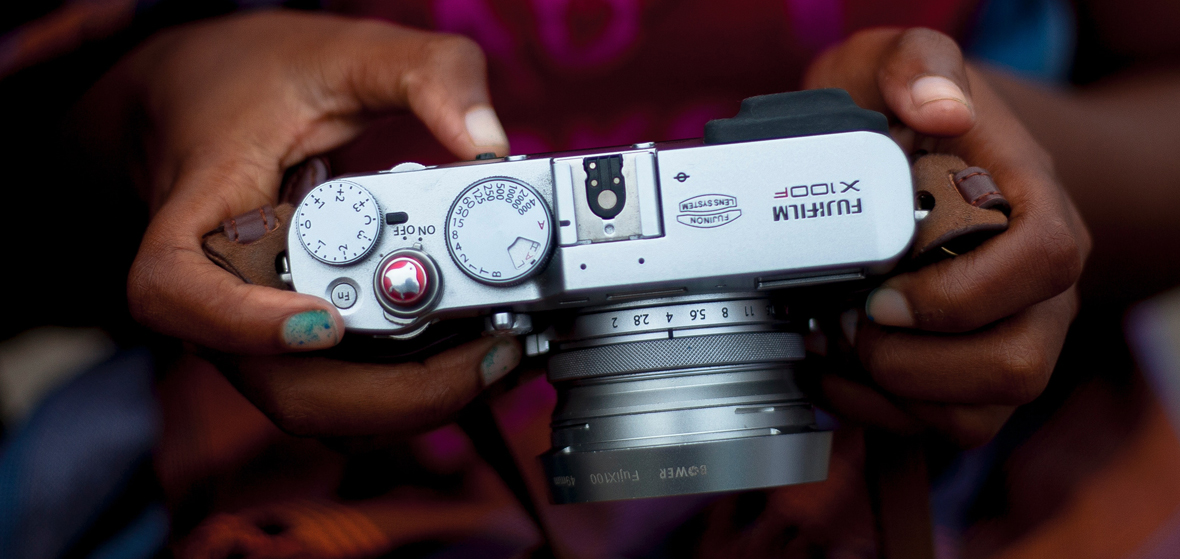 We love Fujifilm, and we love providing you with great deals on bundles! It's only natural that we should have a few Fujifilm bundles as favorites. From the X-T100 to the X-T20, these are our four preferred bundles to save on gear and camera bodies.
Fujifilm X-T100 Digital Camera (Dark Silver) with 14-45 and 50-230mm Lens Bundle
Stylish and lightweight, the new Fujifilm X-T100 offers a retro design with high-end image quality at an excellent price point. In fact, this bundle is going on rebate from $999 down to $799. The 24.2-megapixel APS-C CMOS sensor boasts a native ISO range of 200-12,800, expandable to 100-51,200, and the autofocus system features single point, zone AF and wide/tracking AF modes. With continuous shooting at up to 6 frames per second and a JPEG buffer of 26 frames, it's an improvement over the X-A5. Along with a Focus Camera accessory kit and 32GB memory card, this kit features a 14-45mm lens and Fujifilm XC 50-230mm F4.5-6.7 OIS II lens that employs 13 all-glass elements in 10 groups. From wide angles to portraits and clear images at a distance, these two lenses offer a broad range of shooting possibilities.
Fujifilm X100F Silver Digital Camera w/ Fuji Black Leather Case Bundle
Part of the much loved X100 series, the Fujifilm X100F offers a large 24MP X-Trans sensor with a classic appearance and improved ergonomics. As a compact camera, the sensor provides solid noise performance and good dynamic range, while the autofocus is much faster than previous X100 models. There's less hunting, too. Video shooting is a bit of an afterthought, but the X100F is still suitable for recording short clips. There's also a hybrid viewfinder that combines an optical viewfinder and an electronic viewfinder to switch between using a lever. The bundle comes with a premium leather case to go along with the vintage look of the X100F, as well as a soft gadget bag to carry your accessories. The kit also features all kinds of caps, clips and straps for handling.
Fujifilm X-T2 Mirrorless Digital Camera w/ Lens & Accessory Bundle
With a greatly improved autofocus system and elegant handling, the Fujifilm X-T2 is a desirable mirrorless. Plus, this kit just dropped $400. The X-T2 features Fujifilm's latest sensor, the 24.3MP APS-C X-Trans III CMOS, designed to capture even more detailed imaging. Meanwhile, the ISO ranges from 200-12,800, and can be expanded up to 100-51,200. Its electronic viewfinder is particularly bright with an automatic brightness adjustment function. While the baseline frame rate is 60fps, it also features a Boost mode that jumps it to 100fps (with a compromise in battery life). The articulated display is particularly good at shooting landscapes. As for the XF 18-55mm f/2.8-4 R LM OIS kit lens, it's a versatile 27-84mm equivalent focal length that delivers a solid maximum aperture. The bundle also includes a flash, battery pack, charger, shoulder strap, protective cover, and more for a diverse range of functions.
Fujifilm X-T20 Mirrorless Camera with Lenses and Accessories Bundle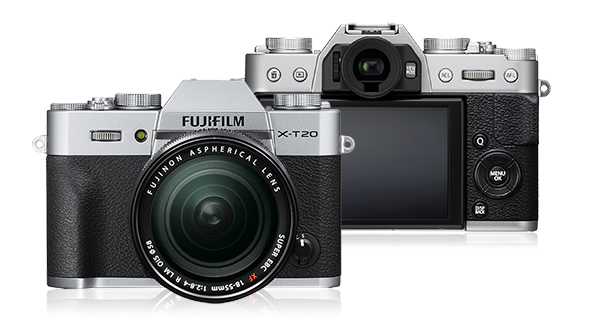 Sometimes referred to as the younger sibling of the X-T2, the beautifully designed X-T20 features a 24MP CMOS sensor, 4K video, and great autofocus. The image quality is basically the same as the X-T2, with noise-reducing performance and solid dynamic range. The X-T20 offers three different types of autofocus, single-point, zone, and wide/tracking, with on-sensor phase detection that covers 50% of the frame horizontally and 75% vertically. The 4K boasts up to 10 minutes of video or Full HD for up to 15. Meanwhile, the bundle includes a Fujifilm XC 16-50mm f/3.5-5.6 OIS II Lens, a versatile zoom with a focal length equivalent of 24-76mm, as well as a Fujifilm XC 50-230mm f/4.5-6.7 OIS II Lens that provides a 76mm-350mm equivalent. Other bonus pieces in this kit include a metal handgrip for for masterful control and ultimate comfort, as well as Focus Deluxe SLR Soft Shell Camera Bag, Focus 5 piece cleaning kit, Focus lens cleaning pen, Focus card reader, professional wrist grip strap, silicone band for zoom lenses, and an HDMI to Micro HDMI cable.
Bundles are always a great way to save on additional gear. Between the X-T2, X-T20, X100F, and X-T100, these four cameras are some of our favorite Fujifilm bundles on offer. Of course, if none of these bundles have exactly what you're looking for — don't give up! Focus Camera offers a wide variety of kits and bundles to suit a broad range of needs.

Regular price: $899.90

Regular price: $1,399.00

Regular price: $1,598.90