As part of our Over Coffee series, we met with Erin Derby at Parade Cafe to discuss fine art photography, flowers, and a female point of view. 
Erin Derby's geometric flower photographs made a splash at this year's NYCFotoworks, a premier portfolio review event in Manhattan. "I have a female point of view," she says of her stunning, mandala-like creations. "There's something about flowers that have strong feminine energy. I feel like flowers are bold."
Armed with only an iPad, Derby stood out among the applicants, both for the quality of her work and partially thanks to a gift from her father. "My iPad was the only thing I brought with me as a portfolio," she says. "I had this beautiful wood [cover] that my dad had made with a very cool raw edge. That was the thing that everyone immediately responded to." In her follow up emails, Derby distinguished herself as the one with the homemade wooden holder.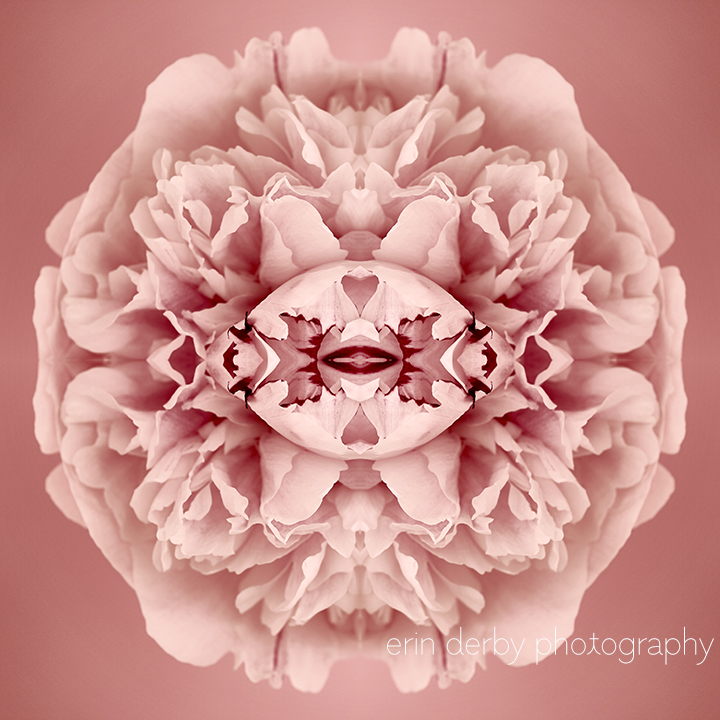 Of course, she inherited more from her father than an intriguing statement piece. As a commercial photographer, Derby's relationship between corporate and fine art has come to resemble his. "In my dad's heart and soul, he is an artist," she says. "In his real life, he was in the corporate world [of industrial design]." Like him, she found a way to balance art for its own sake with the need to make a living. "I wanted to do commercial photography, but of course the dream with photography is to shoot whatever you want and get paid for it."
Finding Photography
For her, that dream started in high school. "One day I was walking around downtown San Jose for inspiration, and there was a guy on a Harley covered in leather — a total biker." Derby asked him if she could take his picture. He was initially apprehensive. However, she explained that she was a photography student, and he softened up. "He started asking me what school I went to. I got pictures of him, and he became my friend named Rodney." When she developed the film, Derby realized that this was her "first good photo." From then on, she knew wanted to be a photographer. "I thought 'oh my god.' It was an epiphany." Rodney, for his part, kept in touch for years.
Derby later moved to New York after college. She began assisting fashion photographer Sandi Fellman. "It gave me tons of experience in shooting commercial work, still life, and portraiture," says Derby. Eventually, she was hired as a photographer rather than an assistant, and has worked as one for twenty years.
Fine Art on a Larger Scale
"I'm seeing a use for my fine art in a much wider world," she says. "For example, I can see it being used in advertising. I can see it being used as the new iPhone photo." She even retouched a demo picture to show to a potential client in that capacity. At Fotoworks, too, there was a very positive response to her fine art work in a commercial sphere, particularly within health and wellness and beauty.
"I have a million ideas," she says. "It's just time to execute."  While making time for fine art was a challenge in the past, Derby is trying to prioritize it now — Canon 5D Mark III in hand. She often visits the flower market on West 28th for inspiration and to collect subjects. "It's hard not to buy everything," she says. However, botanicals aren't her only focus. "I'm going to start [photographing] snakes from a similar point of view [as the flowers]."  There is a snake sanctuary near her house that Derby aims to utilize. "Usually the way I shoot with flowers, I can't do the same way with snakes because the snakes are moving. They're gonna try to get away. I have to figure that out."