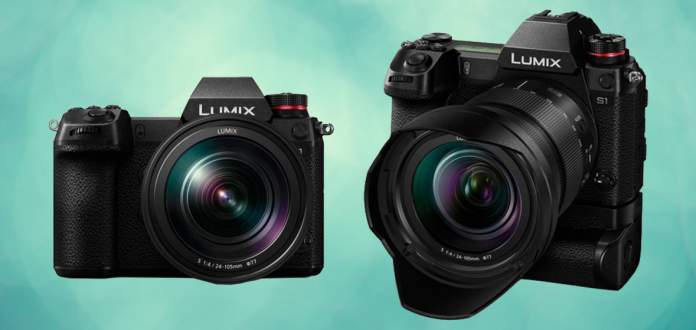 Panasonic launched it's Lumix S series during Photokina 2018. At that time, it included only two cameras: the Panasonic Lumix S1 and the Panasonic Lumix S1R (they've since announced the absurdly powerful Lumix S1H).
The S1 and S1R are similar in a myriad of ways. Both are full-frame mirrorless cameras, they're roughly the same size, and they have a nearly identical user interface; the list goes on. 
In this post, we dive into the specifics of those many similarities as well as the differences that separate these Panasonic cameras into two distinct classes.
Overall Lumix Quality
The most glaring difference between the Lumix S1 and Lumix S1R is their sensor size. On the one hand, the Lumix S1 has a 24MP CMOS sensor. On the other, the Lumix S1R has a whopping 47MP CMOS sensor. 
Those 47MP come with a higher resolution that maxes out at 8368 x 5584. If that's not enough for you, the S1R also has a "high-res mode" capable of creating 187-megapixel photos. In our opinion, this alone makes the S1R the clear choice for photographers with extra cash to burn. 
Video
The S1R might have a larger sensor but the Lumix S1 is without a question the better camera for video. First, there's the basic issue of time. The S1 lets you record up to 30 minutes of video while the S1R limits you to a mere 15.
Both cameras offer 4K and 60p/50p recording and, according to Panasonic, these are the first digital, single-lens, mirrorless cameras to achieve those specs. However, S1R footage is cropped while S1 video is un-cropped and allows for full-pixel readout.
In May 2019, Panasonic released a filmmaker update for the S1 that includes:
4K 60p 4:2:2 10-bit HDMI live output.

4K 30p/24p 4:2:2 10-bit in-camera recording.

V-LOG and V-GAMMUT enable Panasonic original V-Log color profile V-Log + V-Gammut from Varicam cinema cameras (this is about 15 stops of dynamic range).

LUT SUPPORT which enables wave-form monitor and support to view an included LUT. It also gives you the ability to load custom LUTs.
Visit our post here to learn more about the update.
Image Stabilization
Now, let's move on to similarities. Both bodies offer an impressive 5-axis sensor-shift stabilization. In conjunction with Panasonic's optically-stabilized lenses, you can achieve 6 full stops of correction. 
This stabilization tech captures and compiles eight separate images to give you a single, high-res photo suitable for landscapes and fine-art shots. The Lumix S1 compiles 96MP images and the S1R gives you a single 187MP RAW image.
Autofocus
Next in our Lumix S1 vs S1R comparison is autofocus. Both the S1 and SR1 have the same 225-zone DFD autofocus system. DFD, or depth from defocus, utilizes contrast detection rather than the more commonly used phase detection. Once your subjects are in range, you can switch between detected faces by pressing the joystick inward or tapping your desired subject on the touchscreen LCD. For all the pet and wildlife lovers out there, both cameras also include optional animal face detection. 
While reliable, some users find that DFD results in "breathing" when using continuous autofocus for video recording. In short, that means the AF square will make quick, small, back-and-forth movements rather than smoothly following your subject. This is definitely something to keep in mind if you rely heavily on continuous autofocus.
Lumix User Interface
Weight
These are not small cameras. In fact, their size is even more notable when you consider that they're full-frame mirrorless bodies. The S1 weighs 899 g while the S1R weighs in at 898 g. According to Panasonic, those extra ounces were added in the name of better in-body image stabilization. 
From those stats, it doesn't come as a surprise that the camera's bodies are also the same size (5.87 x 4.33 x 3.82″).
Touchscreen & Viewfinder
The Panasonic Lumix S1 and S1R both have 3.2-inch, 2.1-million-dot, tilting touch screen LCDs. While not fully articulating, the screen is incredibly sturdy. 
Additionally, there's an LCD display on the top right of both devices so you can quickly check settings. Both Panasonic mirrorless cameras also have an impressive have 5.76-million-dot OLED viewfinders to help line up your shot before pressing the shutter.
Card Slots
Professionals, rejoice! The S1 and S1R come with two card slots: 1 SD, and 1 XQD. This is especially convenient for people who want to back up our work in real time. For the rest of us, there's LaCie and G-Tech.
That concludes our Lumix S1 vs S1R comparison! Let us know which one you'd choose in the comments below.