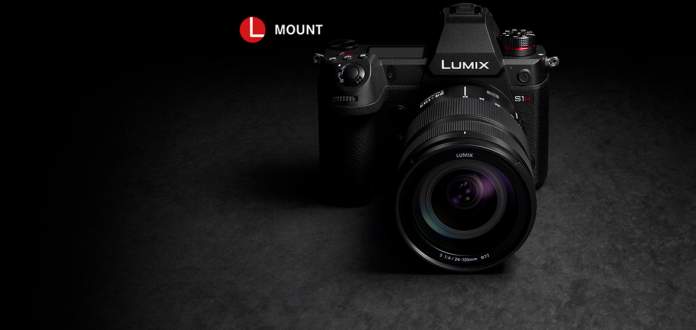 Panasonic has officially announced its latest camera: the Panasonic Lumix S1H. This is the company's newest addition to its family of full-frame, mirrorless cameras intended for film production.
In addition to its specs (we're very excited about 6K video), what makes this model notable is its size. Panasonic scaled down a film-production-level camera to a hand-held body that's small enough to be strapped to a drone or comfortably carried.
Two new lenses were also introduced this week. First, we have the LUMIX G 25mm f/1.4 ASPH Leica lens for the Micro Four Thirds system. Second, released today alongside the S1H, is the LUMIX S Pro 24-70mm f/2.8 L-Mount lens for S Series, full-frame cameras.
Panasonic Lumix S1H | User Interface
Panasonic Lumix S1H | What We Know So Far
Overall Quality
The Lumix S1H houses an incredible quality trifecta: a 24.2MP full-frame MOS sensor, dual native ISO, and a Venus Engine processor. The combination of these elements results in high sensitivity, minimum noise, and cinematic image quality that meets the standards of even the most discerning filmmakers.
The LUMIX S1H also provides 14+ stops of dynamic range and its V-Log/V-Gamut are compatible with a popular colorimetry called the "VariCam Look."
6K Shooting + Recording Capabilities
The S1H facilitates 6k 10-bit video at 24fps including full-area 3:2 6K24p, C4K (4,096 x 2,160), and anamorphic modes. A few eyebrows have raised regarding this addition, especially among Lumix S1 owners. Why buy this camera when you can shoot 6k with the Lumix S1 V-log upgrade? The short answer is time.
The S1H supports unlimited recording time in all modes including 6K. This is a big upgrade from the 6K time limitations the S1 faces.
The L-Mount System
As mentioned above, the Lumix S1H is a full-frame mirrorless camera that uses the L-Mount system. As of today, there are 46 interchangeable L-Mount compatible lenses available and/or in development. That includes roughly 11 LUMIX S/S PRO lenses available from Panasonic, Leica, and Sigma.
Thanks to a wide variety of Panasonic lenses, third party options, and converters, cinematographers can fully explore the creative potential of the L-Mount system without limitations.
Performance Highlights
4K HDR Video 
HDR modes in HLG format: 4K HEVC (HLG) video mode and Photo Style "Like2100." On HDR devices, you can view amazing dynamic range and extremely fine gradations of light and dark.  
Anamorphic Recording 
4K 4:3, 6K full-frame 3:2, DCI-4K, and more. Post-production from anamorphic lenses makes Cinemascope possible. An Anamorphic Desqueeze Display function displays Cinemascope-size video at 1.3x, 1.33x, 1.5x, 1.8x, and 2.0x.
VFR (Variable Frame Rate)
This camera offers support for overcranking and undercranking with access to 2.5x slow in C4K/4K and 7.5x super-slow in FHD. Create emotional slow-motion footage of up to 30x normal speed (30p/2 fps).

HFR (High Frame Rate)
HFR recording is available with audio and autofocus: 119.88p or 47.95p (59.94Hz), 100.00p (50.00Hz), and 48.00p (24.00Hz). Change the frame rate in post-production for slow-motion video.
Time-Lapse Video with 4K 60p/50p
The S1H's in-body interval capture creates a time-lapse video capable of 4K 60p/50p with smooth exposure transition.
Now, you can shoot photos with V-Log for workflow flexibility or Like709 without color correction later.
Like709 / Knee Adjustment
For those in the know, commercial broadcasting consistently utilizes rec.709 gamma curve.
Knee adjustment avoids blown-out highlights, enabling the use of unedited footage in broadcast for quick, efficient post-production work.
Video Frame Marker
The video frame marker is useful when you're anticipating vertical/horizontal cropping in post-production edits.
This camera's displayable aspect ratio frames include 2.39:1, 2.35:1, 1:1, and 4:5; there are 8 total patterns to choose from.
Display Modes to Support Videography
A familiar control panel can be displayed similar to that of a professional cinema camera with 3 display options for Shutter Speed and Gain (Sensitivity): Sec/ISO, Angle/ISO, or Sec/dB.

Choose From 3 System Frequencies
Choose from three different system frequencies to support global video production. Your choices are 59.94Hz (NTSC), 50.00Hz (PAL), or 24.00Hz (CINEMA).
Filtering / My List of Rec Quality
Frame rate, resolution, codec, etc. can be specified and represented in the display. Anamorphic, Variable Frame Rate and High Frame Rate can be displayed. Additionally, "My List" saves frequently used recording modes for quick access.
Segment File Recording / Loop Recording
Segment File Recording captures videos as 1-minute segments, preventing the loss of data. Alternatively, Loop Recording deletes old data while recording so you don't have to worry about capacity. 
Regular price: $3,997.99

Regular price: $697.99

Regular price: $2,197.99