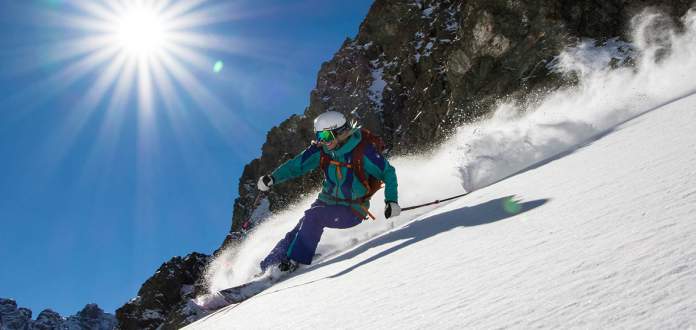 Action and lifestyle photographer Liam Doran has the textbook definition of a dream job. He gets paid to travel to breathtaking locations, photograph the world's elite athletes, and decorate the covers of internationally renowned magazines.
It sounds made up, doesn't it? It's the kind of job a rom-com character would have, right alongside magazine editor or globe-trotting food blogger.
On top of it all, Doran's work has a deceptive aura of effortless grace. Like the athletes he photographs, his precision and ease reflect a combination of natural ability and countless hours spent on the slopes, wading in streams, and scouting outdoor cycling courses.
I chatted with Doran about his career, beginner tips, and gear recommendations in advance of his upcoming skateboarding photography class.
Early Career
Doran purchased his first camera when he was living the "ski shop, ski bum" life and wanted a way to document his adventures on the slopes. He armed himself with a Minolta Maxxum 5 around 2001 and began taking it out with him as often as he could.
"I started shooting for fun and really loved ski photography," he reflected.
Doran soon felt confident enough to submit photos to Powder, an industry-favorite magazine. The resulting rejection was as swift and heavy as an avalanche; they told him not to bother submitting until he knew what he was doing.
Doran, a man accustomed to taking harsher falls in tougher conditions, got up and kept trying. He invested in a Canon EOS 20D and continued shooting. The switch to digital was a huge turning point—he was no longer restricted to 36 exposures and could review the results of his work in real-time.
He recalibrated and kept submitting to Powder until his work was accepted. 10 years (and dozens of magazine features later), the same outlet that sent Doran his first rejection letter welcomed him on stage to receive the 14th annual Powder Photo of the Year award.
Participant First, Photographer Second
I asked Doran if being an avid skier is essential to his work and received an adamant yes.
"You definitely have to be an expert level skier," he explained. "Otherwise, you can't get to the spots where you need to shoot."
He again emphasized the importance of being a participant first and a photographer second when I asked if he has tips for aspiring sport and action photographers (the other two pointers were to shoot constantly and grow a thick skin).
When you eat, sleep, and breath a sport you know how it flows and, thus, the best ways to capture it. You know the angles, the intricacies of the moves, and (in some cases) train with up-and-coming pros.
This advice rings true when you look at many great action and sports photographers. Artist, photographer, skateboarder, and living legend Ed Templeton's work is inherently tied to his identity as a skateboarder. Similarly, photographer and Oscar-winning videographer Jimmy Chin's climber's-eye-view comes from a lifetime of bouldering and top roping.
Doran lives and works in Breckenridge, Colorado where he is surrounded on every side by a wall of nature. As a result, the scope of his work extends well past the world of skiing. 
"I shoot mountain biking, a fair amount of trail running, fly fishing, backpacking, hiking, and also lifestyle and the stories that happen around it," Doran rattled off. 
Again, and I can not stress this enough, dream job.
Mountain Gear Management
It takes a special kind of dedication (bordering on insanity) to throw yourself off the side of a snowy cliff with nothing but laminated strips of carbon strapped to your boots to guide you. The idea of doing this with thousands of dollars worth of camera equipment strapped to your back would make most photographers faint.
On the other hand, Doran knows that his gear (and his skills) are up to the challenge.
His current camera of choice is the Canon EOS 5D Mark III. Doran is also adamant about exclusively using Sigma lenses to get the crisp, magazine-worthy shots he needs. However, this doesn't cut it for a full day of mountainside shooting.
A normal shoot includes a BackLight Elite 45L backpack, food, water, skins, a helmet, extra layers, and a shammy or two to wipe off camera elements as necessary.
I was perhaps most interested in how Doran handles after-shoot care. 
On one end of the spectrum, he's an athlete. Someone who is accustomed to taking hard falls, breaking gear (and bones), and taking practical measures to survive. Alternatively, professional photographers often treat their cameras like a newborn child.
His response fell right in the middle: professional, practical, with an extra edge of mettle.
"If I'm shooting on a storm day, I don't pull [my camera] out until it's necessary," he mused. And when shooting is over? "I just take the camera apart, sensor down, and let everything dry out."
Participant, meet photographer.
Regular price: $2,799.00

Regular price: $1,259.00

Regular price: $1,759.00