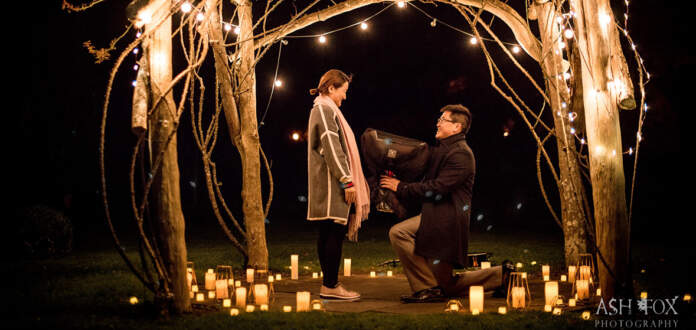 Happy National Proposal Day! To celebrate this romantic holiday, I spoke with Ash Fox—New York City's master of proposal photography. Ash has captured (and created) over 1,500 dreamy proposals for everyone from the nervous bachelor next door to NFL superstars.
Art Directing Proposal Photography
Ash Fox is exactly the kind of photographer I hoped she would be. After shooting over 1,500 proposals, it's possible (dare I say likely) to become jaded. This is especially true in a place like New York where the only thing that runs higher than price tags is the expectation for perfection. However, it's clear that six years and over a thousand love stories later, Ash still loves love.
Her method of combining the personalities of her clients with the sharp, informed eye of an artist is what makes her work so engaging.
"I'm somewhat of a perfectionist," she said, reflecting on her style. "I'm also someone who wants to be honest with people and give them my true opinion and help as much as I can." Armed with her Nikon D800, Ash's role naturally evolved from a proposal photographer to a photographer and planner as she worked with each client.
Whether people are looking for something simple and intimate or totally over the top, Ash does everything from booking the venue to choosing people's outfit for the big day.
"I'm very, very hands-on," she continued, "and I realized that I could help with a lot more than just the pictures. Of course, that's what I do, but there's a lot that can make a picture way better and make a moment better. That's just kind of my nature—if I see something that's off I'm like, wait…no no. I don't want this off thing to ever happen! I want to fix it."
Creating A Game Plan
As mentioned above, Ash is in full control of the day-of proposal execution. However, she's also the one running idea interference during engagement prep.  
"I've got people that come to me with a fully fleshed-out plan and I'll see a million different problems," she said woefully. It's not that the ideas are bad, necessarily, just impractical in terms of execution.
"I have to break it to [people] you know what? This is not really … I think we gotta cut the flash mob; The caricature artist has gotta go; These family members need to take a step back. These little things add up to make it one big mess or mess up the timing."
I asked about the most ridiculous proposal photography requests she's ever gotten. I specifically joked about renting a castle for that magic moment. Without skipping a beat, Ash replied, "oh, yeah. Well, we've done the castle. That has actually has been done."
Of course.
In case you were wondering, helicopter proposals have also been done. The real issue is unrealistic expectations related to budget restrictions, an idea that—as a New Yorker myself—I find highly relatable.
"I get people who want things that are so far out of what is actually possible in New York City without a million-dollar budget." It is Ash's unfortunate task to bring these dreamers back to earth.
"Sometimes people don't know what certain things cost so they'll ask for 20 Met Opera ballerinas or a massive penthouse overlooking Central Park with fireworks outside the window. There's no… you can't get a permit for fireworks in New York City unless you're Macy's."
For what it's worth, I checked and she's absolutely correct. Macy's 4th of July display is the largest Independence Day fireworks display in the nation. Everyone else is lucky to get a drone in the air. That said, Ash has booked penthouses for proposing NFL players looking to make a grand gesture.
"It's New York so everything's just managing people's expectations."
Long-Term Love Affairs
If the photo evidence isn't enough to convince you that Ash is a consummate expert, the fact that a client has never been turned down during one of her proposals is a solid indicator.
"There have been some breakups but I've never had a no." Well… close enough.
Ash balked when I asked her if there are any stand-out stories that keep her invested in her work.
"It's so hard to call out one story! It's not… it's more of what I get out of it I guess," she said. "It's obviously business, but [the connection with the couples] is a big part of it for me…It's obviously not every single couple—you don't get the same interaction with people in a hurry. But there are couples that I've stayed connected with going on six, seven years."
Initially, this blew my mind. Seven years?
But the more I think about it, the more it makes sense. Ash is the helping and confident hand present at the start of a couple's marital journey. At this, the cusp of heightened, wedding-related stress, Ash is the person setting the tone for the next year or more of their lives; she is the gatekeeper of nuptial sanity. This is not a task Ash takes lightly.
"It's very meaningful to be a part of people's lives and this milestone….I try to help [clients] find or refine an idea and think about things from every angle so that, not just visually, but strategically they have the best proposal possible."
Remote Assistance
Ash Fox is a one-woman operation local to New York City which makes her time both valuable and limited. To help those outside the tri-state area, Ash is launching The Proposal Podcast. Each episode is a 15-minute dose of advice and answers to crucial proposal questions from timing to dealing with family.
These are not New York-centric questions so you can contact Ash from anywhere in the country (or world, for that matter) and get the proposal photography info you need. The easiest way to submit questions is through a direct message on Ash's Instagram @AshFoxProposals.
"There's a lot of info on weddings and planning weddings but there's really nothing about proposals. This is a relevant topic for a lot of people and they don't know where to start. This way they can sneak off, put their headphones on, and get professional help without even having to pay anyone. It's free advice."
You can listen on iTunes, Spotify, and The Proposal Podcast Website now.