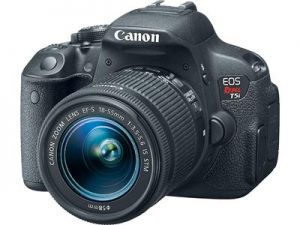 The new Canon Rebel T5i comes out right on the heels of it's predecessor, a little less than a year passed between the two releases. We took a look at the T5i to find out if the improvements merited the new edition.
First, lets go over all of the major things that haven't changed, and contribute to an awesome performance:
18-megapixel APS-C CMOS sensor with DIGIC 5 processor
ISO ranges up to 12800 (expandable to 25600)
continuous shooting speed 5fps
9-point auto focus system with all cross-type points
 3-inch touchscreen that swivels to adjust for any angle of shooting
Now, for the new features:
The new features are great for an Instagram crazed, filter driven market. There are 7 creative filters which you can now preview in real time, before you actually take the shot.
 The EF-S 18-55mm f/3.5-5.6 IS STM kit lens is actually the most exciting thing about the T5i release. This lens has a silent Stepping Motor which enables it to focus accurately, continuously, and quietly. It offers four stops of image stabilization. This lens makes up for the Auto focus on the T4i which is great when taking still shots, but in video was rendered slightly more than abysmal.
The Mode dial can now spin a full 360 degrees which makes it a lot easier to get the setting you want faster. However, HDR Backlight Control, Handheld NIght Scene, and Night Portrait no longer have their own place on the dial, and must be selected with the screen/buttons and wheels once you are in scene mode.
The grip is the same comfy feel, but has been fixed so that it will no longer cause allergic reactions or turn white as some of the T4i grips shockingly did. The body overall is a bit more robust, and has a grainier texture making it more like a professional DSLR.
Overall:
Canon has put out another great camera in the T_i series. They went back and fixed mistakes that were made in the T4i, making it an even better camera. If you have a T4i that you are happy with, the T5i will not be a worthwhile upgrade. If you do not have a camera of the same level as the T5i and want to jump into the prosumer barrel, it is up to you to decide whether the updates in the T5i are worth the extra $100 on your budget, and buy the T5i instead of the T4i. Regardless, definitely take a look at the new STM lens!