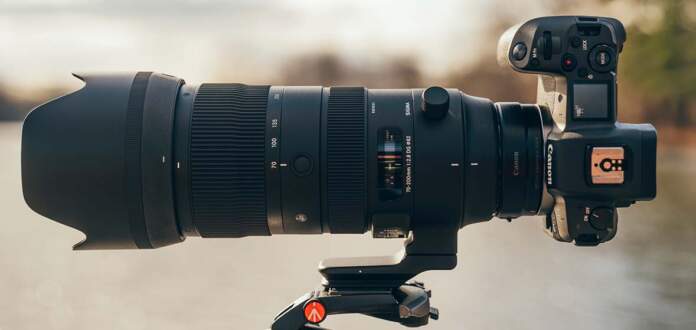 Sigma released quite a few lenses in 2018. However, one of the most highly anticipated announcements was that of a new, professional sport lens. This Sigma 70-200mm f/2.8 Sport Lens review takes a closer look at the device's capabilities, specs, and features.
Sigma 70-200mm f/2.8The Basics
This is the third and final addition to what Sigma refers to as "The Big Three F2.8 Zoom" lenses. The Big Three is a trio of F2.8 large-aperture zoom lenses that can cover focal lengths from 12mm to 200mm. The other two are the Sigma 24-70mm f2.8 DG OS HSM ART Lens and Sigma 12-24mm f/4 DG HSM Art Lens.
As mentioned above, this Sigma 70-200mm sport lens was arguably the most anticipated lens released by the company in 2018. It's a large-aperture telephoto zoom lens with high optical quality and a durable design. It has a sturdy body crafted from magnesium alloy. In addition, it's is dustproof, splashproof, and has an oil-repellent coating throughout the lens and front elements. It also uses 9 FLD and 1 SLD glass elements that are designed to Minimize Flare and Ghosting.
Features
The Sigma 70-200mm is a sizeable lens, weighing in at 63.7oz (1,805g). Supporting that weight for hours at an event might be challenging. That's why this device is compatible with Arca Swiss type clamps; the device quickly slides on and off a tripod without mounting to a metal plate. It also has a rotating barrel with 90-degree click and 3 programmable buttons on the side of the barrel.
You toggle between two OS modes using a switch on the side of the barrel. Mode 1 is good for general photography. Mode 2 enhances panning. This lens has a built-in image stabilization function. Consequently, this preset ensures your subject's movements are captured without losing panning effects. It works well regardless of the lens's position or the direction in which you're moving.
The Sigma 70-200mm also has a Hyper Sonic Motor with an improved algorithm and MO switch. This feature is one of the things that makes this a great sports lens; it allows for a high-speed, precision autofocus so you can capture quick movements without any blurring or loss of crispness.
Compatibility
Right now the Sigma 70-200mm f/2.8 Sport Lens is available for Nikon, Sony and Sigma mounts. While it can be adapted to the MC-11 for Sony, we had a hard time getting it to focus continuously while recording video. If you're in the same position, keep in mind that this issue will probably be resolved relatively soon with the release of an E-mount version or firmware update is released.
---
That concludes our Sigma 70-200mm f/2.8 Sport Lens review. As always, leave any additional thoughts you have about the lens in the comments below.
Sample Photos | Sigma 70-200mm f/2.8 Sport
Regular price: $1,999.00

Regular price: $1,399.00

Regular price: $479.00