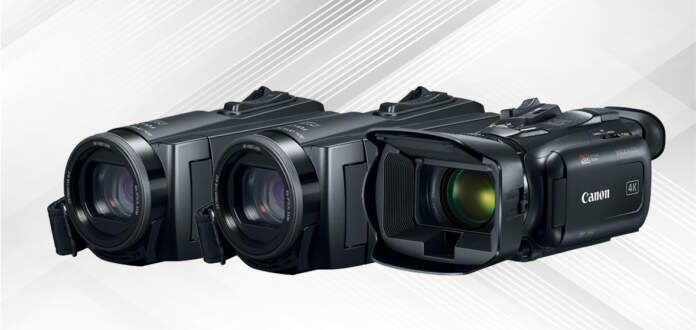 CES 2019: Canon announces three new camcorders & mini projector

Canon recently announced the release of three new camcorders: the VIXIA HF W10, VIXIA HF W11, and VIXIA HF G50. These are the latest installments to Canon's growing VIXIA camcorder line. All three are ideal for both casual users and professionals interested in exploring additional shooting options. Additionally, Canon announced a new, portable projector: the Rayo S1. Learn more and compare specs for all three Canon camcorders and the projector below.
Canon Rayo S1 Mini Projector
This projector is small. It weighs about .5 pounds and is roughly the size of a postcard (4.13 x 4.13 x 0.79 inches), easily fitting in a purse, backpack or pocket. The Rayo S1 is equipped with Bluetooth, WiFi connectivity, 4GB internal memory, built-in speakers, and Android KitKat OS version 7.1.2. It even has a handy touch interface on the top so you can navigate settings without a remote control.
Our only reservation is the limited battery life; it only lasts up to about two hours of continuous use. However, it can easily be powered on the go via its USB charging port. The projected release timeline is May 2019. According to Canon, it will be priced at around $259.99.
Canon VIXIA HF W10 & VIXIA HF W11
Like their predecessor, the VIXIA HF R800, these camcorders are perfect for recording high-quality video during vacations, sports, and family events. However, unlike their previous counterpart, these two camcorders are both waterproof and shockproof.
The Canon VIXIA W10 and W11 camcorders are almost exactly the same with a couple of key differences. In terms of recording power, both utilize full HD 1920×1080 recording, 40x optical and 60x dynamic zoom, face tracking, and time-lapse recording. They do all of this with a 1/5.8-inch 2.5 Megapixel back-illuminated CMOS sensor. Both are also capable of simultaneous full HD video and 2 megapixel still shooting.
The similarities continue with W10 and W11's more tangible features. As mentioned above, both are waterproof up to 16.4 feet, shockproof up to 4.9 feet, freezeproof down to 14 degrees Fahrenheit and dustproof. They also have 8GBs of built-in flash memory, an SD memory card slot, and a versatile 3.0-inch capacitive touch panel LCD screen.
There are two main differences between these digital Canon camcorders. First, the Canon VIXIA HF W11 has a built-in auto LED light while it's counterpart does not. Second, the W10's battery life is slightly better; the Canon W11 offers 4 hours and 50 minutes of continuous recording while the W10 has 5 hours and 10 minutes. All things considered, this is a negligible difference and we recommend that you base your choice on whether or not you need an auto LED light.
Canon VIXIA HF G50
The VIXIA G50 is an ideal tool for advanced amateur filmmakers, event videographers and students. The VIXIA G50 features crystal clear 4K UHD 30p recording. That quality is combined with both a genuine Canon 4K-compatible 20x optical zoom lens and a wide 29.3mm angle of view. In addition to advanced full HD, the Canon VIXIA G50 also has a DIGIC DV 6 image processor and 8-blade circular aperture.
Like the G10 and G11, the G50 has a 3.0-inch LCD capacitive touchscreen that can be twisted to accommodate any shooting angle. However, it has far more control options. The body of the G50 has five assignable buttons, a control joystick, lens ring, and custom dial for full creative control. This camcorder also has dual SD card slots to facilitate uninterrupted shooting.
All three of the new Canon camcorders are available for pre-order starting today with an availability date of April 2019. If you have any additional questions about the W10, W11, or G50 please leave them in the comments below.