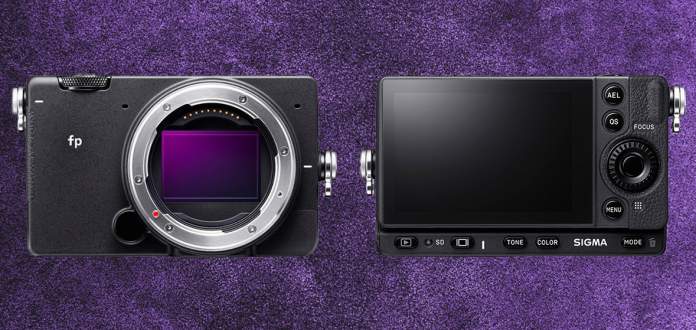 Sigma recently announced the Sigma fp: a gorgeous, lightweight, full-frame mirrorless camera. In this post, we go into the price and release specifics, points of differentiation, and a few other feature highlights.
Sigma fp Camera Spec & Price Info
Spec Overview
The fp's claim to fame is that it's the smallest, most lightweight full-frame camera on the market. Its intuitive UI and small, 422g body make it incredibly easy to use. The hardest thing about owning one is perhaps choosing how you want to outfit the body.
Think of the Sigma FP as the base of a very expensive lego set—its modular body can be built into whatever you want it to be. All you need is the vision and the cash flow.
We chatted with a Sigma rep at PHOTOPLUS who gave us a real-time demonstration:
View this post on Instagram
Price
The Sigma fp costs a surprisingly affordable $1,899 (you can get yours here). 
Don't get us wrong, spending almost $2k on a camera is a commitment. But, that price is a bargain when you consider that the other new cameras in this class fall between the $2,500-$7,000 mark.
We aren't living in the world of full-frame smartphones just yet. That said, this could help with the long-term democratization of full-frame devices. 
Size
The Sigma fp is the world's smallest and lightest full-frame camera. It weighs in at a mere 422g (.93lbs) including the battery and SDcard. As for physical size, the camera is 112.6 x 69.9 x 45.3mm (4.43 x 2.75 x 1.78in). This is all the more impressive when you consider that the fp is also optimized for video. It supports full-fledged filmmaking, RAW video recording, and All-I (All-Intra) recording.
Lens Availability
Buying into the Sigma family comes with a host of perks. Perhaps the most tempting bonus is the host of potential lenses you now have at your disposal. The Sigma fp is an interchangeable-lens camera with an L-Mount. It's also compatible with Sigma's mount converters, opening up your options to a whopping 56 lenses (including 13 cine).
Here's a (beautiful) chart outlining your options: