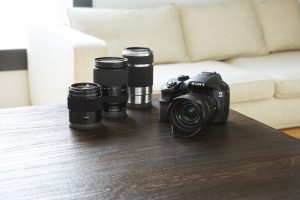 The face of photography continues to change as Micro 4/3 , smart cameras, and now Sony's new Alpha 3000. The Alpha 3000 is a Hybrid camera because it is an E-mount camera (shares lenses with the NEX family) in a DSLR body.  The Alpha 3000 could be the best of both worlds for someone looking for their first DSLR.
Ergonomics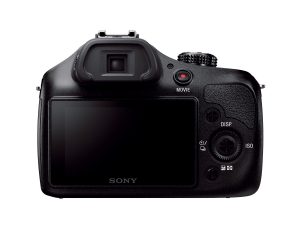 Though it has a larger body and solid grip, it is lightweight for maximum ease and comfort while shooting and has a multi-interface shoe so you can expand your capabilities. The battery can take up to 470 shots on a single charge, but must be charged inside the camera using a bundled USB cable. It is designed to be very intuitive and effortless for any consumer.  The viewfinder has 100% coverage and boasts 200k dots of resolution to show any adjustments you make in real time.
Picture Quality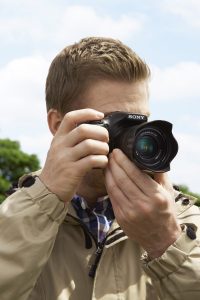 The A3000 has a 20.1 MP APS-C size HD image sensor, designed with the same format that Sony uses for their full sized alpha DSLR cameras.  This sensor also carries the same noise reduction technology from Sony's A99, offering an ISO of 100 to 16,000. The Dynamic Range Optimizer will improve results with backlit subjects, and recover details that get hidden in shadows. The A3000 has an optimized auto focus feature which you can use in live view mode. There are also 11 "Picture effect modes" and 6 "Creative Style Settings", for fun.
Video and Quick action photography
The Alpha 3000 can take 3.5 frames per second, though continuous shooting speeds vary depending on the shooting conditions or the speed of the memory card. It can record 1080 HD 60i footage (or 24p if you like the "cinematic" look).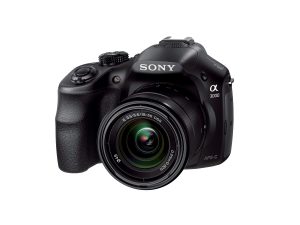 In Conclusion
We are excited to test out the Sony Alpha 3000, and see how the hybrid capabilities give it an edge over the lower level DSLR's like the Rebel Series or even some high end compact cameras!