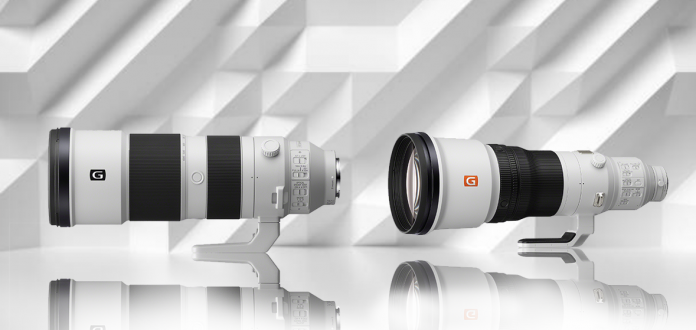 Two new Sony super-telephoto lenses have landed: the FE 200-600mm F5.6-6.3 G OSS and the 600mm F4 G Master Prime Lens. Keep scrolling for preorder information, pricing, features, and sample images.
Sony FE 200-600mm | Key Features
When paired with Sony's latest E-mount camera bodies, the Sony FE 200-600mm super-telephoto lens can accurately track and capture incredibly fast objects. That includes (but is not limited to) professional athletes, birds, UFOs, jungle creatures, frightened house cats, etc.
Product Images | Sony FE 200-600mm
Quality & Stabilization
This lens's versatile tele-zoom extends from 200mm to 600mm. If you need an extra boost, it's also compatible with Sony's E-mount 1.4x and 2.0x teleconverters; these additions extend the lens's reach to 840mm at F9 or 1200mm at F13 respectively.
However, it would be difficult to utilize those super-telephoto powers without image stabilization. The FE 200-600mm has built-in optical stabilization with three mode settings, allowing for images that are sharp and in-focus at extended focal lengths.
In terms of internal layout, this lens has 5 extra-low dispersion glass elements and an aspherical element. These are arranged in a new optical design intended to minimize chromatic aberration.
Additionally, elements are coated with Sony's original nano AR coating to suppress unwanted reflections, glare, and ghosting in images. It's also worth noting that the FE 200-600mm's 11-blade circular aperture mechanism ensures beautiful bokeh every time.
Sample Photos | Sony FE 200-600mm
Amazing Autofocus
Photographers chasing the perfect action shot don't have time to stop and adjust their focus; if you miss the perfect photo it's gone forever. Sony wants you to get that perfect shot with the FE 200-600mm.
This lens is equipped with Sony's direct drive SSM (DDSSM) focusing system. In case you're unfamiliar, DDSSM propels the lens mechanism and makes fast, accurate autofocus possible. The autofocus is also incredibly quiet for a lens of this size. That muffled functionality is especially advantageous in wildlife photography when you don't want to disrupt a skittish subject.
Interface Perks
You'll notice that this Sony super-telephoto lens doesn't get longer or shorter as you zoom in and out. Instead, it maintains a consistent distance between the front of your lens and whatever you're shooting. Its fixed-length-structure and internal zoom mean that there are less moving parts for dust and moisture to sneak through. As a result, this lens is inherently more dust and moisture resistant and great for outdoor use.
As for features, its external focus ring has a linear response MF for granular, responsive manual focus control. Plus, there are three customizable focus-hold buttons and a focus range limiter for quick changes.
Pricing & Availability
The Sony FE 200-600mm F5.6-6.3 G OSS is currently available for preorder and will ship in August 2019 for $1,998.00.
Sony 600mm F4 G Master Prime | Key Features
The Sony 600mm F4 G Master Prime wins a couple of superlatives. First, it's now the company's longest reaching prime lens. Second, it is the world's lightest lens of its class. It also packs in almost all of Sony's most advanced optical and mechanical advancements. These three elements combined make it a. very, very cool and b. an incredible new toy for professional news, sports, and wildlife photographers.
Product Images | Sony 600mm F4 G Master Prime
XD Autofocus
Like the FE 200-600mm, the 600mm F4 G Master Prime works with Sony's latest full-frame E-mount cameras to deliver exceptionally quick, quiet autofocus. More specifically, the FE 600mm features two extreme dynamic (XD) linear motors that drive the lens' focal groups. These motors are supported by specialized motion algorithms to minimize lag and instability.
Image Quality
The 600mm F4 G Master Prime is a prime, large aperture, super-telephoto lens—you can also add Sony's 1.4x and 2.0x E-mount tele-converters for extra magnification. Even with its incredible reach, Sony still managed to ensure that image quality, detail, contrast, and resolution are maintained from corner to corner.
This Sony super-telephoto prime offers previously unheard of portability and flexibility for a lens in its class. Of course, this is a relative comparison; this lens weighs 107.3 oz (3,040 g) and is 6 1/2 in x 17 3/4 in long. This new, "smaller" size was achieved by reducing the number of elements at the front of the barrel and using magnesium alloy throughout the lens to help minimize weight and bulk.
Sample Photos | Sony 600mm F4 G Master Prime
Improved Bokeh
This lens enhances bokeh with the help of its 11-blade circular aperture and Sony's original Nano AR coating which suppresses unwanted reflections. Plus, Sony's latest bokeh simulation technologies and XA element help control spherical aberration.
Interface & Durability
As mentioned above, Sony's new FE 600mm F4 GM OSS is made of durable magnesium alloy and a strong, lightweight carbon fiber hood. As a result, it is dust and moisture resistant and perfect for nature photography.
It also features a number of hard controls accessible from the lens's body including customizable focus-hold buttons in four different locations on the barrel. Plus, it has a full-time DMF switch for manual focus and a focus ring with linear response MF.
Pricing & Availability
The Sony FE 600mm F4 GM OSS is currently available for preorder and will ship in August 2019 for $12,998.00.
Interested in upgrading? Click
here
to preorder one of these Sony super-telephoto lenses.
Regular price: $12,998.00

Regular price: $1,998.00