Find the inspiration you need to try new things with DSLR cameras and maybe get some use out of your fisheye lens with these photo and photography projects. If you're looking for a photography New Year's resolution, maybe it should be to try all ten of these projects.
1. The a-to-z project
An alternative to the potentially daunting 365/photo-a-day project, for this exercise you just take a photo every two weeks or so, trying to shoot something for every letter of the alphabet. Whether you go in alphabetical order or not, choose to include emotions and objects to meet the criteria, or actually focus on shooting works and letters, it's a great way to improve your eye.
2. Self-portrait project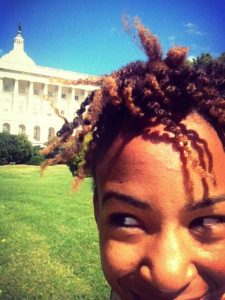 Whether or not you've ever taken a self-portrait, promising to shoot one new, different portrait of yourself a week will push you to be creative. Anything goes, so long as you do something different and new and take a photo well, you are satisfying the project's requirements. The point is to get more familiar with framing and integrating other elements into portraits so they tell a story.
3. Curate a photo wall from scratch for your home
Photo walls are fun and intuitive, but they make a much better project for inspiration purposes if you start everything from scratch. You can try to only use thrift-shop frames that you refinish, only use instant photos taped to the wall, or use geometric spacing to make art from your art.
4. Geometric photo mosaic
There are a number of art projects that involve manipulating and combining photographs themselves. One that can be very creatively inspiring is this geometric photo mosaic project. It involves cutting up a large printing of a visually dynamic photo to make a more complex piece of art. The value of this project is to make you think about the space in a photo differently even after you already have the print.
5. Tiny Polaroid magnets
This photo project is as much about crafting as it is photography, but identifying photos that achieve a certain goal is an essential skill. You edit digital photo to look like small Polaroids, print them out on thick stock, and then glue the photos to the cardboard, and then stick on the magnets. You'll get a new perspective on photos when you see them shrunk down and used as functional objects, which can help you compose photos and choose subjects better.
6. Rediscover your hometown by photo
They say you can never really go home because the places will all have changed, whether because the town evolves or because of the shift in perspective you experience when you move. But with a camera and some patience you can rediscover your town. Just walk around with a critical photographic eye and pretend you are discovering every place for the first time, and you will not only get powerful, potentially nostalgic photos, but also a new appreciation for your town's hidden beauty.
7. Then-and-now photos
Time-warp, back to the future, then-and-now photos – this project has a number of names because it has become so popular. There are a number of ways to do it but the basic idea is to find old photos of people and places from when you (or they) were young, and then try to recreate the photo now. The comparison is illustrative as well as humorous.
8. Personalized photo envelopes
This guide walks through how to turn digital photos into customized envelopes. It's a perfect way to make photos you love into something other people can enjoy as well, while adding a personal touch. And any time you reproduce photos in a different medium you learn about photography.
9. Double exposures (and learn Photoshop)
Whether you use a special feature available in some cameras or teach yourself the Photoshop method, creating double exposures is fun and can have some surprisingly beautiful results. The project will also push you to think about the symbolism of a photos contents more explicitly before you snap a shot, improving your ability as a photographer.
10. Custom Lift: The Flap Book
This guide explains how to make a custom book from photos, but it's not your ordinary book. The "lift-the-flap" guide helps you reintroduce a third dimension to photos. Although these books are traditionally for children, you can make fun coffee table books as well, and the process of taking good photos is a learning experience of its own.
If you want to get more from your DSLR cameras in 2014, resolve to try all of these photo and photography projects. Each one only costs a few dollars if anything. And they will inspire you to grow and examine your tastes and skills behind the camera, as well as leave you with some attractive, tangible products to enjoy at the end.