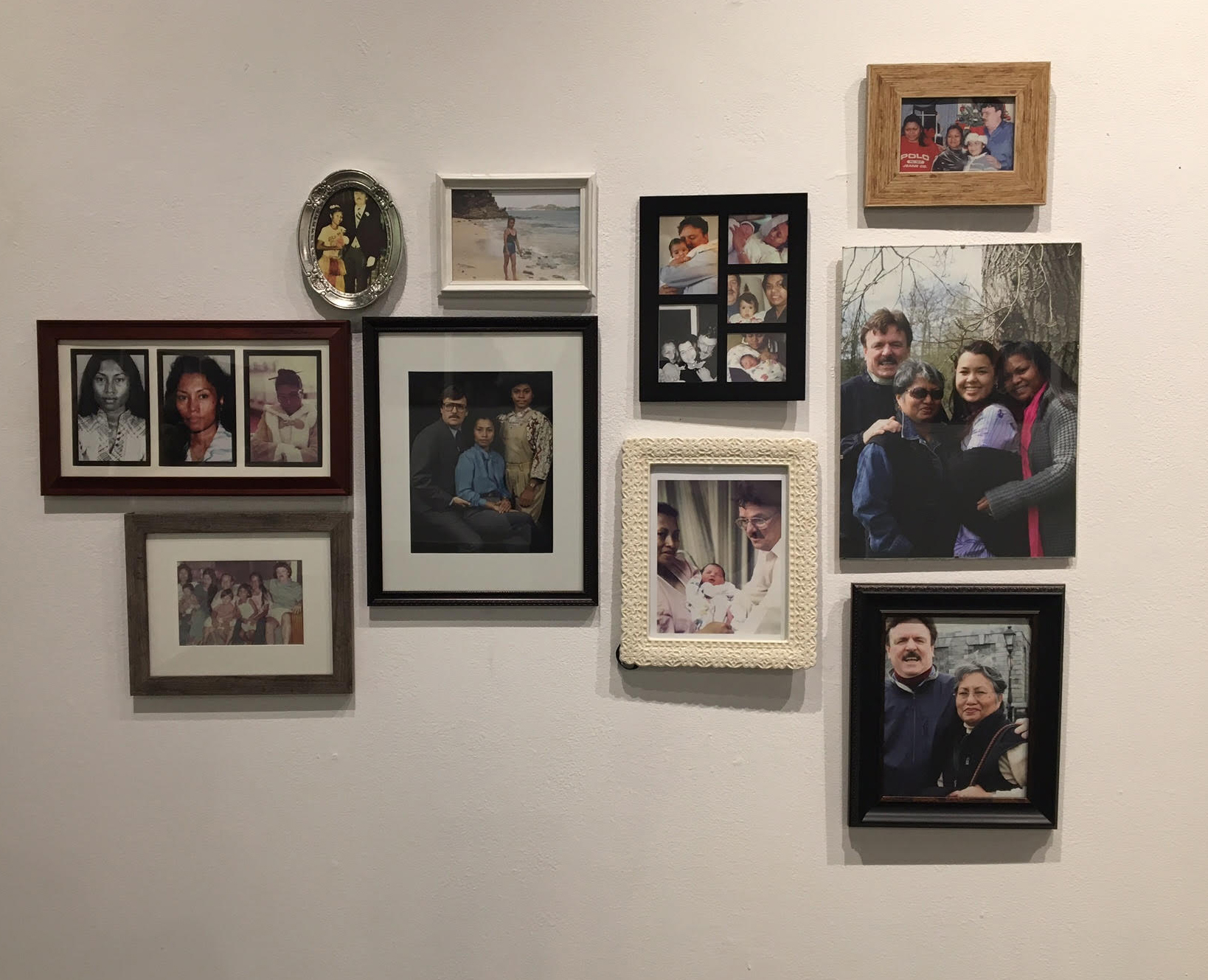 Evelyn Quimby was diagnosed with Amyotrophic Lateral Sclerosis (ALS) in the Summer of 2014, just two months before her daughter, Ella Quimby, left to pursue an MFA in Photography at the University of Alaska Fairbanks. "My dad told me over email, which was not fun," says Ella. "I was working for a residential arts summer camp in New Jersey, and we aren't meant to have our phones on us. I was checking my email in the bathroom during the lunch block, and it came out of nowhere."
Ella and I went to the same suburban high school outside Washington, D.C., and pursued the same honors photography track. At fifteen, Ella was one of the few students with enough talent and grit to make anything resembling an arts career. Even as we lost touch, I followed Ella through her work, which is often brilliant and at times, harrowing.
We haven't spoken in years, but I feel the same way about her as I do many of my old high school friends, who still I follow on Facebook and Instagram. We've drifted apart, but they continue to hold some sway in my life. I root for them. I commiserate. I witness. They are still a small part of my identity. But maybe that's just myth of social media and of images, that we can touch people when they're far away. Even when they're gone.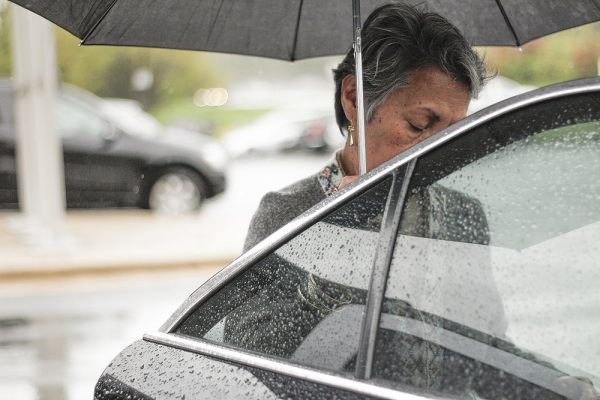 Ella started taking pictures of her mother the Spring before her diagnosis, back when the family thought (hoped) it was cancer. "Part of it was just a compulsion to document. Sitting in these appointments with her, I didn't know what else to do with my hands," says Ella. "I'm not the one making any decisions. I'm not paying for anything. I'm not the one who interacts with the doctor, so what else am I supposed to do with myself?"
Sure, some of this is habit. It's just being a photographer. But some of it is Ella, who has historically used photography to cope with trauma. In an earlier project, "Where I Go to Be With You," she uses landscape photography to imagine a "psychological landscape" in which to mourn the death of a former partner.
Hence, it isn't a such surprise that the series continued to evolve after she moved four thousand miles northwest. Rather, it adapted with the distance, and Ella began to shoot her mother in installments. "It turned into 'now I live away and I'm actually not a part of her care,'" she says. "We don't have a lot of family photos in general. Even though this is not her in her peak health, it became important for me to remember this experience. That's my job for our family."
The final project – at least in its current iteration –  showed in Fairbanks this April. Featuring twenty-one images, "Watching You Go" charts Evelyn's decline over the last three years. From "When We Thought it Was Cancer (I Wish It Was Cancer)" to "You Are So Tired" and "Give and Take," the series moves in clusters of photographs. Like Ella, they are bound irrevocably to pockets of time.
In her thesis paper, Ella talks a lot about the idea of the soft documentary. "Photographs present themselves as truth," she says, "so it's difficult for people who are not photographers to understand that the photographer is eliminating something from the picture. It's my mom's experience, but it's also my experience of her illness. This is what ALS looks like from my point of view. I'm not there to help her refill her meds. I don't see all her physical therapy. It becomes nostalgic because I have very little time with her in the year, and in the rest of her life."
Incidentally, "Watching You Go" also illustrates the evolution of Ella's family in the wake of her mother's illness.  "My sister appears two or three times [in the series]. My father appears seven or eight. I'm trying to illustrate the ratio that I see them in her life and in my life. My dad is my mom's primary caregiver. They still live together and are married, but he's not there during the day."
Most of Evelyn's time is spent, instead, with aides. On her website, Ella writes: I do not know [my mom's] doctors, and I interact with her aides only a few times a year. My sister is listed on my mother's Power of Attorney forms, but I am not. I experience my family's life in chapters, in episodes, in sentences. I am a casual participant in the lives of the most important people in mine.
Observing people, guesstimating the cadence of their lives from staggered meetings and images is part and parcel of the digital age. It is how I keep track of the people I knew in high school. It is what we do when we are not quite close enough to touch the heart of another person's life. If you love someone, if they are family, then it is never really enough.
"My father lives in the house with [my mom]," says Ella. "My sister is very close by. It doesn't make sense for me to be on her Power of Attorney forms. There is only space on the forms for two people, and asking them to add a third space wouldn't make sense. I'm not there."
I remember snippets of Evelyn Quimby. I remember her driving a yellow Hummer back when liberal America was still figuring out if that was something you could get away with. I remember her making huge swaths of Palauan food for tiny suburban girls on Marching Band bus trips. I remember visiting her home in Northern Virginia, with so many plants that they practically engulfed the house. I remember a woman who kept to herself, but was definitively present. In "Watching You Go," that woman looks lonely.
"She is a very private person, to a fault," says Ella. "I think that my mother didn't understand what I was doing initially. She was very resistant. She doesn't want people to see her like this. She doesn't go out in public. She keeps the shades drawn."
Ella explains that it was hard to convince her mother to participate, especially in the beginning. "I'd never made work about my family before, and I had to learn how to interact with them from behind the lens. They had to learn to be comfortable being photographed, especially by me," she says. "The last photo is the only one I have printed in the last three years in which my mother is acknowledging my camera."
At the start of the series, Evelyn is so clearly exasperated – already done with this business of doctors and hospitals. She is done with being photographed. In the last image, part of the "Give and Take" installment, she is harder and softer all at once. She is willing, but mournful. I ask Ella what her mother knows in the last image that she doesn't in the first.  "Well," says Ella, "we can be very literal if you want."
There is no cure for ALS. Once diagnosed, the prognosis is two to five years. Less than ten percent make it to ten. The one medicine available extends life for only a few months longer. While machines can make the body work indefinitely, Evelyn has decided to move forward without them. From what I understand, life attached to a ventilator isn't a life for a woman who spent summers growing small forests in the deep, dark soil of her front yard. Who owned a chain saw and could fix anything. Who left the small island of Palau in the seventies to make a new life with a husband in America. Who raised the type of daughter who could brave the endless winter nights of Alaska. Who could thrive there.
"I think that I started the work under the impression that she would never really get it," says Ella. "Maybe relief is the closest word that makes sense. This is the biggest thing going on in my life right now. It feels good to know that [my mom] understands that this is an important story to be shared. She is now an active participant in a project that was once entirely observational. "
When Ella says that she will never stop making art about this, I believe her. She is someone who cannot help but to engage with the world, even as it takes something from her. "Even though I'm done with my MFA, I will continue to photograph this work as much as I think is necessary," she says. "It will continue after she's gone, and I will continue to examine the relationships with my sister and with my father. But right now, this is what we're doing. We're watching her die. We're all just watching. We're trying to savor what we have left."
All photographs copyright Ellamarie Quimby.