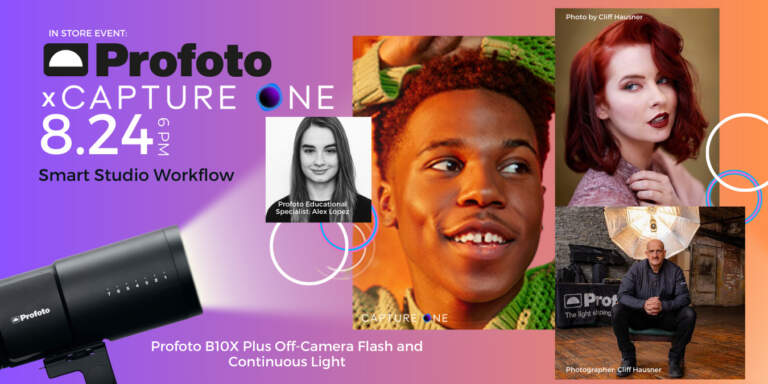 Venue
Focus Camera
1797 Avenue of the States, Lakewood, NJ 08701
Lakewood, NJ, US, 08701
** A $10 registration fee will be reimbursed to attendees in the form of a Focus Camera gift card upon check-in.**
Check In begins at 6PM
Explore the ultimate studio setup featuring Profoto and Capture one
At this event, Guests will work hands-on with Profoto and Capture One professionals like photographer Cliff Hausner, and Profoto Educational Specialist, Alex Lopez. A big focus of this event will be based on portrait lighting and getting the optimal lighting techniques for your subjects in the studio.
Guests will:
Learn what makes a great studio setup work
How Tethering helps you see the images you are getting in real time
Ways to incorporate lighting into your studio workflow
How different modifiers light your subject differently
Receive savings of 40% off Capture One Pro ($179) and exclusive savings on Profoto products
This event gives an in-depth overview of how to light your subjects, how to use modifiers to change and shape light, and how tethering can speed up your workflow both in studio and during editing.
Learn about how different modifiers can change the look and feel of your work, as well as using and mixing modifiers to create stunning digital images.
—
Profoto lights are the industry standard when it comes to professional photography. Learn how the stable color temperatures and consistent flash output can make sure your work stays the the pinnacle of excellence.
Capture One is the industry standard tethering option for studio photographs due to its reliability and highly accurate color consistency. Paired with each other you have the ultimate duo to evolve your studio into a high-end operation.
—
About our Guest:
Cliff Hausner is a lighting specialist, photographer and rep for Profoto. He works primarily out of NYC. Cliff has been involved with Profoto for the last 25 plus years and has been working in photography, graphic design and advertising for the past 35 plus years.
Cliff Hausner has been involved in photography since age 10. He began working with his father (a New York Times photographer) and had his first photos published at age 16. As an area of specialty he creates and runs photographic lighting seminars at universities and studios. He also provides lighting instruction and support to some of the world's top photographers. In addition to working with his own photographic clients, he mentors young photographers as they go from student to working professionals. His background as both a creator and buyer of photography make him a valuable expert in the area of portfolio review.