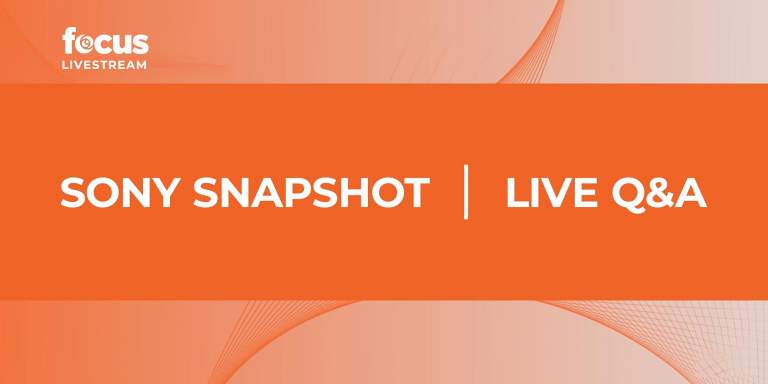 Sony Snapshot features Sony Rep Jason Etzel & Award-Winning Motion Picture Still Photographer, Hopper Stone. Learn about on-set shooting!
Focus Camera and Sony welcome you to join us for an evening with Award-Winning Hopper Stone and see what it is like to be the photographer on set and on location for today's blockbuster productions. As a Society of Motion Picture Still Photographer, Hopper has worked on such productions as the academy award winning films Hidden Figures, Ghostbusters (2016), Modern Family, Captain Phillips, and more!
Register for free today as Sony Tech Rep Jason Etzel hosts a live Q&A about how Hopper became one of the more sought after set photographers, which country he just filmed in, and where he is going next with his Sony Alpha camera bag!
Who is This For?
Photographers of all skill levels interested in having their questions answered, learning about current industry news and insights, and leveling up their creativity.
About Hopper Stone
Armed with a degree in Scandinavian Philology (Yes, that's a real thing) from the University of Wisconsin, Hopper Stone started his career as a photojournalist in 1988. He lived in Helsinki, Rome and Mexico City while being a photographer for the Black Star photographic agency. After covering world events on 5 continents, he transitioned to shooting on film sets as a unit still photographer in 1997.
"I got tired of getting shot at" is the one sentence answer as to why he made the switch.
"I'm more of a story teller than an artist. My job is lay low, be quiet and just be amongst all of the chaos going on in front of me. Through all of that, I need to filter out what isn't necessary and include what is necessary to tell the story of what's going on. It's like diet photojournalism. I shoot the story, as I see it, of the film being made in front of me. I just see through the noise".
He has worked on a variety of projects in film and television over the years such as "Modern Family", "Captain Philips", "Hidden Figures", "Ghostbusters (2016)", "Thunderforce" and most recently "Kandahar" which was filmed entirely in the Kingdom of Saudi Arabia. You can see his work at www.stonefoto.com or follow him on Instagram: @hopper_stone
Hopper is the Vice President of the Society of Motion Picture Still Photographers (SMPSP).
As a member of IATSE Local 600 since 2000, he was awarded the prestigious Publicists Guild Award for Achievement in Television Unit Still Photography in 2012 and nominated for the same award for Motion Picture Still Photography in 2019 and 2020.
Fun facts: Hopper speaks 5 languages, has been bitten by sharks so many times he has lost count, and will talk to anyone who is willing to buy him a cup of coffee.
About Focus Camera
Focus Camera is a family-owned photography and consumer electronics retailer based in Brooklyn, New York. Founded in 1966, we have faithfully served the New York City metropolitan area for over 50 years. We now reach a global community of customers through our website, named by Newsweek as the #1 online consumer electronics shop of 2020.
Creativity thrives in Brooklyn, and we strive to share the passion and energy of our neighborhood with the world. With two retail locations, hundreds of employees, and millions of customers, Focus Camera is a globally recognized brand with the heart of a brick-and-mortar family store.