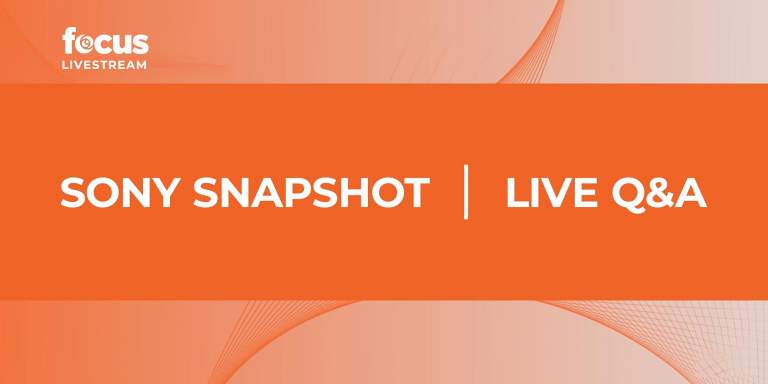 Sony Snapshot with Jason & Robbie is a biweekly Q&A with two Sony imaging specialists, live-streamed on Wavelength, the Focus Camera blog.
Millions of photographers, filmmakers, videographers and other kinds of creators around the world use Sony Alpha gear to produce inspiring, creative-driven content.
If you've ever wondered how you can better utilize the features of your Sony mirrorless camera, or which lenses you should use for a specific style of shooting, you now have the opportunity to find out.
We are excited to announce Sony Snapshot with Jason & Robbie – a new, biweekly Q&A with two of Sony's digital imaging specialists, Jason Etzel and Robbie Bulilan.
Live-streamed on Wavelength (the Focus Camera blog), Jason & Robbie will discuss the latest Sony gear, photography tips & tricks, and more, while also answering any questions you have about how to get the most out of your gear.
In our first episode, Jason & Robbie will be providing a detailed insight into the a7 IV; Sony's latest full-frame mirrorless camera. Successor to the incredibly popular a7 III, and boasting a powerful 33MP CMOS sensor, the new camera is already promising to be one of Sony's most popular and celebrated models yet.
Jason & Robbie will also be taking a look at the new Sony 70-200mm f/2.8 GM OSS II lens – the lightest of its kind in the world.
Please register on Eventbrite if you're interested in joining us on Tuesday November 9 at 6PM.
Who is This For?
Photographers of all skill levels interested in having their questions answered, learning about current industry news and insights, and leveling up their creativity.
About Focus Camera
Focus Camera is a family-owned photography and consumer electronics retailer based in Brooklyn, New York. Founded in 1966, we have faithfully served the New York City metropolitan area for over 50 years. We now reach a global community of customers through our website, named by Newsweek as the #1 online consumer electronics shop of 2020.
Creativity thrives in Brooklyn, and we strive to share the passion and energy of our neighborhood with the world. With two retail locations, hundreds of employees, and millions of customers, Focus Camera is a globally recognized brand with the heart of a brick-and-mortar family store.