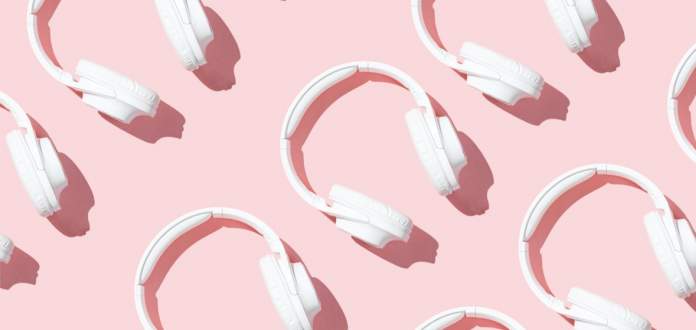 Quarantining is the extreme sport we never asked for. Who would have guessed that the ultimate test of our physical, mental, and emotional health would be sitting in our homes doing absolutely nothing? Not us. That said, there are tools that make self-distancing slightly more tolerable. No, we're not talking about your weighted blanket or Animal Crossing; we're referring to really, really nice headphones.
With all due respect to AirPodsy, those handy little earbuds do not have the same protective power as cushy, over-the-ear, high-fidelity headphones. The models below drown out awkward Skype dates, tweens recording TikTok videos, and even the voices in your own head. We also included a range of prices so everyone can finally get the peace the so dearly deserve!
You should also check out our roundup of 2020's best mics if you're tired of sounding like an exhausted robot on video calls.
Noise Canceling Headphones
Finding privacy in your own home is incredibly difficult. This is especially challenging if you're working remotely or just need a moment away from the madness. Noise canceling headphones are the best way to make any space suitable for some you-time.
Price: $128.00
View this post on Instagram
The Sony WH-CH700N is one of the most popular noise canceling headphones on the market. It's cost-effective, features hands-free calling, and boasts up to 50 hours of noise cancelation when used with a wired connection. It also houses a Digital Sound Enhancement Engine (DSEE) that boosts the high-frequency elements of sound to add extra dimension to your favorite music.
Bose 700
Price: $379.00
View this post on Instagram
Bose audio equipment has long been the gold-standard for speakers and headphones alike—the Bose 700 noise canceling Bluetooth headphones are no exception. In addition to having exceptional sound quality, the 700s feature a built-in, four-microphone system that adeptly isolates the sound of your voice. You can also personalize your listening experience with 11 different levels of noise cancelation based on how annoyed you are with your surroundings on any given day.
If you're riding the IoT wave, it's also worth mentioning that these are optimized for use with both the Google Assistant and Amazon Alexa.
Sony WH-1000XM3 + 20,000mAh Battery Pack
Price: $348.00
View this post on Instagram
The Sony WH-100XM3 headphones are definitely an investment. However, that price tag includes adaptive sound control, HD noise canceling, atmospheric pressure optimization, and (of course) high-res audio. All of these features come together to deliver a fully customizable listening experience that even the most serious audio experts can appreciate. This bundle also comes with a 20,000mAh battery pack and, at the risk of sounding like a prepper, it's not a bad time to have a little extra power ready just in case.
Gaming & Noise Isolation Headphones
Our remaining three quarantine-approved headphones are for people who care about sound quality but don't necessarily need to pay top dollar for noise cancelation; they're great for gaming and casual, every-day use.
Price: $179.00
View this post on Instagram
The ATH-M50XBT is the textbook definition of affordable, high-quality headphones. They have 45mm large-aperture drivers that deliver sonic performance and solid sound isolation. Like the Bose 700s, they also have convenient access to voice-assist through a built-in microphone.
All that said, one of our favorite practical features of these headphones is that they can run for up to 40 hours on a single charge. They're comfortable, durable, and don't have the complex bells and whistles that can deter potential buyers from pricer models.
Price: $169.00
View this post on Instagram
Sound nerds and gamers have one big thing in common: they take their headphones very seriously. That's why they both flock to Beyerdynamic for all of their sound needs. Favored by the internet-famous gamer Ninja, the DT 990 PR headphones are a great example of that crossover appreciation.
These standard studio headphones are extremely comfortable. You can wear them for hours without issue thanks to their memory-foam ear padding. The DT 990s also have excellent sound reproduction which is great for hearing subtle noises in game-play or when you're in the mixing studio.
Price: $379.00
View this post on Instagram
Last but not least, we have the Sennheiser HD 650. These dynamic hi-fi stereo headphones are an audiophile's dream. They're made with specialized acoustic silk for precise, even sound, feature lightweight aluminum voice coils that ensure a high-quality transient response, and boast a Neodymium Ferrous Magnet system that optimizes sensitivity.
If that means nothing to you, just know that they're comfortable and they sound as great as they look.
This concludes our roundup of quarantine-approved headphones! Do you have a favorite pair/brand that you don't see listed? Have you found the secret to maintaining your sanity during quarantine? Leave your thoughts in the comments section below!
Regular price: $128.00

Regular price: $179.00

Regular price: $379.00