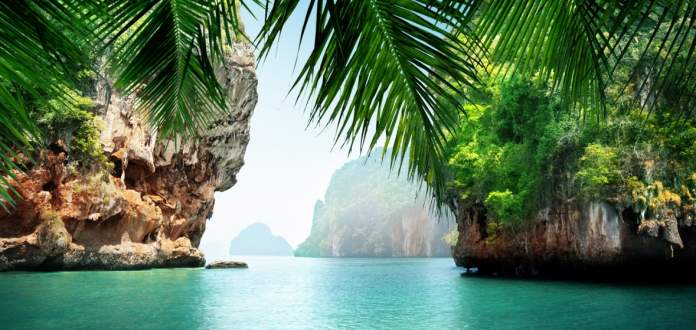 Happy 50th Earth Day, everyone! There's something very poetic about the fact that this major milestone is taking place during the COVID-19 quarantine. Those of us who are practicing social distancing and/or living in major cities (hello, fellow New Yorkers) are stuck inside, unable to hug trees. So, we put together a list of nature photographer Insta inspo that will help fill that rainforest-sized void in our hearts.
Granted, nothing can truly replace the positive effects of being outside. It provides stress relief and a wide array of physical, mental, and emotional benefits. In fact, a team of researchers at the European Centre for Environment & Human Health at the University of Exeter found that people who spent two hours a week in green spaces (parks or other natural environments) were substantially more likely to report good health and psychological well-being than those who don't. 
However, you can still get some of the same effects by viewing nature from a window. And what is the Internet if not a window into the outside world? So, city dwellers, open your windows, put on a soundscape of crashing waves, and scroll through these beautiful photos of the great outdoors.
View this post on Instagram
Camille Seaman is the 2020 equivalent of the great explorers of the 1890s. Her work takes you through sweeping frozen landscapes and over the Scotia Sea. Camille is a Hurtigruten Expedition photographer, Stanford Knight Fellow, Cinereach FIR Fellow, and a National Geographic contributing photographer. 
View this post on Instagram

Luís Godinho's work takes him all over the world, but he currently resides in Portugal on the Azores Islands. While he primarily works as a documentary and street photographer, his Instagram is littered with an array of vistas that capture everything from serene waterscapes to volcanoes on the brink of eruption.
View this post on Instagram
Ami Vitale is a National Geographic photographer and Nikon ambassador. She has visited more than 100 countries where her dedication to "living the story" has secured numerous accolades and invaluable documentation of our world. Her work captures singularly beautiful vistas, conservation efforts, and everyday life in all of its varied forms.
View this post on Instagram
Chris Burkard is yet another talented multi-hyphenate. This California-based nature photographer, artist, author, and creative director has a penchant for landscape, surf, and outdoor subjects. Chris's knack for capturing soothing, idyllic stills makes him a prime candidate for an Earth-Day follow.
View this post on Instagram
Photographer Christina Mittermeier has one heck of a resume. She's a biologist, UN ambassador, Nat Geo photographer, and co-founder of an organization called SeaLegacy that fights for ocean conservation. Her knack for visual storytelling puts her in a unique position to celebrate the sea in photos and use those images to promote vital conservation efforts across the globe.
View this post on Instagram
Win Magsino travels the world capturing scenes that look like something you'd see in a dream. His landscape and commercial work have brought him to China, Indonesia, Italy, Spain—you name it, he's been there and photographed it. This self-taught talent favors Fujifilm and shoots with a GFX 50S medium format mirrorless.
View this post on Instagram
Oleg Rest is a lover of travel and landscape photography. His talents have taken him across the globe from Patagonia and Norway to Iceland and the Czech Republic. While he currently shoots with a Canon 5D Mark IV, he started out with an old Zenit that he borrowed for a family vacation. Oleg's philosophy is short but effective: keep it simple. Capture shots that require minimal edits, beautiful colors, and interesting composition and you can't go wrong.
Do you have a favorite nature photographer or a great way to celebrate Earth Day? Let us know in the comments below!
Regular price: $2,499.00

Regular price: $259.00