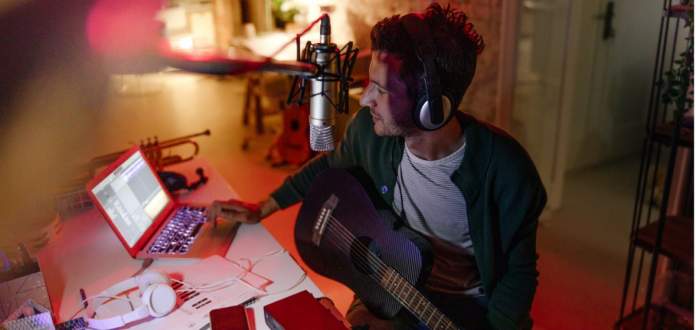 Having access to great recording equipment has always been important. However, we've reached a point in history where it's…let's say vital. Whether you're looking for the best microphones for podcasting—or just want to sound better on video chats with friends—here are the best, most popular mics on the market.
You'll notice that this list is split into two categories: USB mics and XLR mics. So, what's the difference?
Ease of use/portability: USB mics are absurdly easy to use—you don't need any additional audio equipment to begin recording. All you need is a computer with a USB port, some basic DAW software, and your USB mic of choice to get started. Alternatively, XLRs are more labor-intensive to set up/use. They require additional equipment, including an audio interface like the Focusrite Scarlett, to connect with your computer.
Sound quality/latency: This is a hot-button topic for audio enthusiasts. New USB mics' quality and internal elements closely mirror that of professional studio XLRs. However, you can lose some quality and pick up a slight lag when recording with a USB microphone. 
These aren't necessarily differences that an audio newbie would notice. But if you're recording an album, mixing a professional recording, or you want to make a serious investment in your future as a podcaster, an XLR is likely the right choice for you.
To put it simply, XLRs require a powerful audio interface dedicated to converting sound from audio waves into the digital information that shows up on your computer screen. On the other hand, USB mics have the same technology built into a body 1/10th the size of the average audio interface—you trade some power for that convenience.
We hope this clears things up for you. If not, feel free to leave questions in the comments below. Now, onto the mics! 
USB Microphones
Blue Yeti
If you've done even a little research on USB mics or the best microphones for podcasting, you've undoubtedly come across the Blue Yeti. This is the world's #1 selling USB microphone and for good reason. It produces crystal-clear, studio-quality recordings and looks pretty darn good on your desk. 
Blue pioneered convenient, easy-to-use USB mics. The Yeti boasts a zero-latency headphone output, is "plug 'n play" Mac and PC compatible, and has multiple recording patterns (cardioid, bidirectional, omnidirectional and stereo).
Looking for something a bit smaller? Perhaps the Yeti Nano is right for you.
Audio-Technica AT2020USB+
It's not exactly a secret that we're huge Audio-Technica fans (we wrote a whole post about it). However, our love for their headphones also extends to their mics. The Audio-Technica AT2020USB+ has the award-winning sound of the AT2020 (an XLR) with enhanced capabilities that capture the pristine sound singers, podcasters, voice-over artists, and field recorders crave.
The AT2020USB+ has a 4.1/48 kHz sampling rate for superior audio. Its popular features include built-in mix controls, a high-output internal headphone amplifier, and the smooth, extended frequency response favored by home recording studio artists. If you're looking for a simplified version, we recommend checking out the ATR2100X for all your podcasting needs.
Blue Snowball iCE
The Blue Snowball iCE is a little powerhouse. It's Skype and Discord certified which guarantees quality performance whether you're using it for Twitch streaming, recording voice notes, or video chatting with concerned family members.
The iCE has a frequency response rate of 40-18 kHz powered by a custom cardioid condenser capsule. Plus, it's designed to work with Mac and PC operating systems; like the Yeti, you can start recording and streaming moments after unboxing.
XLR Mics
Shure SM58
The Shure SM58 is arguably one of the most popular mics in the world. It's designed for professional vocal use with a built-in, spherical filter that minimizes the "pop" noise you hear as a result of wind or breath. Because of that feature, this is a favorite standard microphone for live musical performances, studio recordings, spoken word recitations, and…really anything else you can imagine using a mic for.
It boasts a frequency response of 50 to 15,000 Hz, has a pneumatic shock-mount to reduce handling noise, and it's incredibly rugged which makes it a live performance favorite. If you ever happen to find yourself with an excessive amount of free time, watch a few recorded concerts from your favorite rock or pop stars. We can guarantee the SM58 will make a guest appearance.
Audio Technica AT2035
Next on our list of the best microphones for podcasting is the Audio-Technica AT2035. You can use this XLR mic for home and professional in-studio recordings. Like the SM58, you can also see it used in live performances. 
The AT2035's large diaphragm provides a smooth sound and low noise. Similarly, its cardioid polar pattern reduces any miscellaneous sounds from beside and behind you. The end result is consistent, crystal-clear, isolated sound. If you want a versatile mic with excellent handling and wide dynamic range, this one is for you.
AKG C214
If sound and style are tied as your #1 priority, we recommend the AKG C214. This model is a step above the other XLR microphones on our list—it even looks premium. 
This is the more affordable version of the pricy C414XLII recording mic. Like its more expensive counterpart, the AKG C214 is ideal for capturing detailed lead vocals as well as solo instruments thanks to its incredible dynamic range (up to 156 dB SPL) and integrated suspension system that reduces mechanical noise.
That wraps up our list of the best microphones for podcasting, recording music, hopping on work video calls, or just catching up with your mom. Do you have any favorites that didn't make the list? Leave them in the comments below.
Regular price: $129.99

Regular price: $149.00

Regular price: $49.99

Regular price: $349.00