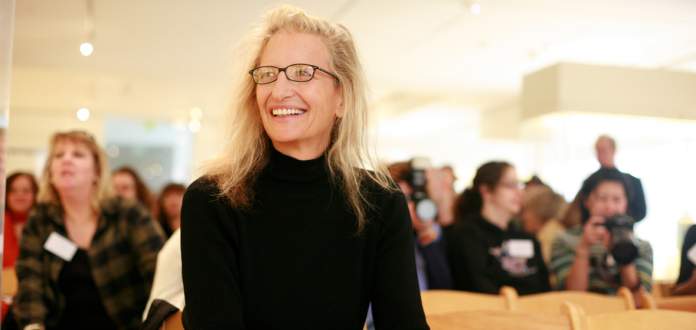 Great photographers don't need a lot of expensive equipment to be exceptional. That said, it doesn't hurt. Below find our roundup of 7 famous photographers and their cameras of choice.
1. Annie Leibovitz
Known Cameras: too many to list including the Canon 5D Mark II, Hasselblad with a Phase One back, Nikon D810, and Minolta SRT-101
No list of famous photographers would be complete without Annie Leibovitz. She was the first woman to be named chief photographer of Rolling Stone and went on to work for both Vogue and Elle. Using her distinctive, fanciful style of portrait photography, she's captured both the personage and personalities of Queen Elizabeth II, Liberace, John Lennon, Yoko Ono, Johnny Cash, and countless others.
2. Gordon Parks
Known Cameras: Voigtlander Brilliant and Nikon F2
Gordon Parks was a renaissance man who worked as a photographer, musician, writer, and film director in Civil Rights era America. While Parks made a name for himself as one of the first well-known black filmmakers, he is perhaps best known for his photos of poor Americans taken for Life Magazine. You can read more about his life here.
3. Diane Arbus
Known Cameras: 35mm Nikon, a twin-lens reflex Rolleiflex, and a twin-lens reflex Mamiya
Diane Arbus is known for photographing the marginalized pockets of subculture in New York City. While her career was notoriously cut short by suicide, the brief time Arbus spent behind a camera was focused on the portrayal of castoffs from mainstream society. She used her art to humanize her subjects rather than objectify them; the result is art with penetrating honesty that still resonates today.
4. Dorothea Lange
Known Cameras: Graflex Series DSLR
Dorthea Lange gained artistic acclaim under unlikely circumstances: working for the Farm Security Administration (FSA). Over the course of her career, Lange photographed the devastating effects of the Great Depression, the lives of sharecroppers and migrant workers, and, eventually, Japanese American internment camps. To this day, her work remains emblematic of a particularly tumultuous era in American politics.
5. Sebastião Salgado
Known Cameras: Canon EOS-1Ds Mark III
This Brazilian photojournalist began his work as an economist and transitioned to photography in 1973. Since then, he has traveled to over 120 countries documenting harsh living and working conditions. He's been internationally recognized with a multitude of awards and grants; most notably, he was named a UNICEF Goodwill Ambassador in 2001.
6. Alfred Eisenstaedt
Known Cameras: Leica III
German-born American photographer Alfred Eisenstaedt is best known for his work as a staff photographer with Life Magazine. His work is a testament to the idea that great photographers don't need an excessive amount of sophisticated equipment to be great. Eisenstaedt's iconic candid portraits were captured with a 35mm Leica camera, usually with natural lighting.
7. Mihaela Noroc
Known Cameras: Canon 5D Mark II and Canon 5D Mark III
Rounding off our list of famous photographers is Mihaela Noroc. Noroc is a Romanian photographer who spent the last six years traveling to over 50 countries and collecting content for her now published book The Atlas of Beauty. The photo book contains 500 portraits of women meant to capture the "beauty" of each individual and a glimpse of their struggles and dreams.
That concludes our list of famous photographers and their favorite equipment. If you have any other favorites be sure to leave them in the comments below!