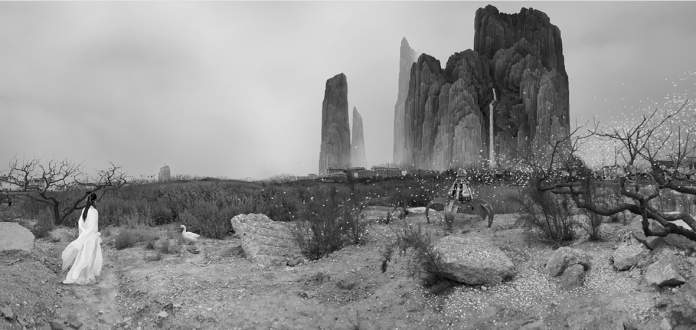 Photography has a rich, extensive history dating back to the musings of Han Chinese philosopher Mozi in 391 BC (it's nice to finally have someone we can blame for selfies). Since then, we've seen daguerreotypes, calotypes, dry plates, film and now digital. To celebrate this wild journey, the global community is celebrating May 2019 as Photography Month. In honor of this, our new favorite holiday, we put together a list of the 5 best NYC photography events to visit this May.
This exhibit is a cultural deep dive into the legend and legacy of the mountains scattered across China's landscape. The exhibit has three sections that guide viewers through the numerous ways these fixtures of the landscape shaped and continue to shape Chinese art, history, and culture.
The show runs through August 18, 2019, and is located at the China Institute Gallery in lower Manhattan.
Too Fast to Live, Too Young to Die attempts to do something that many have tried and failed: capture an authentic look into the punk lifestyle. The exhibition features photographs, zines, flyers, videos, and other artwork from 1976-1986 when punk zealotry was at its peak. The visuals on display explore not only the Punk world but also how its influence extended into every facet of pop culture and advertising.
The show runs through August 18, 2019, and is located at the Museum of Arts and Design in Columbus Circle.
This photo series highlights one of the most talented and well-known players of America's favorite pastime: Jackie Robinson. In 1947, Robinson broke a major social barrier and became the first black player to be drafted into Major League Baseball. This never before seen collection of 30 photos gives us a glimpse into the media's portrayal of one of the greatest baseball players of all time.
This show runs through September 15th, 2019, and is located at the Museum of the City of New York in the Upper East Side.
We can't think of a better place to celebrate Photography Month than the International Center of Photography. One of their current installments, Your Mirror, explores the personas that photographers and subjects alike create for the camera. This promising collection of work features (among other things) a daguerreotype of a bedridden woman by Southworth & Hawes, a carte de visite of Sojourner Truth holding her knitting, Samuel Fosso's performative self-portraits, as well as an FBI wanted poster.
This exhibition will be up until June 16th, 2019, at the International Center of Photography in SOHO.
This installment features 175 photos that portray almost 180 years of photography. The Extended Moment examines this medium as a living, breathing entity. To illustrate this idea, the images are arranged to illustrate photography's incredible evolution as well as connect the medium's common themes through time.
This exhibition will be up until May 26th, 2019, at the International Center of Photography in SOHO.
Do you have any NYC photography events that you're excited about? Leave them in the comments below!