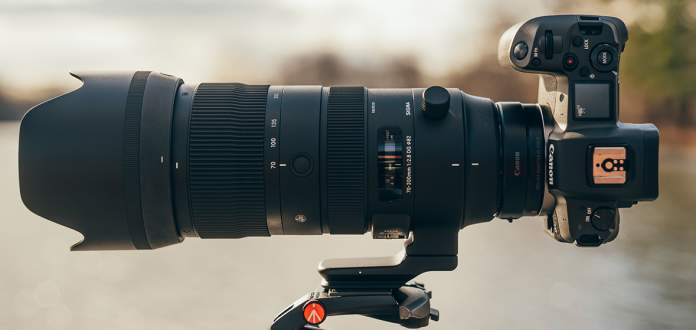 Photography is a notoriously expensive career and hobby. Yet you'll often hear experienced photographers say that interesting work isn't about the equipment—it's about the person behind the camera.
For example, let's say Annie Leibovitz ditched her medium format camera and picked up a two-pack of 35mm disposables at her local Duane Reade. Regardless of the cameras' quality, the end result would still be a meticulously executed vision guided by 50 years of experience.
That said, having great gear definitely doesn't hurt. This is one of the many reasons why we love Sigma, a third-party lens manufacturer that lives in the sweet spot where high quality meets (relative) affordability. In this post, we give you the Sigma essentials for landscape, portrait, and street photography.
Best Sigma Landscape Lenses
"Landscape Lenses" is a tricky category because it is so incredibly broad. As with any gear, the lens you choose should come down to use-cases and personal preference. Take a look at the three lenses below to figure out which one is right for you.
Still not sure? Check your Lightroom settings the next time you're editing to see which focal lengths you favor most.
70-200mm f/2.8 DG OS HSM S
Cover almost all of your needs with one hefty lens! The Sigma 70-200mm is favored by sport and outdoor photographers like Liam Doran because of its versatility and speed. We highly recommend the 70-200 if you often shoot action and/or animal shots from a distance.
Focal Length: 70-200mm

Aperture Range: f/2.8 to f/22

Price: $1,259.00
24-70mm f/2.8 DG DN Art
A standard, reliable, middle ground lens. We wouldn't recommend this for wildlife photography because of the restricted zoom. However, it's aperture range and clarity make it a safe bet for a great landscape shot or animal close-up (if you dare).
Focal Length: 24-70mm

Aperture Range: f/2.8-22

Price: $1,099.00
12-24mm f/4 DG HSM Art
This full-frame, wide-angle zoom lens is for moments when the scene is so beautiful, you need to capture the whole thing. As you can see from the sample photos, this lens is designed to have minimal distortion—a classic pitfall of wide-angle photography.
Focal Length: f/4 – f/22

Aperture Range: 12-24mm

Price: $1,599.00
Best Sigma

Portrait Lenses
Sigma has a ton of great portrait lenses and we've written a lot about them. In fact, we made a video about the three lenses below. All of them boast exceptional bokeh and fit well in any wedding or portrait photographer's arsenal.
85mm f/1.4 DG HSM Art Lens
This lens is great for full-body portrait shots that still have a decent amount of bokeh. It's also great for taking very personal headshots without getting too close to your subject. As a result, it's a darling of both the wedding and fashion industries.
Focal Length: 85mm

Aperture Range: f/1.4 – f/16

Price: $1,079.00
105mm f/1.4 DG HSM Art Lens
This 4 pound beast of a lens is worth carrying around for the beautiful bokeh alone. However, it's also a favorite of portrait and wedding photographers because of its exceptional low-light capabilities.
Focal Length: 105mm

Aperture Range: f/1.4 – f/16

Price: $1,599.00
135mm f/1.8 DG HSM Art Lens
This 135mm is a great lens for separating your subject from the background and adding depth to your images. Plus, it's swirly, beautiful bokeh is arguably the best of the bunch.
Focal Length: 135mm 

Aperture Range: f/1.8 – f/16 

Price: $1,399.00
Honorable mention: Sigma 70-200mm f/2.8 DG OS HSM S
Portrait and outdoor photographers are both obsessed with this lens. The only reason it isn't officially included in this category is that we already detailed it in the section above. If a portrait prime makes you nervous then this is the lens for you.
Best Sigma Street Photography Lenses
Street photography means one thing: lightning-fast prime lenses. Whether you're shooting from the hip or favor a more personal approach, these three lenses are up to the challenge.
28mm f/1.4 DG HSM
This wide-angle art lens will help you capture both your subject and the scene around them. It's also designed to minimize flare and ghosting for extra crisp shots. If you're still not convinced, check out the work of legendary street and lifestyle photographer Garry Winogrand who heavily favored a 28mm prime.
Focal Length: 28mm

Aperture Range: f/1.4 – f/16

Price: $1,079.00
Mounts: Canon EF, Nikon F, Sigma SA, Sony E
35mm f/1.2 DG DN Art
The 35mm is a classic in the world of both street photography and photojournalism because it forces you to get just a little closer to your subjects without shoving your camera in their face.
50mm f/1.4 DG HSM Art
The last lens on our list of best Sigma lenses for street photography is the nifty fifty. The view of a 50mm is very close to what we perceive with the human eye which makes it a very popular option for street photography.
Focal Length: 50mm

Aperture Range: f/1.4 – f/16

Price: $829.00
Regular price: $1,259.00

Regular price: $1,079.00

Regular price: $1,599.00

Regular price: $1,399.00

Regular price: $829.00