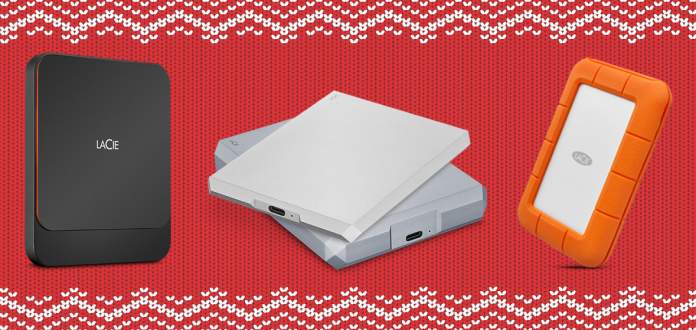 Holiday shopping for photographers, videographers, and sound enthusiasts is a really tough job. All three of those highly-specialized interests go hand-in-hand with specialized gear. Obviously, we would all love nothing more than to spend our precious free time learning about the intricacies of recording equipment. However, not all of us have that luxury. Luckily, there is a fool-proof gift that satisfies the needs of any content creator: an external hard drive.
We can guarantee that your loved one currently needs a new hard drive, is considering an upgrade, or they'll desperately need one in a few months.
In this post, we outline the best LaCie hard drives for a wide range of potential recipients including accident-prone and adventurous creators, design lovers, impatient creators on-the-go, and content collectors.
Accident-Prone & Adventurous Creators | The Rugged Mini
We all know that one person who is constantly breaking their gear in new and inventive ways (if you don't, it might be you). The LaCie Rugged Mini has been saving doomed data since it first hit the market way back in 2005.
In terms of durability, it has an IP67 (or ingress protection) rating. This number indicates that the Mini is completely dust-tight and can be submerged underwater at a depth of up to 1m. The Rugged Mini also boasts 1-ton crush resistance. So, although we don't recommend it, you can technically run it over with a sedan without issue.
You can get it in 500 GB all the way up to 5TB depending on your storage needs. Regardless of your storage choice, this model has respectable transfer rates of 130 MB/s and supports both USB 3.0 and USB 2.0.
Design Lovers | The Mobile Drive
The LaCie Mobile Drive is just that: a high-quality mobile drive. It's an incredibly straightforward device. So what sets it apart from all the other hard drives out there?
Style.
The Mobile Drive is sleek, sophisticated, and powerful—it looks like something that James Bond might use to store government secrets. Its diamond-cut design is in honor of LaCie's 30th anniversary and, while the 30th is technically the pearl anniversary, that would be significantly less lean.
It's USB-C compatible and available with 1TB-5TB capacity in moon silver and Apple's space gray. The 5TB iteration can store up to 500k high-res photos and 165 hours of video. However, it's also great for housing music, documents or anything else the recipient deems important.
Impatient Creators On-The-Go | The Portable SSD
This SSD (or solid-state drive) is ideal for people who travel often and want and/or need lightning-fast transfers.
As detailed in our review of the LaCie Portable SSD, SSDs don't have moving parts like their hard disk drive (HDD) counterparts. This is advantageous for a few reasons. First, the lack of moving parts means that there are fewer elements to be broken or worn down. Second, SSDs are usually faster. And finally, SSDs are often smaller and quieter.
As a result, the LaCie Portable SSD is a streamlined, portable powerhouse. It facilitates 540MB/s file transfers, backups, and editing. Plus, for all the video editors out there, it allows users to simultaneously edit multiple streams of 4K video.
Content Collectors | The 2big RAID
The final item on our list of the best LaCie hard drives is the 2big RAID. This model is great for content creators who hold onto everything they've ever created "just in case."
This desktop-friendly RAID comes with two interchangeable, IronWolf Pro, enterprise-class hard drives. Those lightning-fast drives boast a 7,200-RPM/64MB cache and transfer speeds of up to 440 MB/s. 
They're also on hot-swappable chassis for an added layer of convenience. In short, that means the drives can be switched in and out while the 2big RAID is still running. The biggest benefit here is convenience; you don't have to waste time turning the device on and off to switch out hard drives.
The 2big RAID is reliable, easily-expandable, and gives you a reason to say the phrase "hot-swappable chassis." What more could you want?
Don't see your favorite backup drive on the list? Let us know what you think the best LaCie hard drives are in the comments below.
Regular price: $74.94

Regular price: $149.94