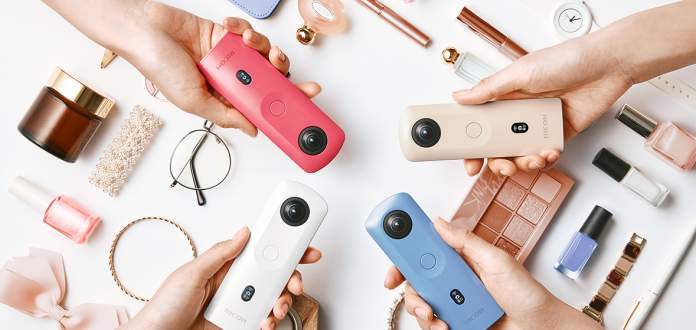 Looking for the perfect stocking stuffer? Ricoh, an established pioneer of 360° camera tech, just announced their latest model: the THETA SC2. This mini powerhouse boasts a collection of THETA's most popular features in a more colorful, entry-level package.
Keep scrolling for availability, specs, features, and photos of the SC2's candy-like look.
Should I get the THETA SC2?
Let's jump right in, shall we? The SC2's streamlined usability and reasonable price tag indicate that this model is for more casual and entry-level 360° photographers. We recommend investing in the SC2 if you want an easy way to dabble in 360° and create cool social media content without breaking the bank (plus, they're cute).
You can find our comprehensive Ricoh THETA buying guide here if you're interested in learning about THETA's professional-grade cameras.
Price & Availability
You can pre-order all four colors of the new Ricoh THETA SC2 here for $299.95. It's slated to ship in early December just in time for holiday shopping madness.
In terms of look and feel, this is one of the THETA line's more colorful models; it comes in pink, blue, beige, and white. This is a far cry from the grey and…well…slightly darker gray of the THETA Z1 and THETA V.
The original SC was released way back in November 2016. The new model offers major upgrades on video resolution, memory, and connectivity. Here is an at-a-glance look at the differences.
THETA SC2 Specs vs SC
| | | |
| --- | --- | --- |
| | SC2 | SC |
| Resolution | 12 MP x 2 | 12 MP x 2 |
| Still Image Resolution | 5376 x 2688 | 5376 x 2688 |
| Video Resolution | 4k x 2k @ 30fps | 1920 x 960 @ 30fps |
| Format | Equi | Dual Fisheye |
| Audio | 1 ch (built-in) | 1 ch (built-in) |
| Built-in Memory | 14 GB | 8 GB |
| Max. Recording Time | 3 mins | 5 mins |
| Size | 130.6 x 45.2 x 22.9 mm | 130.6 x 45.2 x 22.9 mm |
| Weight | About 104 g (.23 lbs) | About 105 g (.23 lbs) |
| Colors | Pink, Blue, Beige & White | Pink, Blue, Beige & White |
| Bluetooth | ✔ | X |
| Bluetooth Remote Connectivity | ✔ | X |
| OLED Display | ✔ | X |
| Live Streaming | X | X |
Ricoh THETA SC2 New & Notable Features
Face Detection
Many of these specialized 360° cameras aren't built to detect human faces. The results are often incredibly awkward and frustrating.
To fix this problem, the THETA SC2 is designed to detect faces and center them in the image. Plus, it offers exposure compensation and noise3 reduction to bring faces out of the shadows and into focus.
Lens-By-Lens Exposure
A major usability upgrade in the THETA SC2 is lens-by-lens exposure. This will save users countless hours in their photo editing app of choice trying to balance highlights and shadows in a single shot.
To accomplish this, the SC2 independently controls the auto exposure and auto white balance of the front and back cameras. See below for a side-by-side example.
HDR Upgrades
We have officially reached a point in the 360° evolution where an entry-level option can hold its own against some of the pricer models. This is especially evident when you look at the HDR algorithm changes for the SC2.
It has faster processing (23 seconds for the SC vs 9.5 seconds for the SC2), improved contrast/highlights, and chromatic aberration and fringing are relatively nonexistent. Plus, there isn't any extreme color saturation to make up for the aforementioned aberration and fringing.
That concludes our first look at the Ricoh Theta SC2! Keep an eye out for more comparison posts and see our full Ricoh THETA rundown
here
.
Regular price: $299.95

Regular price: $34.95

Regular price: $39.95