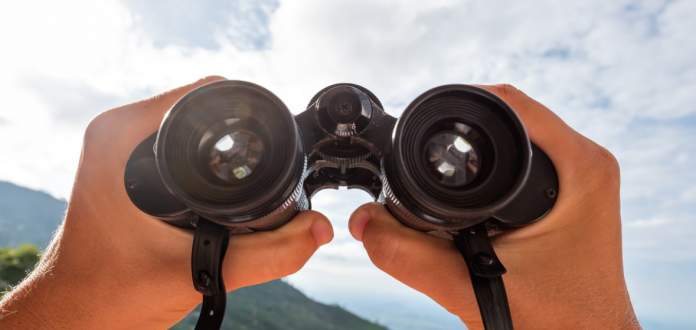 There are a surprising number of factors to consider when buying a pair of binoculars. The good news is, once you know the basics it's actually very easy to choose one that fits your needs. In this binoculars buying guide, we define and explain everything on the list below:
Terminology

Magnification
Objective Diameter
Field of View (Real Field of View)
Eye Relief
Twilight Factor
Relative Brightness & Exit Pupil Diameter
Interpupillary distance

What are binoculars and how do they work?
Types of Binoculars
Fixed-Power Binoculars / Focus-Free Binoculars
Zoom Binoculars / Center Focus Binoculars
Compact Binoculars
Wide-angle Binoculars
Waterproof Binoculars / Water Resistant Binoculars
Individual Eyepiece Binoculars / Single Diopter Adjustment Binoculars
Binocular Lenses & Binocular Lens Types
Recommended Accessories
1. Terminology |
Binoculars Buying Guide
Magnification

Invariably, a pair of binoculars' description will include numbers like 10×24 or 7×50. The magnification is represented by the first number in that set (10

x24

/

7

x50

).

This indicates the magnifying power of binoculars and is often expressed in diameters. For example, binoculars denoted as 10×24 have a magnification factor of 10; they produce an image that is ten times bigger than the one you see from a distance. Similarly, 7×50 means that the object is 7 times larger, etc. As you research binoculars you want to buy, you'll probably find that hand-held models have a range of about 7x to 10x. Any higher and you should consider using a

tripod

.

Objective Diameter

Objective lens diameter is the size of the front lens in millimeters. It is the second number in the sequence mentioned above (10x

24

/ 7x

50

). This indicates the resolution or sharpness of the image as dictated by the amount of light collected. In other words, the higher that second number, the sharper and brighter an image will be. 

Field of View (Real Field of View)

Field of view is the angle of the visible field as seen without moving the binoculars. A wide field of view is advantageous because it takes in more area and is great for viewing fast-moving subjects like birds and athletes. 

Measure field of view in feet or degrees.

Apparent Field of View vs Real Field of View

Apparent field of view is the result of multiplying the real field of view by the binoculars' magnification. It indicates the angle of the magnified field when you look through your binoculars.

Eye Relief

Eye relief is an important concept that is especially relevant for glasses wearers. The technical definition of eye relief is how far away your eye can be from the eyepiece and still see the full viewing angle. If the viewer's eye is outside that distance, their field of view will be cropped. The rule to remember is that the larger the intended field-of-view, the shorter the eye relief.

Twilight Factor

A mathematical formula that determines binoculars' ability to show detail in low light situations; it factors in the size of the objective diameter and the magnification.
Relative Brightness & Exit Pupil Diameter

It's impossible to talk about relative brightness without also bringing up exit pupil diameter.

Exit pupil diameter measures low-light performance; it refers to the diameter (or size) of the beam of light that is transmitted to your eye through the binoculars. The higher the relative brightness number, the brighter and more detailed your view will be.

As mentioned above, Porro binoculars are inherently brighter because of the way light travels through the internal prism. 

Interpupillary distance

This is the distance between your ocular pupils. To get the most out of your binoculars, center the left and right eyepieces directly in front of the pupil of your left and right eyes. The interpupillary distance can usually be adjusted by bending both halves of the binoculars outwards or inwards.
2. What are binoculars and how do they work?
At their most basic level, binoculars are two telescopes attached side-by-side that allow the viewer to see distant objects. They come in various sizes, weights, and magnification from industrial military models to delicate opera glasses. In this guide, we review the main types of binoculars, usage, key terms, and lens types. 
3. Types of Binoculars
Main Groups: There is a prism inside every pair of binoculars. Not unlike an SLR camera, if you look through binoculars that don't have a reflective system inside them everything appears upside down. The internal prism reflects the light entering the binoculars and corrects the view's orientation. With that in mind, there are two types of prisms used in binoculars: roof prisms and Porro prisms.
It's easy to identify Porro binoculars because the eyepieces and the objective lenses are offset to accommodate for the shape of the prism.
Pros

Porro prisms' objective lenses are further apart than those of roof prisms. As a result, they have better stereoscopic imaging. In other words, the depth and dimensions of distant objects are clearer—it renders more of a "3D" effect.

If you have a pair of Porro prism binoculars and a pair of roof prism binoculars with the same specs, the Porro prism binoculars will inherently produce a brighter image. This is a result of how light reflects and refracts through the prism.

It is often less expensive to invest in high-quality Porro prism binoculars than it is to get the same tier of roof prism binoculars. This doesn't reflect a difference in quality, but rather a less expensive manufacturing process. 

Cons

While their design does offer some advantages, it also makes them bulkier and less compact than prism binoculars.

Its design makes it harder to waterproof. 
These prisms are arranged in a straight line. As a result, the body is often more streamlined and easier to carry.

Pros

Because of the prism's design, this model is sleek, compact, and great for

travel

.

As you can see from the photo above, the roof prism is less complicated than the Porro; it has less internal moving parts which not only makes it easier to waterproof but also removes more elements that might break. 

Cons

As mentioned above, Porro prisms allow for inherently clearer visuals. The image quality of roof prism binoculars can be a bit inhibited because of how the elements align. That said, if you're willing to pay for top-of-the-line roof prism binoculars, you can have exceptional quality and the advantageous small size.
4. Fixed-Power Binoculars / Focus-Free Binoculars
A binocular with a single magnification is called a "

fixed-power

" binocular. As the name suggests, there is one designated magnification number like 24×25 or 22×50.
Zoom binoculars' magnification can adjust to move closer or further from a subject. Each pair of binoculars falls within a specific range (for example 8-24×25 or 10-22×50). The numbers before and after the hyphen indicate the magnification range.
Compact binoculars are often pocket-sized and utilized for outdoor activities. They are easy to travel with and are often found at 7x to 10x magnification ranges. 

If you have shaky hands or use your binoculars in a non-stable environment (like a moving car, boat, raft, etc.) it will be difficult to use binoculars that are 10X+ without the help of a monopod or tripod.
Wide-angle binoculars have a very large field of view. As a result, you can take in more of the scene in front of you without moving your binoculars.
There is a lot of crossover between water and condensation related activities/hobbies and binocular use. Having waterproof or water resistant binoculars is advantageous for marine use, hunting, and birdwatching; all of these activities involve damp, foggy, or humid conditions. Having built-in water protection eliminates issues with fogging moisture-related damage.
9.
Single Diopter Adjustment Binoculars
Most binoculars have a center focus and change the zoom equally in both lenses. However, with individual (or single diopter) binoculars both sides of the individual eyepiece binoculars can be adjusted independently to account for visual impairments.
10.
Binocular Lenses & Binocular Lens Types
One of the most important and overlooked elements when considering binoculars is the lenses' optical coating. The goal is to maximize the amount of light entering the objective lens and reaching the eye. However, light gets lost during the transference process. As a result, binocular optics are coated with special chemicals to help facilitate light transmission.

Binocular lenses can be coated, fully coated, multi-coated, and fully multi-coated. The more coatings there are, the higher the contrast and the better the resolution.

Coated – one layer on at minimum one lens surface.

Fully Coated – one full layer on all exposed glass surfaces.

Multi-Coated – several layers on at minimum one lens surface.

Multi-Coated – several layers on all exposed glass surfaces.

Achieves almost 95% light transmission. That means that 95% of all light coming through the objective lens reaches the eye.
11. Recommended Accessories
Keep in mind that there is also a wide range of accessories that further enhance binocular use. In fact, focuscamera.com has pre-bundled kits for every use case from

pro hunters

and

fishermen

to more casual

hobbyists

. 

Cases & Covers

Cases and covers protect your gear from the elements and anything that might cause damage at the bottom of your backpack. This ranges from simple lens covers and hard cases to no-zip hunting bags with built-in hydration packs.

Straps & Harnesses

Whether you're hunting, hiking, or boating there are few things more irritating than a thin strap digging into your skin. Focus Camera offers thick, padded binocular straps for around your neck or over your shoulder. 

Focus also has a wide array of binocular harnesses for added security and to keep your gear from swinging around and scaring animals.

If you're a boating enthusiast, we recommend floating straps that are both comfortable and useful if you accidentally lose your binoculars off the side of your vessel.

Tripod Adapters & Tripods

Sometimes even the steadiest hands need a little help. Our

tripods

,

monopods

, and

tripod adapters

help you get more out of your binoculars on-the-go and in the comfort of your home.

Cleaning Kits

Maintaining the quality of your binoculars relies heavily on regular upkeep of the individual elements. Investing in a cleaning kit ensures great results for you and for generations to come.

Eye Shades

The last items on our binoculars buying guide are eye shades. Binocular eye shades do more than just block the sun. They keep out elements like rain, wind, dirt, and whatever else nature throws your way. Focus recommends this accessory for outdoor enthusiasts and glasses wearers; eye shades make even compact binoculars with small eye cups comfortable for our four-eyed friends.
That concludes Focus Camera's binoculars buying guide. Please let us know if you have any questions in the comment section below.
Regular price: $49.99

Regular price: $1,549.00

Regular price: $249.00

Regular price: $89.99